CPU Throttling on Older Macs – Mac Geek Gab 723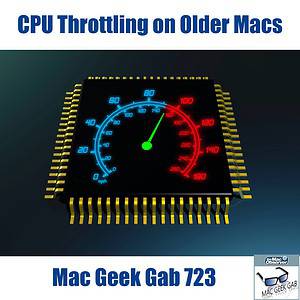 Note: Shownotes are complete!
Chapters/Timestamps/Stuff mentioned:
00:00:00 Mac Geek Gab 723 for Monday, August 20, 2018 < https://macgeekgab.com/ >
00:01:45 John Upgrades his NAS
00:08:35 Low Battery Causes CPU Slowdowns to 800MHz
00:13:51 SPONSOR: Crossover from CodeWeavers – Feeling nostalgic this summer, well did you know you can play a lot of your old Windows games on mac with CrossOver?
00:15:15 Iain-3 Battery and Heat Management Tips

Settings | Battery | Low Power Mode (put in Control Center for easy access)

00:22:32 Use separate Keychain for Mail certificates
00:28:51 CSF-PowerPort Strip 12
00:30:58 Donna-Cheap iPhone Charger causes Ford Tire Pressure Monitor System Fault
00:33:43 SPONSOR: MasterClass – Imagine learning new recipes from Gordon Ramsay, or 2 photography tips from Annie Leibovitz. Now you can. Visit MasterClass.com/MGG for unlimited access to MasterClass.
00:35:51 Paul-Doing the public Wi-Fi Dance

On iOS and some public Wi-Fi, disabling Auto-Login for a network may bring up the Login screen

00:40:06 General | Reset | Reset Network Settings if all else fails
00:42:31 Ioannis-Lightning to USB-C to MacBook
00:43:59 [email protected]
00:44:28 SPONSOR: GameTime – Gametime is the top destination for last-minute tickets to live events. For $15 off your first purchase, visit usegametime.com/MGG and use promo code MGG.
00:47:17 Ron-USB-C Heat
00:52:36 Ron-Mail Tildes

Mail | Mailbox | Take All Accounts Online

00:55:37 Andrew-Sort Photos by Date Taken
01:02:00 Greg-UPS Options in Energy Saver
01:06:42 Roger-iPhone Reset All Settings after App Crash

Settings | General | Reset | Reset All Settings looks to have solved odd password problem

01:09:40 Kevin-Is FileMaker the right answer?
01:16:17 Brian-How long before my Mac is no longer secure?
01:21:12 MGG 723 Outtro
You're downloading today's show from CacheFly's network
August 21, 2018 2:45 EDT PM
The pmset -g comment got me thinking about a mystery Mac Pro that turns itself on despite no schedule in system preferences - energy saver and zapped PRAM and SMC. So I used sudo pmset -g sched which reported the .plist or launch agent for Carbon Copy Cloner. We forgot that is was configured to backup at 6:30 AM daily and wake or power up the computer to do so. Mystery solved, but I changed the advanced setting to turn the computer off when the backup task completes.