Desirable, Delightful, De-Lovely, or Delicious? – Mac Geek Gab 790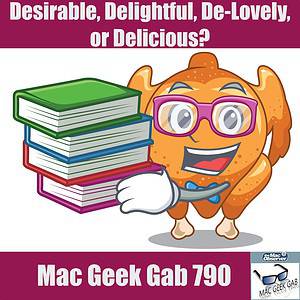 Note: Shownotes are complete!
Chapters/Timestamps/Stuff mentioned:
00:00:00 Mac Geek Gab 790 for Monday, November 25, 2019
00:03:13 Dave-QT-Zoom a message in Mail
00:04:27 Allison-QT-789-Preview Options

Create new Finder Window, Resize, Close

00:07:19 Christopher-789-More Remote Access Options
00:08:49 Robert-789-Beware Screens Connect

Not a secure connection, use VPN if accessing outside of your network

00:10:29 Jon-CSF-Samsung X5 SSD
00:13:05 SPONSOR: Other World Computing. Check their Black Friday Deals on the OWC Envoy Pro EX with USB-C SSD - 2TB only $429.99 Savings of $70, save up to $700 on a 13-inch Used MacBook Pro,  or get the OWC Thunderbolt 3 Dock, just $294.99 + FREE OWC Travel Dock w/ Purchase!
00:14:41 Douglas-CSF-GoNovate $20 Earphones
00:16:52 Anker/Soundcore Liberty 2 Pro
00:20:02 Plantronics BackBeat PRO 5100
00:24:03 Why these vs. AirPods
00:31:55 iSH Linux Shell on iOS
00:35:40 CSF-789-CertBot
00:37:53 SPONSOR: Ancestry – Learn your family's rich story, with unique features that give a more complete picture about a person, like events that shaped them, how they made a living, and what they excelled in! Get your AncestryDNA kit at Ancestry.com/MGG today.
00:39:48 SPONSOR: iFixit. Visit iFixit.com/mgg to fix your Mac today and get $10 off your next $50 fix.
00:41:44 Greg-Backup Question

RAID 1 with SD card will likely introduce performance issues

00:50:09 David-Option and Command are Swapped on my Keyboard

System Preferences > Keyboard > Modifier Keys

00:53:06 Daniel-How to Remap Keyboard Shortcuts

System Preferences > Keyboard > Shortcut > App Shortcuts, be sure to add to command that doesn't already have one

00:55:52 John-iOS 13 Wi-Fi Bug
01:03:47 SPONSOR: Linode - You can build it on Linode. Instantly deploy and manage an SSD server in the Linode Cloud. Start with a $20 credit using promo code mgg2019 at linode.com/mgg.
01:06:21 Brian-Catalina vs. Scanners Redux
01:11:58 Steve-Long-range Wi-Fi - Cantina or Mesh?
01:17:15 Jon-Migrating Catalina to a Mojave Machine

Have an Internet connection so Boot Recovery Assistant can update

01:23:57 MGG 790 Outtro
November 25, 2019 11:09 EST PM
I had the same problem as Steve, trying to bridge WiFi between two buildings. 
I used the EnGenius ENH500, which is specifically made for this situation. It is fast, and has been rock steady for several years now. 
They have more features than the average user will ever need (ex., DHCP Server, DNS server), but you can turn the extras off and operate in simple bridge mode. 
When first testing my pair, I was able to bridge over half a mile, thru a forest. Theoretically they could bridge 5 miles, I think. 
If you really want to geek out, Here's the manual. 
https://www.engeniustech.com/wp-content/uploads/2016/12/ENH500_Manual.pdf