Five New Keyboard Shortcuts, Cool Stuff Found, and More Tips – Mac Geek Gab 773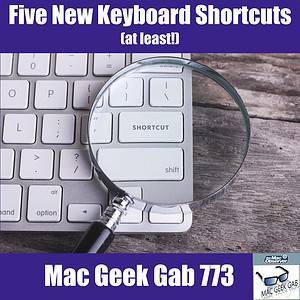 Note: Shownotes are complete!
Chapters/Timestamps/Stuff mentioned:
00:00:00 Mac Geek Gab 773 for Monday, August 5, 2019
Please vote for Dave's Mesh Wi-Fi Session at SXSW 2020 (it helps, even if you aren't planning to attend!)
00:03:32 Scott-QT-Selecting and Deleting Words and Lines with Keyboard Shortcuts
00:07:31 Clipboard Managers
00:14:46 Scott-QT-Flush your Caches with a Nuke-and-Pave
00:20:14 Neal-QT-Use Bluetooth File Exchange to Enable Bluetooth (3)
00:22:30 SPONSOR: eero: the mesh Wi-Fi system that both John and Dave currently use. Visit eero.com/mgg and use promo code MGG to get free overnight shipping for your mesh Wi-Fi system.
00:24:40 SPONSOR: Capterra – Visit Capterra.com/MGG for free, today, to find the tools to make an informed software decision for your business.
00:26:19 Aaron-CSF-Auto Tab Discard for Firefox
00:28:14 Tanel-CSF-DevonThink 3.0 Public Beta
00:30:08 Andrew-CSF-Sennheiser PC7 USB Headset
00:34:11 CSF-IKEA's Sonos SYMFONISK
00:39:59 Raymond-AirPlay on Older Sonos Gear
00:43:27 Running a Virtual Machine on Synology DS918+
00:46:05 SPONSOR: PDFPen 11 from Smile – PDFpen 11 is the ultimate tool for editing PDFs on the Mac, and it now includes split view mode for comparing pages, a font bar, Continuity Camera, and More.
00:48:46 Joseph B-P-CSF-Side Winder
00:49:33 CSF-Hook
00:51:49 CSF-SearchLink
00:54:04 CSF-URL Preview
00:54:54 CSF-Vanilla
00:56:05 CSF-Pixelmator Pro 1.4 added to Apple Photos app
00:57:14 CSF-Kwilt
01:05:52 Charles-772-Brian's Fusion Drive Escapades
01:09:05 Andrew-Return APFS drive to HFS+
01:09:51 Tom-Issues Cloning to APFS External
01:12:54 Jedd-Indexing Hard Disks
01:15:05 Greg-771-Adobe Premiere Pro and Rush
01:16:20 This Week's MGG Premium Supporters:

Toni C., Michael E., Michael from Rochester, Scott from California, Mark from Massachusetts, Brett from Florida, Ralph from Massachusetts, Tim from Indiana, William from Kentucky, Dionicio from Oakland, Joe from Wisconsin, Mike from West Victoria, Dan Bach the Math Jock!, Jim from Virginia, David from Seabrook, Mike from Iowa, Mark from Florida, Racer in Utah, Dave from Chicago, Scott from Illinois, Clive from West Sussex, Jeff from Indiana, Joseph from Georgia, Robert from Alabama, Frederick from Tennessee, Gary from Babylon, Tony from San Francisco, Elizabeth from Virginia, Robert from Clearwater, Steven from Costa Mesa, Joan from Sarasota, Ev The Nerd, Olga from Bellvue, Jason from Charlestown, Stephen from Plainfield, Ward from Mesa, Ken from New South Wales, Nick from Mount Clemens, Ken from California.

01:18:58 Ken-Parasitic Charger?
01:26:42 MGG 773 Outtro
You're downloading today's show from CacheFly's network
August 5, 2019 7:20 EDT PM
AirSonos has not been updated for quite a while. I tried to get it running on High Sierra and had no luck. I just installed AirConnect and it is working pretty well.
August 13, 2019 7:08 EDT AM
With regards to plain-text pasting from the clipboard-- I recently discovered Command+Option+Shift+V does this just fine, without using a special clipboard manager or using a plaintext editor as an intermediary step. I mean, I also use a clipboard manager,  because COME ON!