Geeky Gift Guide and Your Questions Answered – Mac Geek Gab 737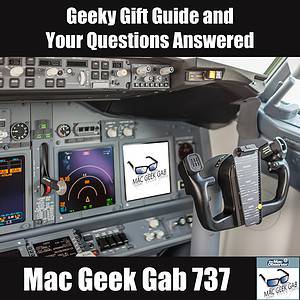 Note: Shownotes are complete!
Chapters/Timestamps/Stuff mentioned:
00:00:00 Mac Geek Gab 737 for Monday, November 26, 2018
00:01:58 Boeing 737
00:02:42 SPONSOR: Other World Computing at MacSales.com. Check out their new Thunderbolt 3 10G Ethernet Adapter
00:04:56 EvTheNerd-CSF-SaveHollywood Screen Saver
00:06:22 Neal-736-Exporting Safari Passwords
00:07:55 Katie-CSF-Mac Media Key Forwarder
00:10:34 David-Use Shortcuts to Customize your iPhone Screens and Icons (and more)
00:12:51 Mike-736-Use iCloud.com to avoid iWork Format Changes
00:17:27 SPONSOR: Opsgenie, now from Atlassian! Opsgenie empowers Dev & Ops teams to plan for service disruptions and stay in control during incidents. Visit Opsgenie.com to get a free company account for up to 5 team members, forever.
00:19:50 Zarkachat-Updating Browsers on iOS 10 Devices
00:23:48 Allen-Backups Tale of Woe
00:32:18 Harry-Connecting 2 monitors to 2 computers
00:37:49 Jeff-MacBook Pro vs. iPad Pro, the 2018 Showdown
00:42:55 Dave's new laptop config
00:47:05 SPONSOR: Jamf Now. MGG listeners can start securing their business today by managing their first 3 devices for free! Add more starting at just two dollars a month, per device. Create your free account today at jamf.com/MGG
00:48:47 SPONSOR: CacheFly. CacheFly's new solution Web Content Optimization analyzes your current Google Lighthouse score to optimize all your content before it's delivered to visitors without requiring any development effort from you, all in the background.
00:58:02 Dave-FaceID with External Keyboard and iPad Pro
00:59:41 CSF-Ventev Wireless Charge Stand ($42.00 or $59.99 on Amazon)
01:02:16 CSF-Ventev wireless chargepad+ ($49.99 on Amazon)
01:04:10 CSF-myCharge PowerDisk+ ($49.99 on Amazon)
01:10:56 CSF-iFixit Pro Tech Toolkit
01:12:22 CSF-ROAV Viva Pro
01:14:26 Warren-CSF-Linedock ($299 and up)
01:16:05 RIVA Concert ($179)
01:19:17 Mike-CSF-Twelve South HiRise Pro
01:21:47 This week's MGG Premium Contributors:

Chris S., Paul M., Mike C., Mark R., Chris F., Working Smarter for Mac Users, Ryan M., Neal L., Scott F., Dave C., John G., James C., Jay C., Frank A., Joe S., Abdullah B., Ari L., Barry F., Michael P., Mikael S., Bob L., Jeff P., John V., John D., Santiago M., Ken L., Clive S., Dave G., Richard B., Ed T., David B., David S., Scott R., Craig R-T., Andrew W., Bob S., Brian M., Scott G., Brian W., Daniel W., Art K., Jim W., Denis M., Bruce D., Daniel M., Rick S., Harvey H., Ian T., John P., Mark P., Tim B., Jim D.,

01:23:51 MGG 737 Outtro
You're downloading today's show from CacheFly's network
November 27, 2018 2:42 EST PM
I've had a Brydge keyboard since original iPad Pro. I often times find myself trying to use the trackpad since I forget that I am on an iPad. It has DEFINITELY transformed the way I use iPads. I'm still quite a ways away from using it as a laptop replacement, but I make ppt's, documents, read, surf, explore, and sooo much more on my iPad because of that keyboard. My wife has a MacBook and I would definitely choose iPad/Brydge combo over her MacBook anyday.
November 29, 2018 3:51 EST PM
Haha, yes! I've found myself pushing for the trackpad on my Brydge keyboard, too.
Similarly – and very interestingly – I've also found myself touching the screen on my Air to try and scroll the window. Apple really has the whole "no touchscreen laptop" thing very wrong, in my experience.