When Your Mac Sleeps Too Deeply – Mac Geek Gab 792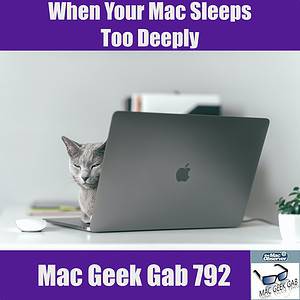 Note: Shownotes are complete!
Chapters/Timestamps/Stuff mentioned:
00:00:00 Mac Geek Gab 792 for Monday, December 9, 2019
00:01:38 Setup your Chromcasts!
00:03:48 Plex setup on Synology

Be sure to give user "plex" read/write permissions to your video directory

00:08:56 SPONSOR: BBEdit from Bare Bones Software is now back in the Mac App Store or Online at BareBones.com
00:10:58 Bill-Use Camera Adapter to transfer photos to new iPhone
00:14:31 Tony-QT-More Precise volume controls
00:16:55 Paul-QT-Always Open New Windows in Tabs

System Preferences > Dock > Prefer tabs when opening documents

00:19:32 Scott-iOS 13's Optimized Charging
00:24:05 SPONSOR: AncestryDNA. Save big on AncestryDNA with special holiday pricing and spark meaningful conversations around the holiday dinner table.
00:26:22 Jesse-Check Apple Watch Accessibility Settings for Hourly Chimes
00:29:11 Michael-Registering Apple Devices
00:39:17 Scott-Mac Mini Sleeps Too Deeply
00:48:53 MACE-Music App cares more about Filename Extensions
00:55:38 Mike Bombich coming on MGG soon.
00:57:15 SPONSOR: Linode - You can build it on Linode. Instantly deploy and manage an SSD server in the Linode Cloud. Start with a $20 credit using promo code mgg2019 at linode.com/mgg.
00:59:38 Julie-Two Display on 13" MacBook Pro with Thunderbolt 3 (USB-C)
01:08:31 David-Using personal domains with Gmail on iOS 13

Set up as IMAP, not Gmail

01:12:27 Joe-Swapping Drive, Won't Boot
01:17:33 Eric-Should I enable AiProtection on my Router?
01:25:38 John-CSF-Synergy
01:26:28 Jeff-CSF-Parallels Toolbox Screenshot Page
01:27:54 MGG 792 Outtro
December 11, 2019 1:18 EST PM
You're comments on taking a screen shot of a full web page reminded me of something I thought I'd heard on here. On your ios device if you have a web page open and you take a screen shot, you can immediately tap on the screenshot thumbnail. It will open the screen shot and across the top of the image you'll see two panels: Screen and Full Page. Click the Full Page and it will capture the full web page you were on.