Dissecting APFS and macOS Catalina with Mike Bombich – Mac Geek Gab 796
January 6, 2020 7:30 EST AM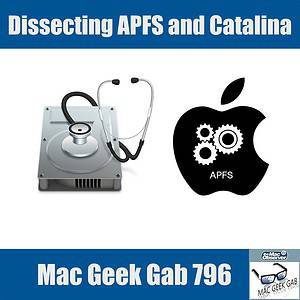 Note: Shownotes are complete!
Chapters/Timestamps/Stuff mentioned:
00:00:00 Mac Geek Gab 796 for Monday, January 6, 2020
CES 2020 Sponsors: iMazing, Other World Computing, TextExpander, Carbon Copy Cloner
00:02:00 Mike Bombich from Bombich Software and Carbon Copy Cloner
00:03:58 Graham-APFS Snapshots and Calculating Used Disk Space
00:19:29 Keith-QT-Tell Carbon Copy Cloner to sleep displays while running

#!/bin/zsh
pmset displaysleepnow

00:23:48 SPONSOR: TextExpander: TextExpander helps you communicate smarter. Create snippets for things you type – or copy and paste – all the time. Get 20% off your first year's subscription at TextExpander.com/podcast.
00:25:40 SPONSOR: ExpressVPN - To watch shows only available in other countries and find out how you can get 3 months free, go to ExpressVPN.com/MGG
00:27:40 Catalina Volume Groups
00:40:25 Can I delete my Data volume accidentally?
00:43:21 Andrew-HFS+ vs. APFS for external SSDs
00:51:46 Andrew-How to avoid Bit Rot and Corruption?
00:58:17 Gary-Performing a speed audit on my Mac?

In kernel panics, look at Extensions in Backtrace

01:10:20 Encryption and Clones
01:13:28 CSF-Lockly Fingerprint/Code door locks and Tapplock Fingerprint padlocks
01:16:28 CSF-Smart Oil Gauge
01:20:34 MGG 796 Outtro
January 6, 2020 2:32 EST PM
It is unacceptable that Apple does not release full APFS documentation, and particularly how to write to such disks (as they did about how to read them by September 2018), more than two years after releasing APFS in 2017.
Such lack of information is blocking developers to release essential troubleshooting utilities to rebuild the directory of APFS disks, like DiskWarrior (Alsoft), TechTool Pro (Micromat) and Drive Genius (Prosoft Engineering).
What is Apple waiting for? Time to send feedback to Apple:
https://www.apple.com/feedback/macos.html
January 6, 2020 2:58 EST PM
Since I cannot edit my above post, that was in relation to the recording, mainly at
43:19
44:40
45:16
45:45
where Mike Bombich warns that APFS gets corrupt and that there is no repair utility capable to repair it now, since Disk Utility fails. And as said above, DiskWarrior 6 for APFS is not yet available due to lack of documentation.
January 6, 2020 3:02 EST PM
When I said "And as said above", I meant "And as said below" (since messages show in inverse chronological order).
And last, but not least, it would be great if you could also interview Rusty Little (Director of Engineering at Alsoft) to talk about APFS and DiskWarrior. That would be great! Thanks.
January 12, 2020 12:48 EST PM
Today, i came across an example of DNS entries ... this example had both Google and OpenDNS entries. I tried adding OpenDNS entries to what i have now ... two Google entries.
The network performance seemed kick up a notch or two. What is going on ?
Ordinarily, i get Network Connections working and come back ten years later for a new system build. Maybe, i should have been paying more attention to this !
Tom