Cool Stuff Found and Your Questions Answered – Mac Geek Gab 798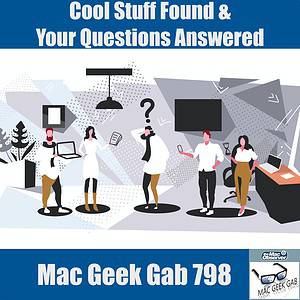 Note: Shownotes are complete!
Chapters/Timestamps/Stuff mentioned:
00:00:00 Mac Geek Gab 798 for Monday, January 20, 2020
00:03:32 Larry-CSF-792-Capto
00:04:22 Scott-CSF-Batteries
00:07:24 CSF-Autonomous Standing Desks
00:10:12 CSF-Plugable 1TB T3 SSD
00:13:37 Louis-CSF-ExactScan, a ScanSnap Manager Replacement
00:18:39 Should I upgrade to Catalina?
00:21:06 Scott-CSF-Siri, What's Flying Overhead?
00:23:43 CSF-Anker iPhone LED Flash
00:26:09 CSF-PlaneFinder
00:28:33 CSF-Audioengine 512 Portable Speaker
00:32:24 Rob-CSF-Sensei Mac Cleaner
00:35:00 SPONSOR: LegalZoom – Join the over four million happy customers in LegalZoom's family this year, and use promo code MGG to get additional savings.
00:38:15 Jeff-797-Notes Search by Keyboard Shortcut
00:41:21 Bruce-Clean Reinstalls in Catalina
00:43:53 Jedd-Still wire ethernet, and Thunderbolt vs. USB expansion?
00:58:42 TB3 Drive is only TB3 if it's plugged in before a USB-3 Device on my 2018 MBAir
01:08:37 SPONSOR: CacheFly. CacheFly's new solution Web Content Optimization analyzes your current Google Lighthouse score to optimize all your content before it's delivered to visitors without requiring any development effort from you, all in the background.
01:10:44 Darius-Extracting email addresses
01:17:17 Charlie-Migrating Drives from Old Mac Pro to new Mac Pro
01:27:48 MGG 798 Outtro
February 6, 2020 6:58 EST PM
I was surprised that your advice for Charlie involved external drive solutions for all of his various disks... the new Mac Pro supposedly supports internal SATA drives with the Pegasus adapter sold via the Apple web site. It's a little pricey ($399), but it comes with a 8TB drive. He could consolidate all of his existing spinning drives onto that 8TB drive, then move his applications from the SATA SSD to the internal T2 SSD. And finally, the new Mac Pro has PCIe slots, right? Just pull the PCIe drive adapter with its NVMe SSD attached from the old Mac Pro and put it into a PCIe slot on the new Mac Pro - done!
February 10, 2020 11:55 EST AM
Great point, @slholdout! We'll mention this in a follow-up episode, for sure.