Upgrades, Slow Internet, Hard Drives, and More – Mac Geek Gab 802
February 17, 2020 7:30 EST AM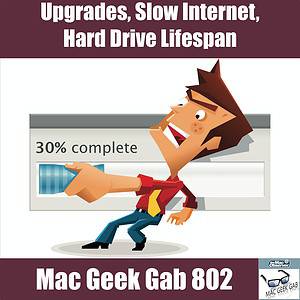 Note: Shownotes are complete!
Chapters/Timestamps/Stuff mentioned:
00:00:00 Mac Geek Gab 802 for Monday, February 17, 2020
00:03:37 Dudley-Bootable APFS/Catalina Backup Recommendations
00:10:42 Felipe-Catalina Upgrade Best Practices
00:16:31 Mike-Hard Drive Condition

SMARTMonTools - Available with homebrew: brew install smartmontools

00:22:50 Wilko-GC-Auto-mounting External Encrypted Volumes
00:29:38 SPONSOR: SimpliSafe. Enterprise-level security for your home, but with no wires to install, no long-term contracts, and just fifty-cents a day. Visit SimpliSafe.com/MacGeekGab to get free shipping and a 60-day money-back guarantee.
00:31:58 SPONSOR: Feals – Tested six times from seed-to-soil, complete with a QR to scan and see results, Feals is full-spectrum CBD, allowing you to truly feel your best. Visit Feals.com/MGG to save 50% on your first order, with free shipping, to boot!
00:34:17 Allison-801-Use TrackMySubs to Track Subscriptions
00:35:03 Joe & John & Gary & Guido & Scott & Adam-801-Use Bobby App to Manage Subscriptions
00:35:39 Ben-801-Truebill to Manage Subscriptions
00:37:24 DLH-Tracking Shows You're Watching
00:48:23 Joe-797-Software Subscriptions vs. OTP
00:54:32 Bob-Still using IPv6?
01:06:45 SPONSOR: BBEdit from Bare Bones Software is now back in the Mac App Store or Online at BareBones.com
01:08:35 SPONSOR: LegalZoom – Join the over four million happy customers in LegalZoom's family this year, and use promo code MGG to get additional savings.
01:10:14 Mark-Troubleshooting Slow Internet Speeds
01:18:01 David-Best Use for Old AirPort Extreme Routers?
01:22:21 MGGF-MilesSawyer-Why is my Bluetooth Headset Audio Low Quality?
01:27:21 MGG 802 Outtro
February 18, 2020 2:08 EST AM
A comment on subscriptions versus one time pricing. I am surprised that a pricing model that is common with enterprise software is apparently unheard of with consumer desktop software.
A common model with enterprise software is the customer buys the software for a one time fee. That includes the right to use the software forever and one year of support. Support after the first typically costs 20% of the purchase price per year. As long as the customer keeps buying support they receive security fixes, bug fixes and new major feature releases. If the customer doesn't buy support they can keep using the software but receive no fixes at all after the first year. If they have stopped paying support and want to get a newer version of the software they have to buy it again, although some software vendors will let them have it if they just pay their back support fees.
This model gives the developer an ongoing revenue stream and the customer perpetual rights to the software.
I don't believe the Mac app store supports this but I am surprised that applications that aren't sold through the app store don't offer a model like this.
February 20, 2020 4:40 EST AM
So far, I managed to go though only some of the posts you have here, but I find them very interesting and informative. Just want say thank you for the information you have shared.
If you want you can also read this blog which talk about Microsoft Windows Error in a very easy way.