New vs. Used/Refurb, USB Disconnects, Notifications, and Ethernet Locations – Mac Geek Gab 760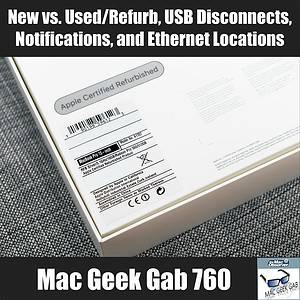 Note: Shownotes are complete!
Chapters/Timestamps/Stuff mentioned:
00:00:00 Mac Geek Gab 760 for Monday, May 6, 2019
00:01:33 MGG Weekly Newsletter (being sent with MailChimp)
00:05:41 Resubscribe to the MGG Calendar
00:07:26 DLH Presenting at MLMUG on Saturday May, 11th
00:07:57 Neal-USB Drives Reporting Dismounts
00:13:30 Phil-Why does it say "No Internet Connection"?
00:20:24 Dennis-Using old AirPort Express to Share Printer
00:25:21 SPONSOR: Experian Boost – Boost your FICO score instantly for free at Experian.com/MGG. Experian Boost can potentially help you establish or increase your access to credit.
00:27:18 SPONSOR: Capterra – Visit Capterra.com/MGG for free, today, to find the tools to make an informed software decision for your business.
00:29:06 Paul-When do you buy new vs. used/refurb?
00:34:58 Scott-Which apps to replace Aperture?
00:45:37 Jim-Using Dual SIM to Travel the World
00:57:39 SPONSOR: TextExpander: TextExpander helps you communicate smarter. Create snippets for things you type – or copy and paste – all the time. Get 20% off your first year's subscription at TextExpander.com/podcast.
01:00:20 SPONSOR: Malwarebytes for Mac – Malwarebytes detects and removes viruses, ransomware, and other malware so you are protected and your machine keeps running silky smooth.
01:03:05 Barbara-Creating Video Clips from One Long Video
01:07:18 Tim-759-Sectigo's Change to Comodo's S/MIME Certificates
01:12:03 Jon-757-Hold Power First on new Portables
01:14:49 Todd-iStat Menus for Magic Mouse Battery Notifications
01:16:21 Bill-Favorite Mailbox Notifications on iOS
01:17:18 Michael-758-1Password Can Sync in Background
01:20:49 Glen-758-Wire to the ceiling!
01:21:42 Rob-758-Wire the doorbell
01:22:56 Chris-756-Use Password Managers with Remote App
01:24:30 Bob-757-Startup Chime dead at 32
01:25:56 MGG 760 Outtro
You're downloading today's show from CacheFly's network
Another Captive Portal Escape:
At approx 17min, @davehamilton & @johnfbraun discussed captive portals. In addition to neverSSL.com,  has your back too.... the url captive.apple.com works to (also easy to remember). The url simply show"Success".
Thanks for the heads-up, Mike! That's a new one to me, and a good one to know!
I'm pretty sure that's one of the one's Apple automatically tries in the background (or, well, should try, but sometimes devices don't, for whatever reason). Great stuff.