Save Your Data...Safely – Mac Geek Gab 769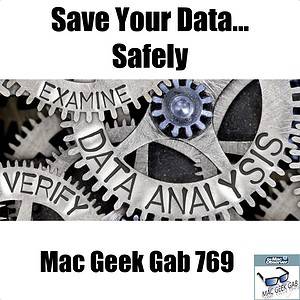 Note: Shownotes are complete!
Chapters/Timestamps/Stuff mentioned:
00:00:00 Mac Geek Gab 769 for Monday, July 8, 2019
00:01:38 Does LANtastic Exist?
00:02:43 How to avoid non-paying clients?
00:05:46 SPONSOR: Linode - You can build it on Linode. Instantly deploy and manage an SSD server in the Linode Cloud. Wordpress, OpenVPN, WireGuard, Counter-Strike: Global Offensive server, Minecraft, Team Fortress 2, and more! Start with a $20 credit using promo code mgg2019 at linode.com/mgg.
00:08:13 Stephen-iMac Rebooting When Printing
00:17:49 JP-Which VPN ... and where to use it?
00:27:55 Bill-Noise Canceling Earbuds
00:30:47 SPONSOR: Capterra – Visit Capterra.com/MGG for free, today, to find the tools to make an informed software decision for your business.
00:32:50 David-ScanSnap (and other) 32 to 64 for Catalina
00:42:12 Tom-768-Use VueScan for Older Scanners with 32-bit Drivers
00:45:02 Andrew-768-Use Zoom for Remote Screen Sharing/Help
00:46:31 Andrew-CSF-768-RealVNC for Screen Sharing/Help
00:47:53 Bruce-760-Failing USB Hub can Affect Everything
00:52:05 Turn it off, turn it on!
00:54:39 Pat-How come no multi-port USB-C hubs?
00:56:51 Pat-QT-Save your data safely
01:01:17 Patrick-QT-Scroll Safari Tabs with Trackpad
01:02:58 SPONSOR: BBEdit from Bare Bones Software is now back in the Mac App Store or Online at BareBones.com
01:04:29 CSF-Atomi Air Conditioner Control
01:10:13 Greg-CSF-LightsOff
01:11:28 Andrew-CSF-Samsung T5 SSD
01:18:00 Bill-CSF-Privacy Pro for iPhone from Disconnect
01:23:00 MGG 769 Outtro
At 00:45:02 Andrew mentions using zoom.  After reading this article, you might not want to.
July 10, 2019 12:19 EDT PM
Indeed. It seems that Zoom did some very bad things, the worst of which is to start up a web server on your mac, and leave it running even if you uninstalled the app! Shameful.
They have issued an update today, 7/10/19, (which you can get by selecting update in the zoom.us menu when you run the app). The claim is they no longer run a web server (which I believe is true). They also claim to have fixed the uninstall problem. But it is hard  trust them any more.
Zoom is a great way to have a meeting though. Works much better, IMHO, than Skype for larger groups.