Swipe Right... In the Stopwatch App – Mac Geek Gab Podcast 777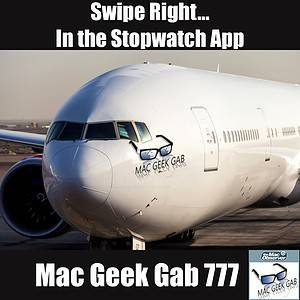 Note: Shownotes are complete!
Chapters/Timestamps/Stuff mentioned:
00:00:00 Mac Geek Gab 777 for Monday, September 2, 2019
No One Knows if you've swiped left or swiped right in the stopwatch app
00:02:59 Mike-QT-Capture iOS Screen Video & Sweep Second Hand Stop Watch
00:05:18 QT-iOS Safari History

Tap and hold on forward or back control to display History

00:07:40 Brad-New Mac Setup Guide
00:23:06 SPONSOR: TextExpander: TextExpander helps you communicate smarter. Create snippets for things you type – or copy and paste – all the time. Get 20% off your first year's subscription at TextExpander.com/podcast.
00:25:23 Todd-Can Windows Viruses infect Macs through Bootcamp or Parallels?
00:29:00 John-776-Apple Card *does* Minimum Payment
00:36:00 Ed-775-Sending in an Unencrypted Hard Drive
00:47:08 SPONSOR: Linode - You can build it on Linode. Instantly deploy and manage an SSD server in the Linode Cloud. Start with a $20 credit using promo code mgg2019 at linode.com/mgg.
00:49:09 Felipe-CSF-776-CopyPaste Pro's ClipRevolver
00:50:31 Ralph and Will-CSF-776-reFind Boot Manager
00:51:54 Javier-776-Apple's Thermal Curve Might Be Biting Allison
00:56:38 CSF-Eufy Smart Scale P1
01:00:04 Power Delivery Battery Roundup
01:07:13 Apple Podcast Review for 8/23/2019
01:09:45 Kent-Connecting FireWire to 2019 iMac
Cable Matters Thunderbolt 3 to T2 Adapter
01:14:14 Craig-Daisy-Chaining Thunderbolt Docks
01:16:03 EvTheNerd-Dealing with Apple Customer Relations
01:21:29 Daniel-To VPN or not to VPN?
01:29:14 MGG 777 Outtro
September 2, 2019 7:50 EDT AM
- Apps
- VNC Server: Remote Access for "my" College Student's Computer (used with my RealVNC account).
- Other settings
-- Since many computers (especially in dorms) are on shared network, ENABLE macOS Firewall and enable the optional "Enable Stealth Mode" setting.
September 7, 2019 10:12 EDT AM
I created a thread for this, but maybe this is a better place to post this particular message.
I need to give a BIG thank you to Mac Geek Gab and @BrianMonroe for mentioning my ebook on podcast 777.
I've seen a small jump in sales just from a 30-second snippet.
For those of you who did purchase and are regulars here, please don't hesitate to let me know what you think the book would benefit from in future updates.  I take my customers' suggestions seriously and try to incorporate the ideas, when possible.
@davehamilton  I've sent you a private message in Facebook messenger.
Thank you all again! 
September 7, 2019 10:23 EDT AM
Ed, Your welcome! I am glad that more people have had an opportunity to read your book as it is a good resource that answers many of the basic questions that people have when when using a Mac. This is also proof that MacGeekGab has an engaged audience that is willing to support the community when they find a product or service they find value in.
September 7, 2019 12:01 EDT PM
Well, I plan on trying to be a bit active here, even if it's to learn more or give a little advice when applicable. 🙂