Swiper, More Swiping! – Mac Geek Gab 770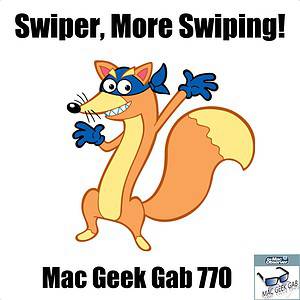 Note: Shownotes are complete!
Chapters/Timestamps/Stuff mentioned:
00:00:00 Mac Geek Gab 770 for Monday, July 15, 2019
00:01:50 Domenico-QT-Turn off VPN when setting up Smart Home Devices
00:05:31 Keith-QT-More Swiping
00:10:49 SPONSOR: Experian Boost – Boost your FICO score instantly for free at Experian.com/MGG. Experian Boost can potentially help you establish or increase your access to credit.
00:13:22 Bob-Reliable Local Network Backup Options
00:23:19 Make a backup of your backup!
00:29:08 Ed-Folder Sharing without Dropbox
00:32:30 Rolling to two new iMacs at once
00:47:35 SPONSOR: CacheFly. CacheFly's new solution Web Content Optimization analyzes your current Google Lighthouse score to optimize all your content before it's delivered to visitors without requiring any development effort from you, all in the background.
00:49:27 Bruce-CSF-769-ISOtunes PRO Earplug Headphones
00:50:53 CSF-Optoma NuForce BE Free6
00:53:12 Bob-AirPods work great on a Bike
00:54:41 Nathan-Migrating from Google Photos to iCloud Photo Library
01:03:03 Eduardo-Syncing iMovie Libraries with iCloud Drive
01:07:11 Scott-How much free space do I really have?
01:11:18 Greg-769-CSF-Scanner Pro
01:12:02 Ty-CSF-Lirum Device Info
01:14:23 CSF-Wyze Bulbs
01:19:14 ecobee SmartThermostat with Alexa
01:22:56 Dave on MacBreak Weekly on 7/16
01:23:24 Gilles-769-Storing on NAS is not backup
01:24:46 Bob-769-Now What Do You Think About Zoom?
01:30:26 This Week's MGG Premium Supporters:

Elizabeth from Virginia, Steven from California, Ward from Arizona, Joan from Florida, EvTheNerd from California, Olga from Washington, Jason from Charlestown, Stephen from Illinois, Kenneth from New South Wales, Nick from Michigan, Paul from Indiana, Mark from Connecticut, Ryan from Texas, Neal from Connecticut, Scott from Portland, Peter from Maine, Working Smarter for Mac Users, James from San Antonio, Jay from New Jersey, Joe from Kansas, Chris from Hertforshire, Abdullah from Maryland, Ari from California, David P., Jon from Alabama, Robert from Florida, Mary from California, Corrie from Washington, Mike from Illinois, Richard from Gwynedd, Jason from Missouri, Norton from Maryland, Edward from Texas, JP from California, Michael from Michigan, Joel F., Kraig S., Avram from California, Tony G., John O., Michael P., Paul from Kent, Gary from Chicago, Richard from Pennsylvania, Dennis from Chapel Hill,  Bruce from Virginia, Greg from Los Angeles, Ron G., Anthony N., Deb from California, Doug from North York, Debbie from Houston, $50 Paul Pizza.

01:32:41 Mark-QT-Drag documents from one printer to another
01:33:56 MGG 770 Outtro
You're downloading today's show from CacheFly's network
September 21, 2019 5:04 EDT AM
This site helped me a lot to be candid.