Cool thing found - Microsoft Office version 16 still works with Catalina
June 25, 2019 1:32 EDT PM
June 25, 2019 1:51 EDT PM
I'm not sure what the official MS position is for Office 2016, but for Office 2019 they claim they will maintain support for the 3 most recent versions of macOS.
With regards saying that "version 16" works, the statement probably needs expanding because Office 2016 ended at version 16.16.11 and Office 2019 is currently version 16.26. ie. both are version 16 but they will not receive the same levels of support from Microsoft. On the other hand being the same major version level probably means that if 2019 works with Catalina then likely that 2016 will too.
June 26, 2019 10:07 EDT AM
The link below shows MS Office 16 is supported till 2020 and has extended support until 2025.
https://support.microsoft.com/en-us/lifecycle/search/18412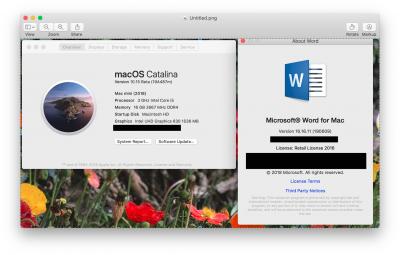 June 26, 2019 10:30 EDT AM
Sorry, fixed my typo above, when I said Office 2016 max version was 16.11, I meant 16.16.11. (Goodness knows why MS keep using a version numbering that causes confusion with product naming!)
Good to see that 2020 date - which hopefully means *full* compatibility for Office 2016 for Catalina - with it being (officially) released in 2019 and I'm guessing that we'll see some version numbers like 16.16.12 etc for those minor updates. On the other hand 2020 is just round the corner!
Microsoft didn't stop issuing updates for Office 2011 until 2017, so they've seemingly closed their support timeframes a bit.
PS. I'm also critical of Apple continuing to use macOS versioning that keeps the "10." prefix!
June 26, 2019 10:18 EDT PM
It sounds like the original point was that 2016 works in Catalina, regardless of whether it's supported. This doesn't surprise me, however it's important to run a more recent version of the 2016 installer because older versions of these apps and updater were not 64-bit ready.
September 2, 2019 11:26 EDT PM
Ben, there may be some things that aren't 64-bit but, I still Routinely get auto updates and every thing I need still works (Word, Excel, PowerPoint) Extended Support End Date is shown as 9/2025. As long as I get updates and bugs squashed, I'm happy. Also being retired almost 4 years, I really know how to squeeze a dime. 😜