CPU speed dropping while broadcasting video
August 19, 2019 5:49 EDT PM
Coming to you from the land of weirdness:
We use mimoLive to broadcast my live show. It runs on my husband Steve's iMac. I use mimoCall, which is a Chrome URL created by mimoLive that lets me broadcast my webcam and my desktop to Steve's mimoLive instance.  It's essentially like joining a Google Hangout on Air session.
Starting a few weeks ago, my video started to skip a LOT of frames, and it's out of sync with my audio.  Last night, for the first time I saw my processor speed dropping, but only while I was broadcasting.   I was watching it using iStat Menus.
I have a 2.7GHz i7 MacBook Pro (2016, 15").  Normally if I load it up, I'll see the speed clock up to 3.1GHz while it's under that strain.  This time though, I saw it hit 1.34GHz!  I figured it must be thermal load, but the CPU temp was only 147F, which isn't high at all I don't think.
I took 3 screenshots over time and watched it go from 1.34GHz to 2.32GHz and back to 1.6GHz.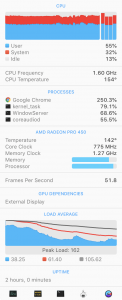 Can anyone explain why my processor speed would go _down_ instead of up while it was being asked to do more?  BTW, it HAS to be Chrome, the tool doesn't work in Firefox or Safari.
Thanks for any ideas,
Allison Sheridan
Podfeet Podcasts at https://podfeet.com
Technology geek podcasts with an EVER so slight Apple bias!
Follow me at @podfeet
August 23, 2019 9:44 EDT AM
So... in one screenshot, bzserv (BackBlaze's background process) is taking up far more CPU than it should. I recommend using AppTamer to keep all those pesky background processes under control while you're trying to actually, you know, use your computer. 🙂 
But that's just tangential! 
As for why your CPU speed is going down... I agree. That seems counter-intuitive. What I'm not seeing with those screenshots, though, is the fan speed. Temp is fine, of course, but not sure about fans, etc. It could be your system trying to "save itself" from overheating. 
Also, and this isn't your problem, but for anyone driving by: if your battery is below 5%, your Mac will also throttle itself down to like 800MHz until you plug it in.
Honestly, if there's nothing else obvious I would do an SMC Reset ("when it seems like hardware but maybe isn't hardware it might be SMC!") and see if that resolves this mysterious issue.
Regardless, go get AppTamer. It's something all podcasters should be using. 🙂 
August 23, 2019 10:25 EDT AM
Thanks for the thoughts @davehamilton.  In some of my tests, I do a reboot, then run a script that stops all of the services like Backblaze, Dropbox and Google Drive and launches all of my recording-related apps.  Must not have run the script during that particular set of tests since bzserv is still running.  Thanks for the tip on AppTamer.
I have been able to get this jittery video instantly when I start broadcasting video, long before it would have time to heat up I think.  That said, the fans kick on instantly when I start broadcasting video to Chrome.
I've done an SMC reset and an NVRAM reset and sent hardware diagnostics to Apple. No hardware problems other than a dying battery which I already knew about (schedule replacement imminent).
I've started watching the graphics card (making sure I'm forcing it to the discrete card) and it's definitely maxed out to 95-98%. Oddly during the Max Headroom effect, it's showing around 50fps which is definitely not what I'm seeing.
Still baffled.
August 24, 2019 11:19 EDT AM
Bad news, my suggestion of running the Intel Turbo Boost Monitor under Parallels doesn't work, it would seem their processor emulation doesn't make Turbo Boost available.
Perhaps good news, I found a macOS app that will let you disable and enable Turbo Boost. I can't imagine how this would happen, but worth a look:
September 4, 2019 12:30 EDT AM
Thanks, @johnfbraun. In reading the description on this app, it explains that one advantage is that your CPU will be running too hot - up to 100C and turning off Turbo Boost will bring it down.  But my CPU never gets above 60C.  When I stream video it actually goes LOWER because the CPU speed is dropping.
September 4, 2019 2:52 EDT AM
@podfeet  I was thinking more of just trying out the feature of this program that disables and enables Turbo Boost.  Sorry if I wasn't clear in my last post, in that it is possible that, though this shouldn't happen, the flag that this program sets/resets will enable Turbo Boost that was mysteriously disabled.
September 4, 2019 9:41 EDT AM
Ah, gotcha.  I'm trepidatious to try this.  Seems like an awfully invasive tool from a vendor I'v never heard of.
In other news, this Mac has ZERO issues running ScreenFlow to capture and record video and audio and transcode.  I know ScreenFlow doesn't use the graphics card, and I suspec _broadcasting_ video does use the graphics card, so maybe the problem is with the graphics card? I've had theories before though and they never pan out.
September 29, 2019 8:30 EDT AM
my only advice is to get a better device with a better cpu performance