PSA: Dropbox to no longer "follow" symlinks
August 31, 2019 12:35 EDT PM
I got an email today from Dropbox indicating a change in how they deal with symlinks (and telling me I have symlinks). In essence symlinks will no longer work with Dropbox.
This may not make sense to many people but symlinks were a way to have Dropbox include folders that actually live external to the Dropbox folder on your Mac. (Dropbox has never "followed" a standard alias.)
I think this has been causing issues with people having files synced by multiple services (notably iCloud).
The change in itself is significant but also to be noted is that Dropbox will, when it implements the change, create a duplicate copy of symlinked folders. This may cause a sudden increase in disk space usage for some people.
Anybody who receives the symlink email from Dropbox needs to take action one way or another.
https://help.dropbox.com/installs-integrations/sync-uploads/symlinks
August 31, 2019 12:51 EDT PM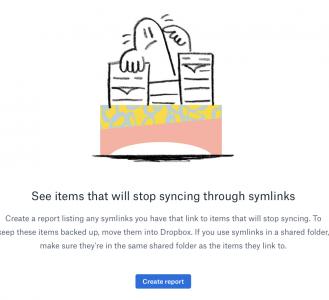 This link to run your own report
https://www.dropbox.com/symlink_report