[Solved]

My Synology DiskStation's SSD Cache has Crashed
September 6, 2018 12:16 EDT PM
Randomly my DS1817+ started beeping. I logged in to see the alert that my SSD Cache had Crashed. I have a single SSD in one of the bays acting as a read-only cache. Or, well, I did. 🙂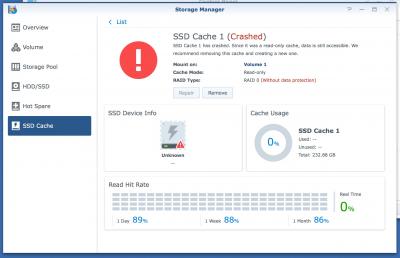 It is certainly coincidental with me updating the firmware earlier, though I'm guessing it's simply the age of the SSD. On this I have the option of the expansion bay card for SSD cache or simply putting in a 2.5" SSD into one of the bays. I had an extra Samsung 840EVO so... I chose the latter.
My gut says to remove and re-add it (it's only a read-only thing, so if it dies again there's minimal risk to my data), so that's what I did, but I had to completely remove it physically from the unit. So far, so good, but it's only been a few minutes. I'll report back!
September 7, 2018 8:57 EDT AM
As might have been expected, this saga ends with the drive crashing... again. 🙂 I guess 48% lifespan isn't quite enough!
September 7, 2018 11:32 EDT AM
Dave, do you see any benefit to using an SSD cache? Are you running VMs, Docker and all those advanced stuff or juste the media server, Plex, Cloud Sync, Drive and such? I just upgraded my DS415play to the DS918+ and was wondering if adding an SSD cache was worth it. I'm in the second scenario. I kept the RAM at 4 GB since my previous Synology only had 1 and was running fine.
September 7, 2018 11:56 EDT AM
Dave, do you see any benefit to using an SSD cache?
I'm honestly not sure, yet... I think I've *always* had an SSD cache in this unit, so I guess now I'll find out (unless I can dig in my drawers and find another SSD to put in there). It's a read-only cache, so not sure how helpful it truly was.
September 13, 2018 2:49 EDT PM
Dave why were you using it as read only? Or do you need to put in 2 drives for read write to work?  I have a bunch of extra SSDs laying around and was thinking about using them, but not sure the risk is worth the reward...