Apple's macOS Mojave 10.14.4 Update Includes Gmail Bug - We Have a Possible Fix
March 28, 2019 6:48 EDT PM

After updating to the latest version of macOS Mojave 10.14.4, some users are reporting that Apple Mail will not connect to a Gmail account that is part of a G-Suite setup. [Update Saturday, March 30, 2019: this is now fixed.]
So far what it sounds like (according to a discussion in the Apple support forums) is that the prompts pop up, and you walk through entering the information again, but the handoff back to Mail is failing silently so there's no error message to work from.

There are at least a couple of ways to work around this until there is a fix. First, you can simply use a different mail client or even just log into Gmail in a web browser.
Second, some people have reported success by disabling their existing Apple Mail accounts and creating new ones, entering the relevant information as a "regular" IMAP account instead of selecting the Gmail option when creating the new account.
If you're going to try the IMAP option, we've had better luck here at TMO by using Gmail's alternate server names of imap.googlemail.com and smtp.googlemail.com instead of their gmail.com counterparts. Additionally, while Mail will want to use "Automatic" as the username, don't let it. Manually type in your full email address before clicking through to the next step.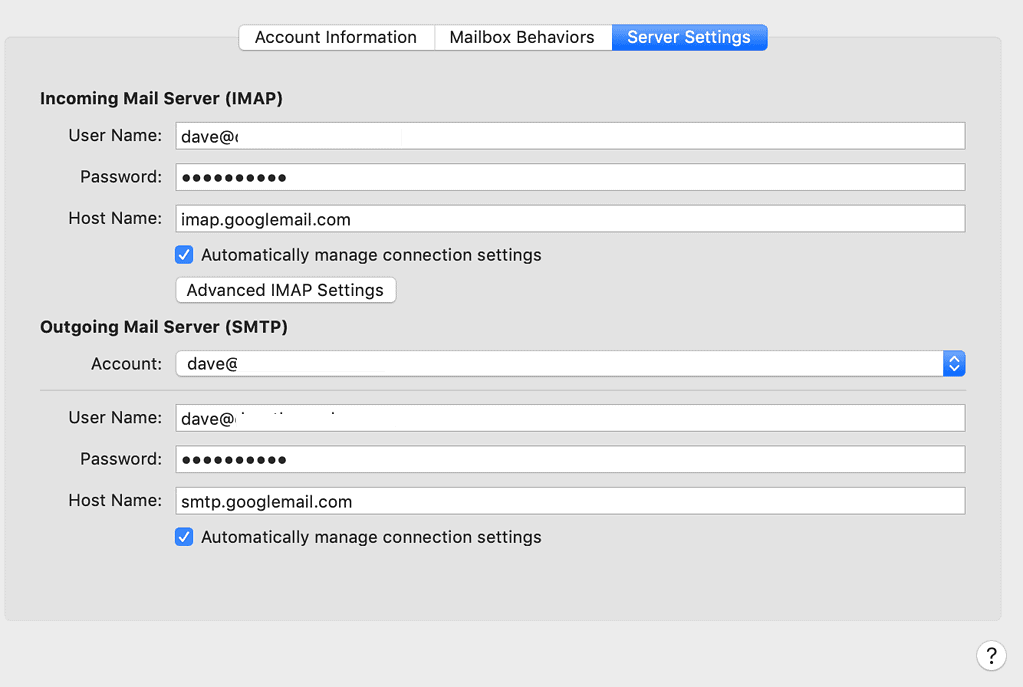 If you're going to use the IMAP method you'll need to enable what Google calls "less secure apps" to access your mail. If you have Two-Factor Authentication enabled, you'll also need to generate an App-Specific Password to use in Mail here. Don't worry, Mail will still connect over an encrypted connection to the "new" account you set up.
A quick scroll through the support discussion shows some people having issues with a Gmail address that includes a period in it, some being told by Apple Support to create a new account, some being told NOT to create a new account, and some saying a gmail.com address with no punctuation isn't working either.
Whatever the case, if you're using Apple Mail for any sort of Google-provided address, be aware this could be broken for you if you are keeping up to date on macOS Mojave and want to update to 10.14.4.
March 28, 2019 10:40 EDT PM
Isn't blanking out the domain part of the email address in the screen shots pointless?
Isn't the domain @gmail.com for all gmail email addresses?
March 28, 2019 10:49 EDT PM
Isn't blanking out the domain part of the email address in the screen shots pointless?

Isn't the domain @gmail.com for all gmail email addresses?
It's gmail.com for all gmail.com addresses, but this bug also (only?) affects people with Google Apps/G-Suite addresses, though you could probably figure out that domain, too. 🙂 
March 29, 2019 12:13 EDT AM
iVoid, some people use gmail with custom domains (including myself), so not all gmail email addresses end in "gmail.com."
I'm not sure, though, whether all custom domains are GSuite accounts. Mine is a GSuite account. However, someone else set it up for me years ago, so i'm not an expert on how GSuite accounts work.
I have a few questions for the authors of this article:
I'm one of the people experiencing the bug. I've been using Gmail in a web browser for the last few days. I don't want to switch to another client because I have a lot of custom rules and folders in Mail and I use a third-party Mail plug-in and so I'm hoping I can return to Mail if the bug is fixed soon.
I have talked to two Apple technicians. On Tues, I spent two hours on the phone with one technician. He was helpful and read the discussion forum and understood the problem. We tried a number of solutions, none which worked, and I sent him some diagnostic information. He said he'd call me the next day. However, a different technician called the next day and that technician was clueless and hadn't reviewed my work with the previous technician. So I was annoyed.
The second technician suggested I delete the Gmail account from Internet accounts and then add it again as an iMap account as you have suggested. However, I have a lot of folders in Mail under "On My Mac" and I was worried they might disappear when I delete the account. I actually think they probably wouldn't disappear, because I think those folders can be used by multiple accounts. However, I wasn't sure. The second technician seemed to think the folders would disappear. So I decided not to risk deleting the account. I'm therefore waiting for Apple to provide some sort of fix. But, I'm wondering: do you know if the technician was correct? Will those folders disappear?
Thanks.
March 29, 2019 5:39 EDT AM
Folders that are in the "On My Mac" section will not be affected by removing the Gmail account. Any messages in those folders have been moved, or copied, into an area on your Mac that is not synchronised to a server. They are not "used" by any accounts.
It is when deleting a POP account that you will see the folders that do disappear are the special folders (Inbox, Sent, Drafts, Junk, Bin, Archive) for that account . (So before deleting a POP account one should move all messages from those folders into an On My Mac folder.)
When you delete an IMAP, or Exchange, or Google, or other "synchronised" account their folders (ie. as listed explicitly under that account name) will disappear from your Mac but should reappear, and re-download, when you add the account back.
However, as the mantra goes, always best to do a backup before messing around with your data - just in case!
March 29, 2019 12:55 EDT PM
Graham, thanks! I had a feeling the On My Mac folders wouldn't disappear. Apparently the second technician I talked to really didn't know what he was talking about.
I'm still reluctant to remove and re-add my GSuite account, so I'll wait a little longer to see if Apple provides a fix.
March 29, 2019 2:12 EDT PM