iCloud Control - selective syncing for the rest of us who are not on Catalina.
iCloud Control
This free app will give users of Sierra and above Catalina's capability of selective syncing in iCloud, making iCloud not just a syncing service but an archival storage space in the Cloud.
iCloud Control Adds a menu to the Finder that allows control over files stored iCloud, allowing user-controlled selective synchronization.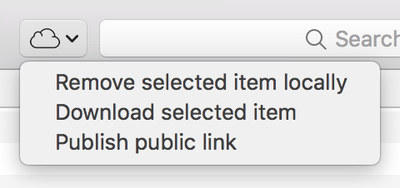 ---
Developer's Remarks
macOS Catalina (10.15) includes new functionality that makes iCloud Control redundant.

In the context menu, accessible by right clicking on a file / folder in iCloud, there are two new options:

Download Now: Works the same as the "Download selected item" option in iCloud Control
Remove Download: Works the same as the "Remove selected item locally" option in iCloud Control

You can now share files in iCloud by using the share menu and choosing "Add People". To obtain a public link, select "Copy Link", and then under "Share Options", "Who can access", choose "Anyone with the link".

Because of these changes, it is time to retire iCloud Control. I will no longer be maintaining it, but will leave the repository online for those that may still find it useful for older macOS versions.
---
If you have tapped cask using brew you can enter the following 
brew cask install icloud-control
Otherwise find the link mixed in with the rest of the verbiage, https://github.com/Obbut/iCloud-Control
Either way, don't forget to right-click the app to open it without having to visit Security System Preferences on the initial launch.
Cheers!
—Alex
This topic was modified 4 months ago 2 times by
Alex Santos