Setup 2.4 and 5..0 Ghz. in both Automatic
In setting, do I  leave 2.4 and 5.0 Ghz to automatic or leave Auto only to 2.4 ?? I want it to automatic change wherever I moved from inside to outside or living rm to garage
Thank You
I'm guessing here because you are not specifying which WiFi router you are talking about.
The automatic I've seen with respect to WiFi radios is allowing the WiFi router to choose which channel it will use (11 (13 in some countries) channels for 2.4GHz and 24 channels for 5GHz).  But once the WiFi router chooses a channel it does not change it.
So I do not understand the comment about changing when you move to different home locations.
Your phone, tablet or computer will choose the stronger signal it sees but may hold onto that signal beyond the point where it would be better to switch to a different signal.  In your example, it might start with the 5GHz signal, and hold on to it when its performance is less than what you would get if your device switches to 2.4GHz.  But generally, if the device loses the weaker signal, it will grab the other signal.
If you want to provide more details about what WiFi router, and what you mean by moving around your home, maybe someone else can give you a better answer.
Are you talking about macOS -> System Preferences -> Network -> Location -> Automatic?
I've looked at the Xfinity manual for your TG1682G router
https://secure.xfinity.com/anon.comcastonline2/support/help/faqs/wireless_gateway/HOW5220_Wireless_Gateway_3_UserGuide_06_19_15.pdf
If I understand your question about Automatic now, AND if I understand what I'm reading in the in the above manual, then it appears this cable modem/router/WiFi base station has a separate network name (SSID) for 2.4GHz and 5GHz frequencies.
Check the label on the side or the back of your TG1682G.  Does it look something like this?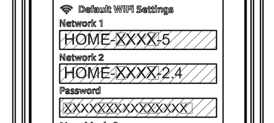 If this is the case, then your Mac, iPhone or iPad will NOT dynamically switch between 2.4GHz and 5GHz frequencies, as long as it can barely hold onto the frequency it is currently attached to.  And the 1st signal it will attach to if it can see both is the 1st one of the 2 listed in the System Preferences -> Network -> WiFi interface on the left -> Advanced -> WiFi -> Preferred Networks.  If it totally loses the signal for the 1st Preferred Network, it will start looking for the other Preferred Networks in the order they are listed, and then it might grab the next one it finds in the list.  But once it has locked onto that network, it is not going to give it up as long as it can see a signal, even if it is a lousy signal and the other network is stronger.
If you can configure the TG1582G so that the 2.4GHz and 5GHz Network Names (SSID) are the same, and they both have the same password, then the Mac, iPhone or iPad may decide to jump from one frequency to the other, when the signal strength of the one it is using is too weak and the other frequency is much stronger.
NOTE:  If the label on the side or back of your TG1682G ONLY shows a signal Network Name (SSID), then you are all set.
I do not know what configuration adjustments (if any) you need to make to the Netgear extender (I've never used one).
I checked and I have a single network name and password so 2.4 and 5.0 can be different SSID and Password... correct??
If you just have a single network name, then both the 2.4GHz and 5GHz radios are using the same network name (SSID).  If you want to confirm this you can use Network Diagnostics on your Mac to do a WiFi scan.  Option-Click the menu bar WiFi icon -> Select Open Wireless Diagnostics.  Then in the Wireless Diagnostic Window menu bar select Scan, then click Scan Now, and you can see all the WiFi access points your Mac can see.
OK I have extender by Netgear WN2500RP, bought it refurbished. I m attaching photo that I took with extender below.. It says MAC 1 and MAC 2, does that stands for 2 networks. Hope to learn more and thanks
MAC, in this case, stands for Media Access Control address.  Every Ethernet port and WiFi radio has a unique MAC address.  The 1st 6 digits/letters are a manufacturer ID (and can generally be searched via Google to find out the manufactuer associate with a given MAC address.  The last 6 digits/letters are just a unique value assigned by the manufacturer.
Anyway, you do have both 2.4GHz and 5GHz radios in the Netgear.
I've never setup a Network Range Extender, nor have I used one, so I do not know how they work or how you configure them.  Sorry, but for that, I'm a dead end.