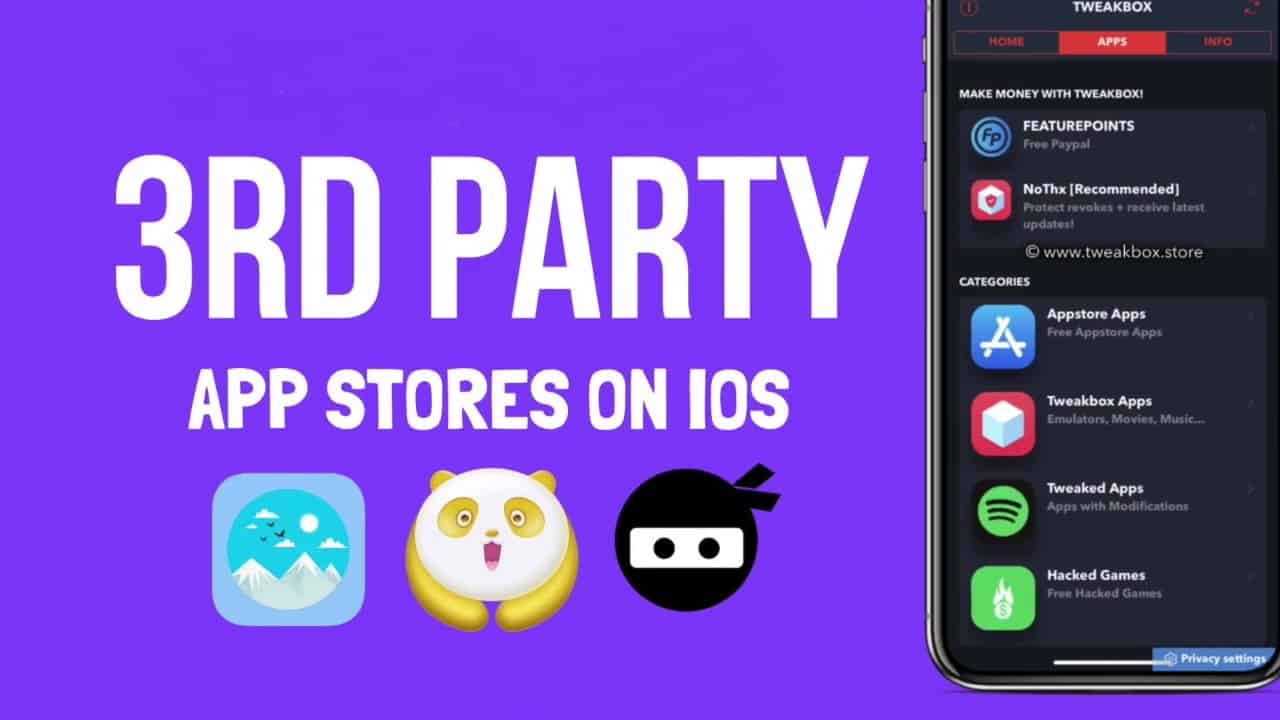 Many times, we think twice on whether an app is paid or unpaid simply because of the efficient service it provides but with the cost it takes. In certain cases, some apps are paid while at other cases, some apps are unpaid. However we have never realized that a paid app can also be used like an unpaid app if we are smart enough.
Paid apps can be downloaded and installed for free on iOS without jailbreak in a specific manner. We generally use the popular app stores like that of Google Play app store, Apple App store, or certain third party based app stores. The only thing common between them is that they all work to provide efficient service to people. However the third party app stores can be used as unpaid apps, with a jail break free experience, even though they are paid. They come up with an advantage i.e. they can work without any means of Jailbreak.
For example, the Tutuapp stands as a first choice for all iPhone and iPad users who search third party-based app Stores, download them and install them quite easily. It wouldn't stop functioning randomly or it wouldn't get deleted until one really wants to. So, one can also use the hacked or modified versions if not the official one. In spite of these apps being paid in nature, they work for free on iOS.
Procedure to download paid apps for free without jail break on iOS
It is very easy to download a favorite third party app and then install it and use it and continue to use. Normally we do not expect any application getting interrupted or removed all of a sudden. The following process can be used or installation.
The first criteria us to check whether the phone or device is updated and contains the latest version or not. This would make the download and installation process easier.

Next a user has to click on the first page of the third party app that he/she wants to download.

After this he/she must click on "Download Now" which is present right there for the users.

After this, an option will come where it will be asked to the users whether they want to install the app or cancel it. The user has to click on the install option.

Then the user has to affirm, whether he/she feels that the app is trustworthy enough or not. For this to do, he has to click on settings, followed by general and then the device management option. This will indicate the app developer's management that this third-party app might be trustworthy and safe for the user and the phone.

After this, one needs to click on the option called "Kildals Blommor AB".

Just after this a pop up can be seen. Here the user has to click on trust will show that the user can trust on this third party app and download it for free.

Now at this stage, the third party app is almost ready for use. You don't have to worry for anything else as the app is already ready to get executed. This is because the user i.e. you have yourself trusted and affirmed the fact that this particular third party app is trustworthy. So now the app can be opened successfully.

After this, one can click on a favorite app from this app store or just download any preferred game and start to play it by downloading kit within a fraction of few seconds. Isn't it very simple? This overall proves takes just a few seconds and once they are done, the user can start to use the app store for free without getting stuck into any form, of jail break.
Examples:
Amongst these, AppValley VIP is quite popular and this can be hacked or modified, and one can play certain games and download whatever one feels at his or her convenience.

Next is the Hip store. The hip store is very important and presently it has been renamed as HIP4U. it is highly safe and undergoes scanning process regularly on its interface to check whether it is safe and whether it still continues to work well for the users or not. So the developers are highly functional and this also comes for free without any means of jailbreak.

The third in this list is the Panda helper. Panda helper has stepped into the dominant market recently. However, it has been liked by many people because of the wonderful gaming options that it provides like that of NBA, WWE, FFA, Pro Evolution Soccer and many other important games. This also comes up without any means of jailbreak in between.

The next in this list is that of Tweakbox. It has been in the market for a long time. Additionally, if used an iOS-based application, it can be used for free or paid and it depends upon the user to select among these. It is monitored regularly and it is extremely useful.

Another very important third-party app that is paid, but they can be downloaded for free is the Appvn app. This app is a personal favorite of most of the people. This is because the whole business world as well as personal interactions is to a major extent dependent upon social media websites and WhatsApp, snap chat, Instagram etc. However one might in ordinary cases not get access to all kinds of such stores otherwise. This app store holds them all at one place and one can easily download them, install them and use them readily. So they can use them to context with people, make new friends, share job details, work reports and just anything and that too for free. So, this is a breakthrough in terms of a jailbreak experience for this kind of third party based Appstore.
So, there are many advantages of using these apps which are extremely efficient as well as free when used on iOS-based applications. Second, it also comes up without jail free jailbreak experience.