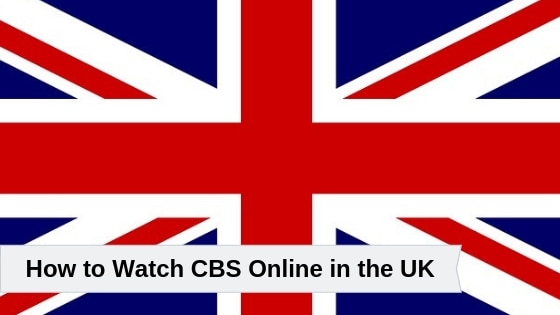 There are many great programs on the CBS Network in the United States, and while American viewers are easily able to watch these programs live, on-demand, or online, viewers in other parts of the world such as the UK don't have the same ability. This is a shame because CBS produces amazing news shows like 60 Minutes along with excellent sitcoms like the Big Bang Theory and Young Sheldon. However, thanks to the technology of VPNs, it is possible to watch CBS in the UK without having to work too hard.
Why Can't I Watch CBS in the UK?
The reason you can't watch CBS in the UK is the same reason Americans can't watch BT and Sky. The rights to these channels are located within the countries that they are licensed in. As the world becomes more connected it is easy to see why you would want to see programming from other countries. So, because broadcast rights are still negotiated in a way that's Byzantine and not friendly to customers, you need a UK VPN (A vpn which works well in UK) or another solution to watch CBS in the UK.
Use VPN to Watch CBS in the UK
One of the most popular options for watching CBS in the UK is to use a VPN. A VPN is essentially a service that masks your IP address so you can get access to different sites that may be blocked in your country or region, in this case like CBS. There are many other benefits to a VPN as well. One of the biggest benefits is a good VPN protects you from hackers. This is due to your IP address essentially being hidden in a completely different IP address.
VPN's use a process called VPN tunneling allowing you to access different sites that would otherwise be unavailable, such as CBS. When you turn your computer on and go online, you connect with the VPN. Once you connect with the VPN, it provides you with a different IP address and much more. VPNs do not track your activity online, they also are secure connections, meaning hackers can't access your IP address and deliver malware or trojan horses into your system. The VPN acts as if your IP address is from that particular country – in this case the US as that's where CBS is located – and delivers you access to all of CBS's programming to watch online.
What to Do Once you Have a VPN?
The process at this point gets a bit easier. Once you have your VPN, you need to register with a service called CBS All Access. This is the place where all CBS shows are streamed, including live television. So, if you don't want to miss the new episode of Survivor, you would use CBS All Access to get the live broadcast of the show. Furthermore, with archives of old shows, you can dig into any of the great television of CBS as the catalog has over 8,500 shows.
If it sounds easy to register, in a lot of cases it is but there are a couple hurdles. The first is that CBS All Access is a paid service, so if you try to access the service via a UK IP address, you will get a message that the content you are looking for is not available in your area. If you then choose to use Roku, Amazon, iOS, Android, or Xbox, you will find the app is not available. This is where VPN comes in.
Using VPN to Connect with CBS All Access
One of the easiest ways to use your VPN is by accessing the US version of the Play Store. This is where all Google apps are stored, and it would work similarly with the App Store on iOS. As you use your VPN to get yourself a US IP address, you will end up going ahead and being able to pay for it with your UK payment information – including the billing address and the card. The system believes that you are located in the US and connecting via a US ISP even though you're located in Liverpool, London, or Glasgow.
If you have a payment profile on Google, that makes it even easier as it keeps your card details hidden and the transaction comes from Google itself.Since the VPN gives you a US IP address, there's no way for it to be tracked to your origins in the UK unless your VPN collects data, so when you choose a VPN, this is one option you should avoid.
What is the Ideal VPN for Connecting with CBS?
The ideal VPN should have a few different factors going for it. The first is the VPN should not collect data, as noted above. Good VPNs also have large server networks, this way they can cut down on bandwidth issues. Another great feature of a proper VPN is military-grade encryption. This encryption is some of the best in the world and keeps the connection between you and the VPN invisible to the outside world – think of it as an invisibility cloak.
Check out the different connection speeds on VPNs as well. The reason being you want a VPN that has the same or better connection speed as your ISP. This way, if you're watching CBS programming online and it turns out that your VPN is slower than your ISP, the images on the screen will get very pixelated or worse, they'll be staggered. This is not the viewing experience that you signed up for when you pay for the VPN and for your access to CBS.
Conclusion
There are several reasons you should have a VPN that extend beyond simply watching CBS in the UK. Everything from privacy all the way to accessing the different sites that you want for different functions, including torrent sharing are things that can be done with a VPN. Once you find a trusted VPN, you will see how it does so much more than just simply allow you to see CBS shows in the UK.