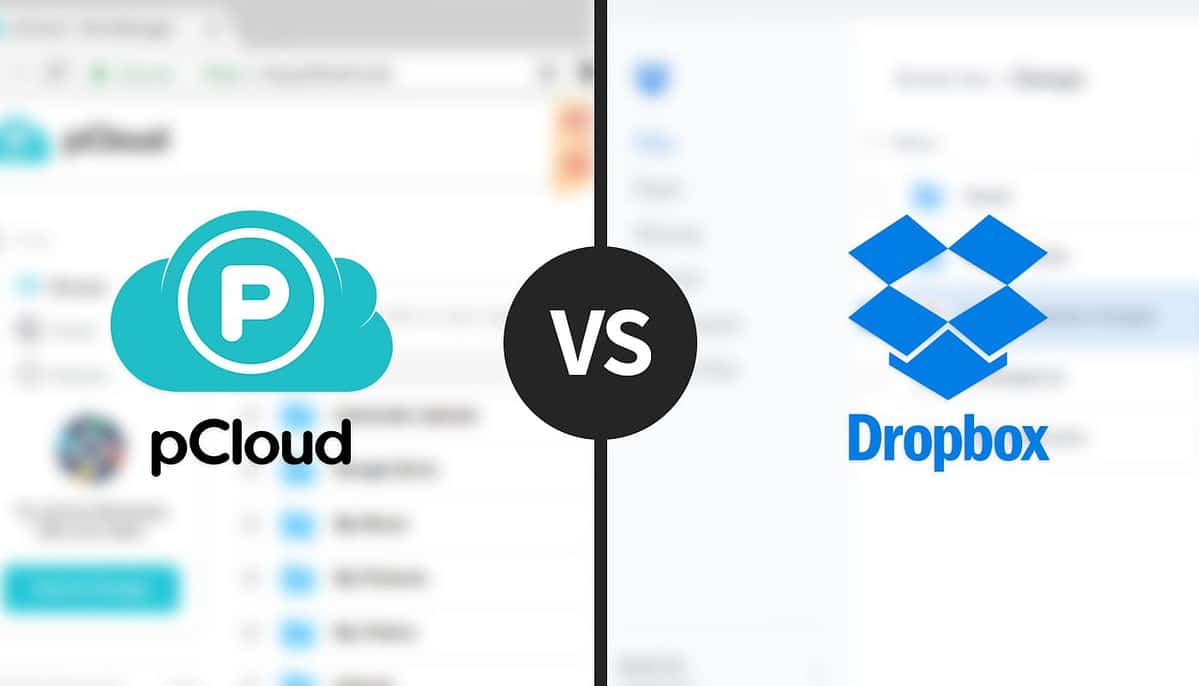 Choosing the right cloud storage provider for your Mac or iOS device will help you minimize hardware costs, improve transfer speeds, and make it easy to share data with your family and friends. Luckily, there are several cloud storage solutions out there that can help you securely store your files and folders on the cloud.
In this post, we'll dig deeper into the standout features on offer with two leading cloud storage solutions for Mac and iOS users – pCloud and Dropbox – to help you decide which option is right for you. Before we begin, let's take a quick look at both cloud storage solutions.
Quick Overview of pCloud and Dropbox
pCloud is a popular cloud storage service that is compatible with both iOS and Mac platforms. It offers up to 10GB of free storage space and lets you upgrade to 2TB storage by signing up for a monthly, annual, or Lifetime plan. pCloud also offers a Family plan for up to five users.
It's a user-friendly cloud storage solution that is purposefully built to cater to the needs of both Mac and iOS users. pCloud offers apps that you can install on your Mac, iPhone, and iPad. It's pCloud Drive application for Mac lets you integrate Finder with the cloud service to make it easy to locally manage files.
Dropbox is a well-known cloud storage solution that offers support for both Mac (Snow Leopard and higher) and iOS (iPhone/iPad with iOS 8 and higher) platforms. It enables you to create copies of your data on the cloud and access them via connected devices.
Dropbox offers four different pricing plans – two for individual users and two for business users. Its lowest tiered plan gives you 2TB of storage space with basic features.
pCloud vs Dropbox
Here, we'll take a look at the key features on offer with pCloud and Dropbox to help you make an informed decision.
File Storage and Sync
Let's take a look at how pCloud and Dropbox compare in terms of file storage and syncing capabilities.
pCloud
pCloud's iOS app offers integration with Apple's Files app and allows you to sync files and folders between pCloud and apps on your iPhone and iPad devices. You can access your data anytime from pCloud either through the web app or through your Mac or iOS device.
pCloud Drive is a desktop-based application that creates a private virtual drive on your computer which can be used to store your files and folders on the cloud and access them from connected devices.
You can add files and folders to your pCloud Drive simply by dragging-and-dropping them in the secure virtual drive. This way, you can rest assured that all your data will be safely stored in the cloud and automatically synced across all your devices.
The key benefit here is that, since the data isn't stored locally on your Mac, it won't take up any physical storage space.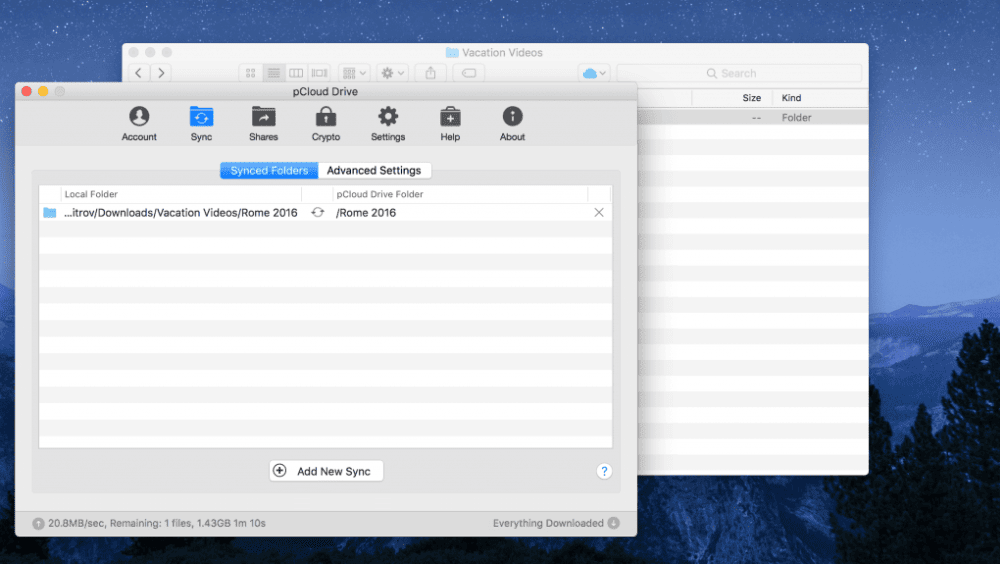 pCloud's Automatic Upload feature for iOS lets you delete the photos and videos already uploaded to the cloud. Once you enable the Automatic Upload option, you can delete the pictures and videos from the Camera Roll knowing they're stored safely in your pCloud account. The feature also lets you decide whether you want to upload images, videos, or both.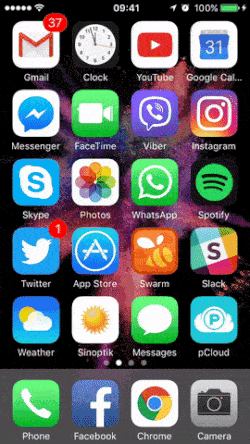 Dropbox
The Dropbox folder is just like a normal folder on your Mac but with sync capabilities. Any file that you place in this folder will be synced to the cloud which means that you can access it from any connected device either via the Dropbox site or through the Dropbox app that's installed on your Mac or iOS device.
You'll notice there's a flag assigned to files and folders in the Dropbox folder. This flag – which, by the way, shows up in Finder – indicates sync stats. A green checkmark means that the file has been successfully synced to Dropbox whereas a blue round arrow indicates syncing is in progress.
The Files app lets you browse files and folders stored on your device as well as in your Dropbox account from the same place. To achieve this, you'll first have to install the Dropbox iOS app on your device. Keep in mind, however, that if you uninstall the Dropbox iOS app, the Dropbox folder will also be deleted from the Files app.
Winner: pCloud. pCloud doesn't take up storage space on your device once you've added files and folders to your cloud storage account.
Audio and Video Player
Let's take a look at the audio and video player features you get with pCloud and Dropbox.
pCloud
pCloud's embedded player lets you play your audio and video files as soon as you upload them to the cloud. Regardless of where you save your audio files in pCloud, they can all be accessed from the Audio section of your account.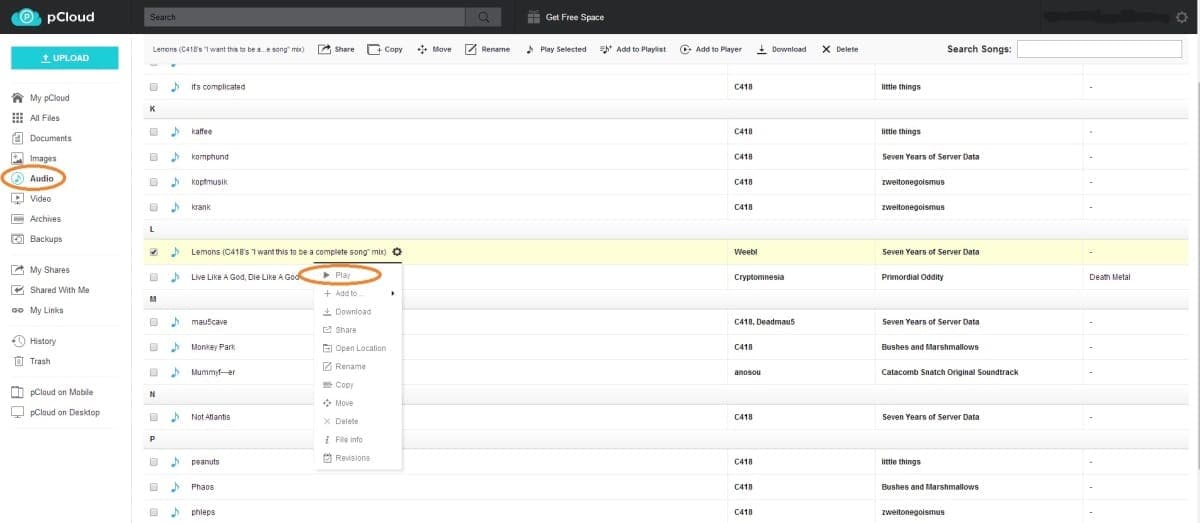 To upload your audio files to pCloud, simply drag and drop files from your desktop computer to pCloud Drive. The pCloud Sync feature also lets you synchronize your audio library from your device to the cloud. Once you've created a collection of audio files in the Audio folder in pCloud, you can select a file (or multiple files) and use the options that appear in the top menu of the page including Play Selected, Add to Player, Add to Playlist, and Download.
Dropbox
Dropbox doesn't come with a built-in audio or video player. This means that you'll have to download your files to your computer before you can play them. This isn't ideal for users who work with large files (e.g. video editors). Not only will you have to wait for files to download but you'll also need to ensure you have enough storage space on your device. This isn't ideal for users with limited storage space on their Mac, iPhone, or iPad.
Winner: pCloud. Unlike Dropbox, pCloud comes with a built-in audio and video player which means you can stream media content directly from the cloud without having to download your files.
File Sharing
Let's take a look at how pCloud and Dropbox handle file sharing.
pCloud
With pCloud, you can share any file or folder stored in pCloud Drive with friends and family. This is also great for freelancers, graphic designers, or developers who need to collaborate with team members remotely. To do this, simply right-click on a file or folder and choose whether you want to invite a person to the folder or create a unique link to share.
pCloud also lets you add an additional layer of security to public download links by enabling you to set a password to your files and setting expiration dates.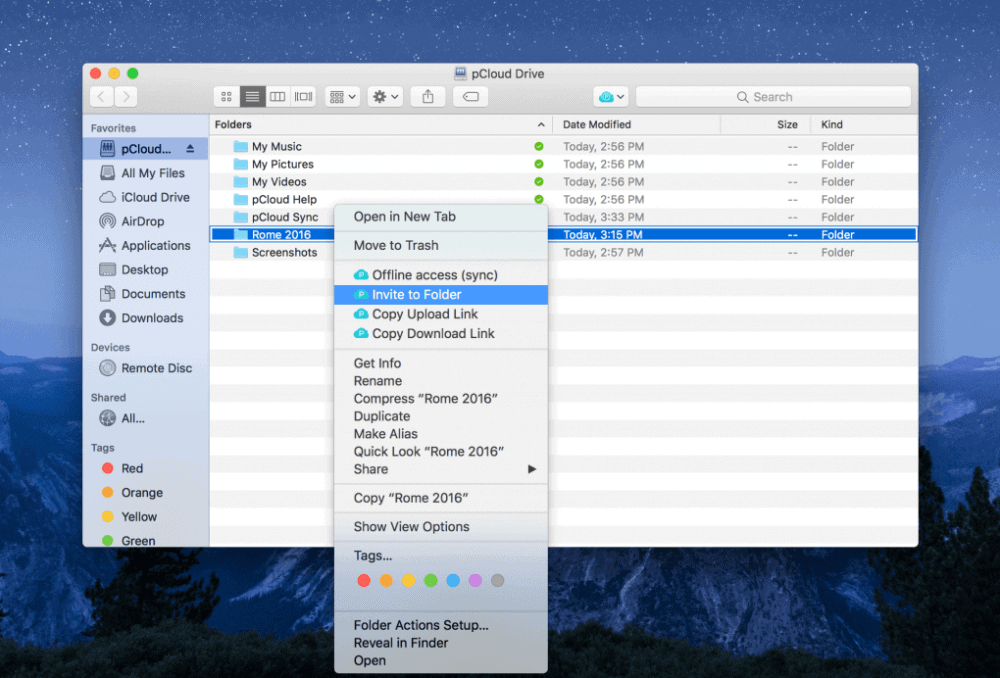 Dropbox
Dropbox allows you to easily share files using its simple web interface. You can choose to create a shared folder and give your friends or team members access to it or you can create a link to share with anyone. You'll be able to set the edit permissions when you share files.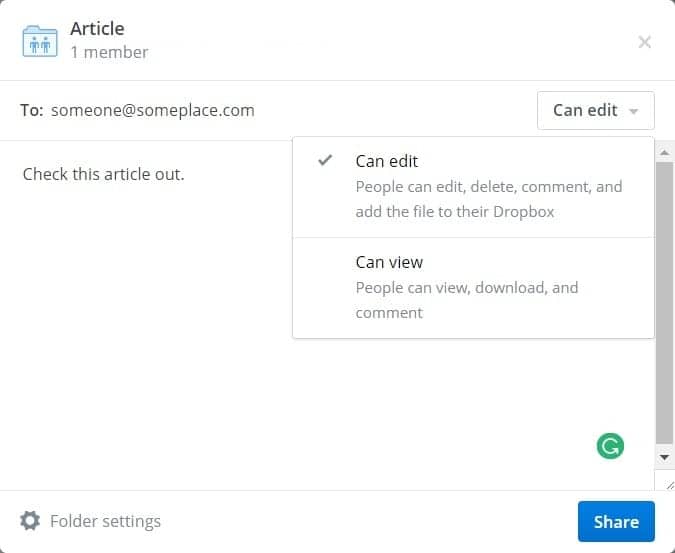 Dropbox also lets you password protect your file links and assign expiry dates to them although this feature is only available with the Professional plan.
Winner: Tie. Both pCloud and Dropbox offer similar functionality in terms of file sharing though you do have to purchase the Professional plan with Dropbox to password protect your file links or set expiry dates.
Security
Let's compare the two cloud storage solutions on the basis of their security features.
pCloud
pCloud offers client-side encryption which ensures that only you have the decryption keys to your files. It uses TLS/SSL encryption to ensure safe transfer of your files from your device to your pCloud account.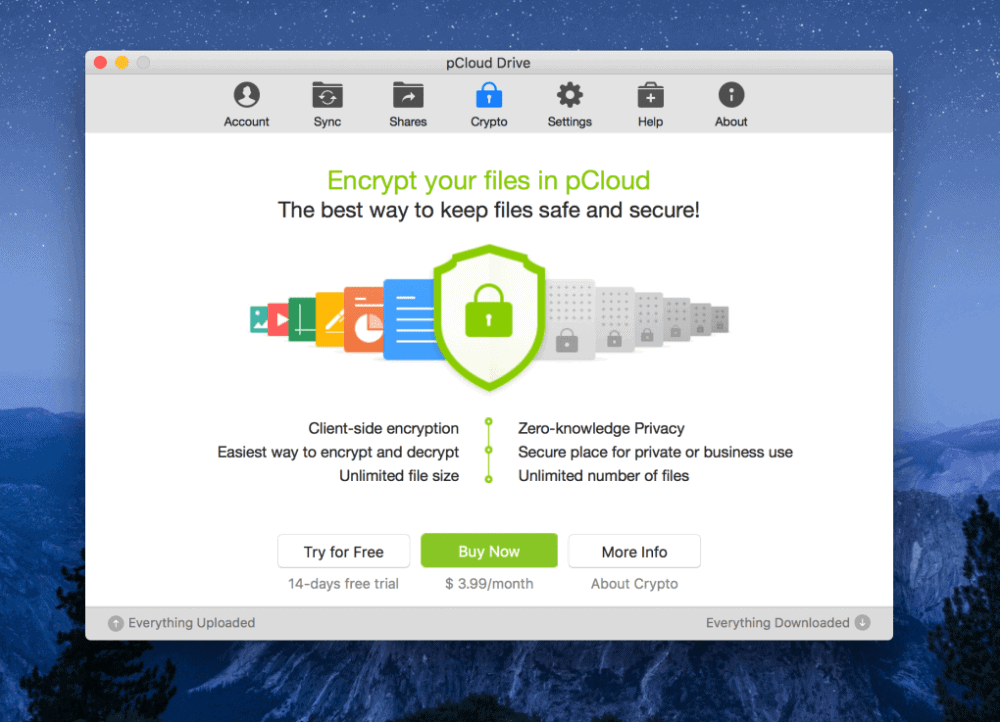 It stores your files on at least three different server locations in high-security data storage location. In addition to this, you can also subscribe to pCloud Crypto to have your files encrypted and password protected.
Dropbox
Dropbox secures your files while they're in-transit using TLS/SSL encryption. Data moved through this safe tunnel is encrypted with 128-bit AES.
Once your files reach the Dropbox data center they're decrypted before being stored in the cloud. These files are then re-encrypted with 256-bit AES. However, your files' metadata including file names, file sizes, and dates will remain readable.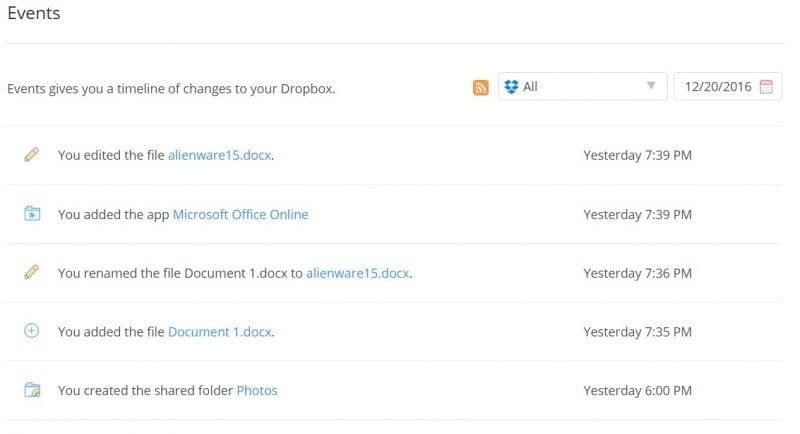 You can choose to enable two-step verification to further secure your account. Dropbox usually retains deleted files for 30 days in case you accidentally delete a file and gives you a timeline of changes.
Winner: pCloud. pCloud is the clear winner in terms of security with its client-side encryption features and optional pCloud Crypto add-on.
Conclusion
As a Mac or iOS user, having a cloud storage solution can help you securely transfer your data, save on storage space, collaborate with others, and improve productivity.
Let's recap the main points we discussed in this article:
Dropbox is a suitable cloud storage solution for users who need to be able to access their files from connected devices and aren't short on storage space on their Mac or iOS device. Though it's worth mentioning that Dropbox doesn't offer the best security.

pCloud, on the other hand, is a secure cloud storage provider that saves you space on your Mac, iPhone, or iPad, and offers neat features like audio and video player.
Between pCloud and Dropbox, which cloud storage provider are you leaning towards and why? Let us know by commenting below.