The first thing I thought when I saw the Vaja Wallet Agenda LP was, "That's absolutely gorgeous. I've got to have one." After all, when you have a smartphone as gorgeous as the jet black iPhone 7 Plus, you want to carry it in style. From the outside, the Vaja Wallet Agenda LP definitely looks stylish and traditional. I've spent several weeks carrying my iPhone and other accompaniments in this case, so let's look at where it shines and where it might just have a dull sheen.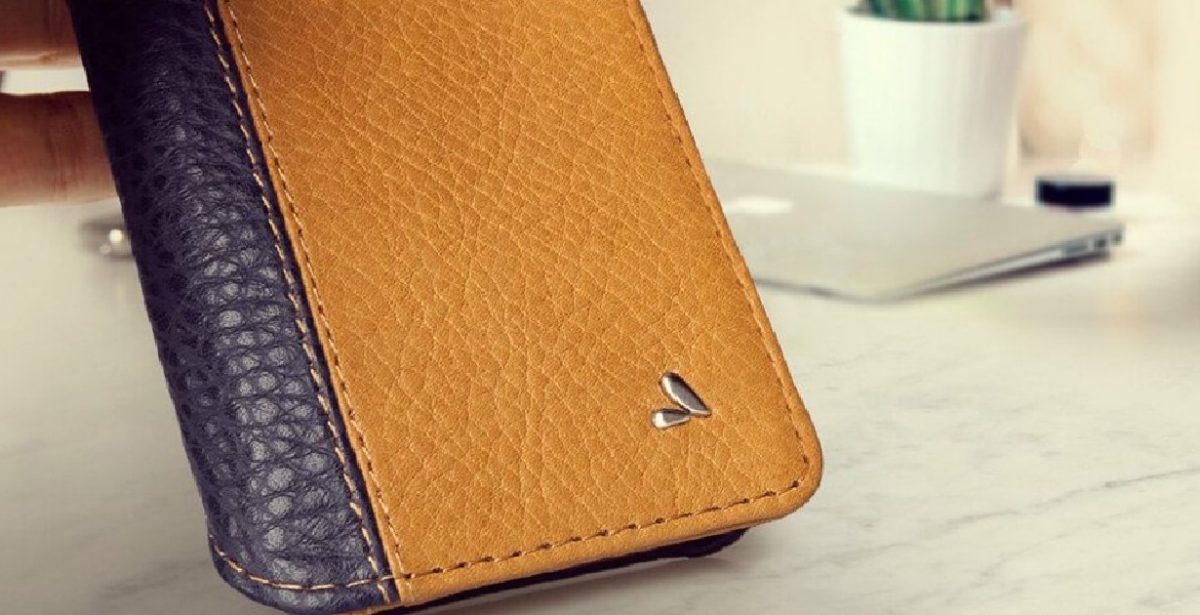 The Facts About the Vaja Wallet Agenda LP
Make no mistake, this is a premium case, not some knock-off you might buy from a kiosk. The exterior of the Wallet Agenda LP is crafted from premium Argentinian leather. Inside, you'll find a polycarbonate frame for protection and to hold your iPhone in place. The frame has perfectly-sized cutouts for the buttons and ports on your iPhone. You won't have any problems controlling your device or plugging it in.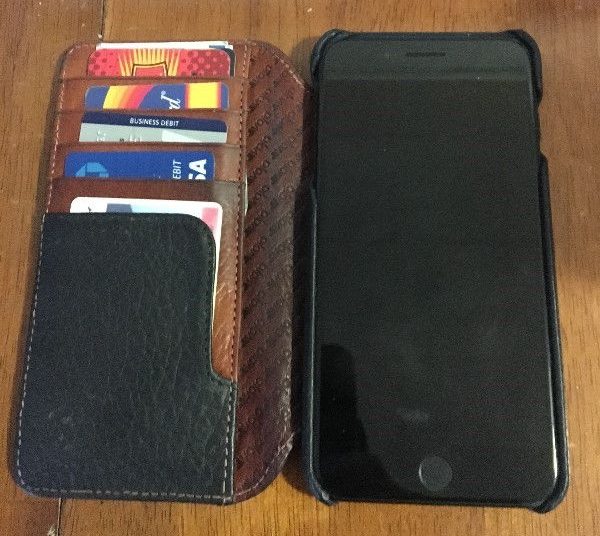 The exterior leather is referred to as "floater" leather, with excellent tanning, a colorful appearance, and good resistance to the elements. The grain visible in the leather is absolutely gorgeous. Vaja handcrafts its cases, even down to the stitching. Said stitching, by the way, is very solid and well-done. Despite the number of times I slide the case in and out of my pocket, sit on it, and open and close the flap, none of the stitching shows any signs of wear or fraying after more than a month of use.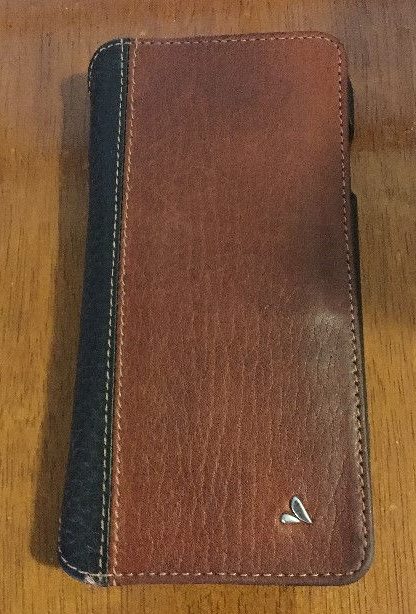 The rear of the case, also premium leather, has a cutout perfect for your camera's lenses. The dual lens configuration of the iPhone 7 Plus fits perfectly behind the cutout, along with the flash.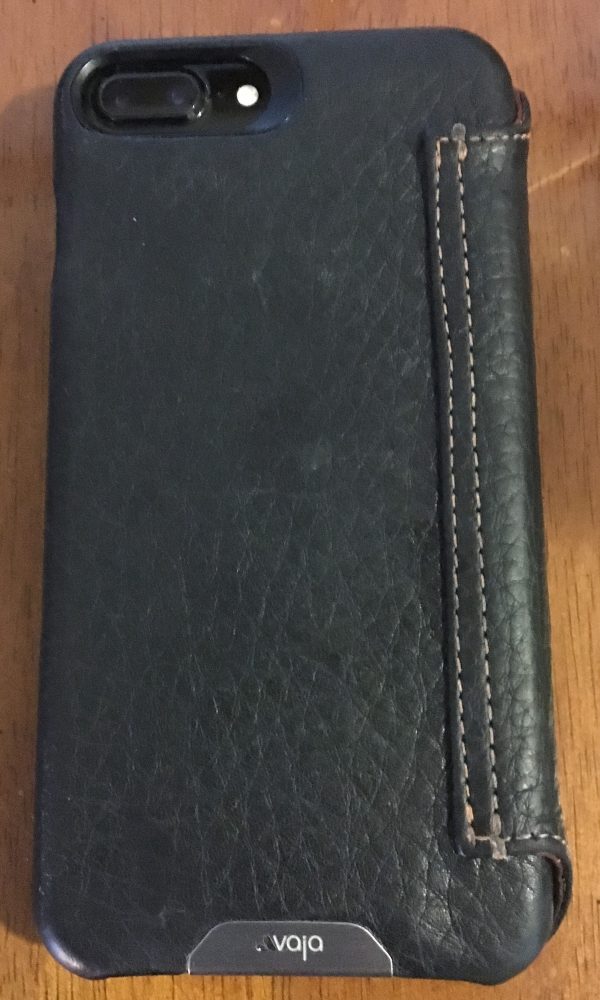 Inside the Vaja Wallet Agenda LP
The inside lining of the Wallet Agenda LP is made from vegetable-tanned bridge leather. The front flap of the wallet case provides pockets for credit cards, identification cards, or the like. The Wallet Agenda LP for an iPhone 7 has three pockets, while the iPhone 7 Plus variant has four. Both models also have an identification card slot. This slot is one of very few drawbacks to the Wallet Agenda LP case, simply because I would have liked to see an enclosed, clear-covered identification card slot instead of one that requires me to remove my driver license to show it. Finally, both models have a larger pocket, behind the credit card pockets, for storing cash bills.
The Vaja Wallet Agenda LP Case in Your Daily Life
You might think a premium leather case would be heavily prone to scuffing and marking. In fact, I've noticed very little of either. My case appears to have a slightly more rich tone to the leather than when I unboxed it, but that's about it. By and large, the case looks as fantastic more than a month into using it as it did when I first opened the box.
I've always been the type to have a wallet overstuffed with loyalty cards and credit or debit cards I never use. Switching over to using a wallet case for my iPhone, with a limited amount of space for storing personal items, I've come to appreciate simplicity more than ever before. I still carry my trifold wallet in my back pocket for a few items that I use occasionally but not everyday. However, my most important credit, debit, and loyalty cards are stored nicely within the Vaja Wallet Agenda LP case, and I don't find myself missing the extraneous cards.
The Wallet Agenda LP has become second nature to me by now, and I find it very convenient and useful. There are only two occasions when the case feels awkward to me, in fact. One of those circumstances is when I want to use my iPhone's rear-facing camera. I've yet to discover the perfect way to hold the case open and take photographs. The other scenario is watching a television show or movie on my iPhone. The case doesn't provide any way to turn into a stand. That means I usually have to remove my iPhone from the case to watch videos. Fortunately, that's quite easy to do.
Is the Vaja Wallet Agenda LP Case Right for You?
The answer to this question is, "It depends." I've never been a wallet case type of person. Even so, I found myself quickly adapting to, and loving the convenience of, the case and wallet combination. It just makes sense to have my plastic cards alongside my iPhone. It doesn't matter whether I'm paying for something with Apple Pay or real plastic. I can still pull the same thing out of my pocket.
If you're reading this, I might assume that you want a stunning, beautiful case that doubles as a wallet. The Vaja Wallet Agenda LP definitely meets those criteria. It's also long-lasting and durable. As long as you don't absolutely want a clear-covered identification card slot or a case that doubles as a stand, the Vaja Wallet Agenda LP is an outstanding choice.