There's been a seismic shift with iPads. At one time, physical keyboards were frowned upon. But nowadays, iPad keyboards are in. And much appreciated by road warriors. Here's a review of the latest keyboard offering from Brydge.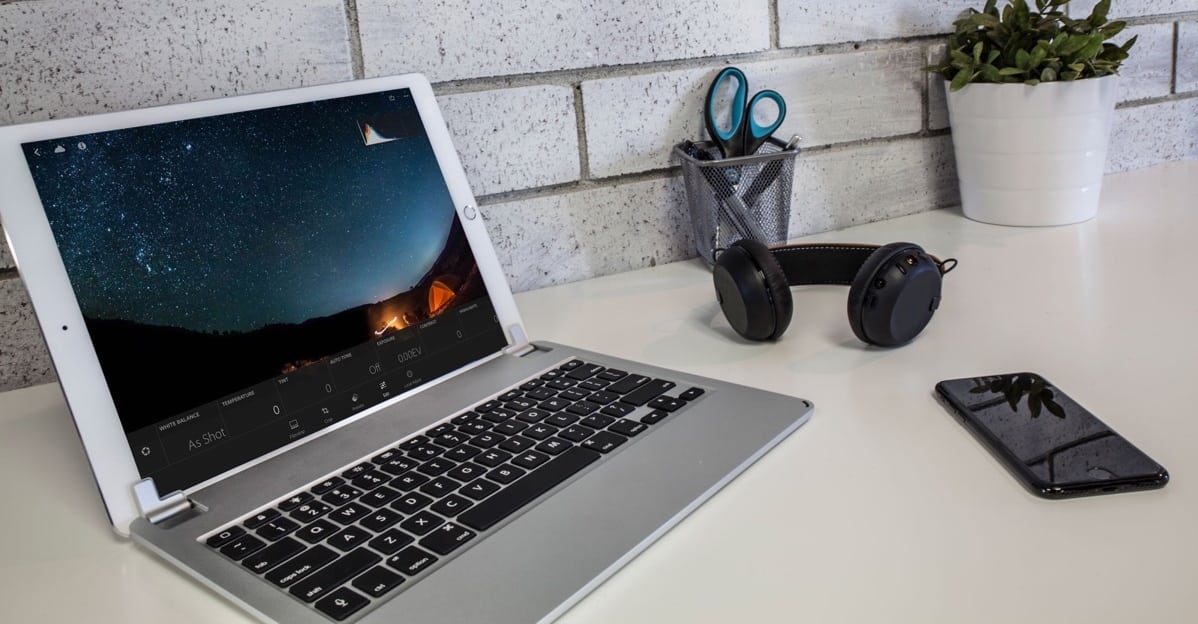 Brydge to the Future
Some iPad users are still in the "clipboard and finger" camp. As Steve Jobs originally conceived it. But over the years, as iOS has become more and more capable, it makes sense for many to use an iPad as their primary, or almost primary, productivity computer with a real keyboard. Accordingly, I've been reviewing keyboards for the iPad series all along, and I think the beautiful, aluminum offerings from Brydge are the best. See for example:
[Brydge 12.9 Aluminum Keyboard for iPad Pro Exudes Class ]
The basic idea here, as shown in the company's photo above, is that the iPad slides firmly into special U-shaped hinges with soft silicone inserts that hold the iPad firmly in place. It also allows 0 degrees (closed) to 180 degrees of hinge movement. This kind of attachment mechanism is remarkably secure and reliable; you can even gently shake the duo with confidence that the iPad won't come out. (But do your experiment over carpet.)
A Bluetooth 4.1 connection pairs the keyboard to the iPad. A row of special iPad function keys, such as sound and brightness levels, provides handy shortcuts.
The original review from November, 2016 goes into some detail about this terrific product, including keyboard details, center-center spacing of the keys and key throw in millimeters. Refer to it for details. Now, the product has been updated and is called the Series II. Here's a brief discussion of what's changed.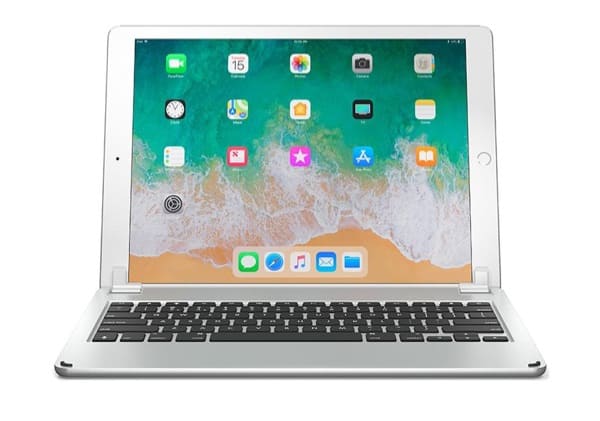 Brydge Series II Enhancements
1. Bluetooth 4.1 LE. This slightly more secure Bluetooth version allows Brydge to move the estimated battery life from 3 months to 3-12 months depending on use. The original model used Bluetooth 3.0. I asked Brydge about the security and low energy aspects.
While in some cases BLE/BT 4.1 [security] can actually be slightly weaker than 3.0, it depends on the way you execute the pairing process. Once you do however it's a much stronger connection that creates a lower latency experience. The 12 months of battery assumes 4 hours of use per day with no backlight.
This means that the battery capacity remains unchanged at 480 mAh.
2. Slight weight reduction. The Series II takes the weight from 750 grams, by my measurement, down to 710 grams (1.56 lb). You won't feel the difference, but every bit helps and reflects a continuous, refined manufacturing process. The combined weight with the iPad Pro 12.9 is 1,450 grams (3.2 lbs).
3. Improved keyboard. This is major. Brydge says that the keys are slightly lower profile (it's hardly measurable), but what I noticed is that the key feel, while keeping the throw at 1.5 mm, seems crisper and smoother Compared to the original model, which I complained about mildly, I like the new key feel a lot more.
Also, instead of simply backlighting the caps lock and power keys, there's a tiny green LED imbedded in the key that indicates on/off. It's a small but much appreciated refinement.
Another improvement is the slightly cleaner and less gaudy design of lettering and symbols on some keys. Also, the curved bumpers on the keyboard's edge that cushion the iPad's display away from the keys are slightly larger and more robust.
4. Finally, Brydge states that the backlighting is improved "with better light coverage and less light loss. The Series II model has an additional row of LEDs for increased brightness." I couldn't comparison test this because the backlighting on my original model has failed.
Pricing. In November, 2016, the pricing was US$189.99. That has dropped now to $149.99. But the product is better, with no corresponding compromises, and I like that a lot. There is also an excellent limited lifetime warranty.
Final Words
Previously, I wrote that this beautifully machined and engineered product "exudes class." Now, the Series II provides noticeable refinements at lower cost. If you want to turn your iPad Pro 12.9 into a mobile, MacBook-like powerhouse, this is one of the great iPad accessories of our time.