Page 2: Cloud Services, App, Conclusion
Cloud Services
Thankfully, you can use a wide range of popular cloud services with the notebook. Rocketbook doesn't lock you into its own cloud. Supported services:
iCloud
Google Drive
Evernote
Dropbox
Box
Slack
iMessage
OneDrive
OneNote
Email
App
To use the app you'll have to create an account. After you sign in, you'll see a list of the symbols. This is where you do the tweaking. For each symbol you can choose a file type (PDF or JPEG), whether you want to bundle scans as a combined PDF, and if you want to automatically have the scans send to the service. If you turn on Auto-Send, you can't bundle or rename the scans. Your preferences can be different for each category.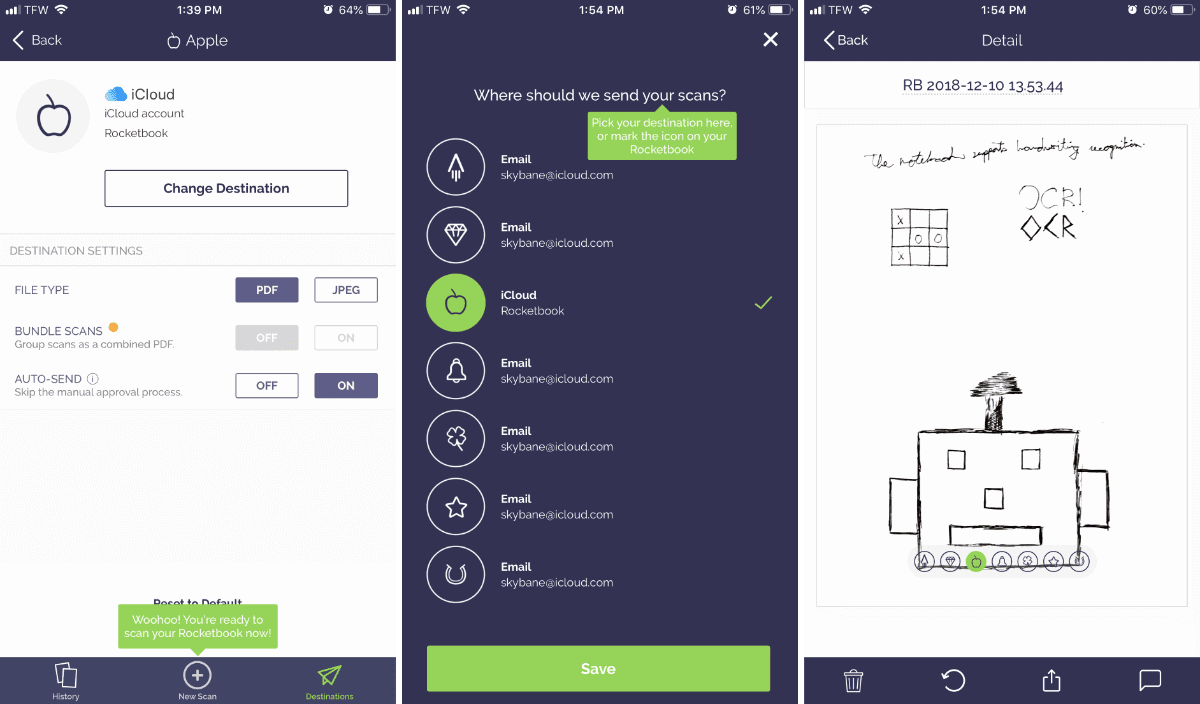 The app also has handwriting recognition (OCR) although the feature is listed as beta. All your handwritten notes will be searchable within the app. Emails include full page transcriptions.
I got an alert in the app saying this feature had been added. I tapped the "Okay, Got It" button, and was promptly ripped out of the app into an Amazon review page for a product that wasn't listed, so it showed an error. I think I can safely say it was for the notebook. Hopefully this was a one-time event. On my iPhone, apps that use aggressive tactics like that are quickly deleted, features be damned.
Conclusion
Now, because I don't take handwritten notes I'll probably put the Everlast into my closet and never use it again. But while I did use it I found it helpful. If you take a lot of handwritten notes, and also want to store a digital copy, Rocketbook notebooks are perfect for you. If you have a paperless office/home, I recommend it.
You can find the Everlast reusable notebook on Amazon for US$29.99. It comes in Atomic Red, Infinity Black, Light Blue, and Midnight Blue.
[iOS: How to Send Apple Handwriting Feedback in Apple Notes]