Shipping in early December, and available now for pre-order, the Just Mobile AluCharge is a four port, USB-A only charging hub. Made of solid aluminum, it outputs up to 31 watts and is designed to be world ready with the corresponding power plug. While it's small and well made, it has some disadvantages compared to a notable competitor reviewed previously.
This new AluCharge product must be compared to the Satechi 60W 6-Port Desktop Charging Station that I reviewed back in July. That product received the highest possible rating. The best way to compare the two is to start with the AluCharge specs.
Specifications
4 USB-A ports with up to 2.4 amps output on any port.
No USB-C ports.
Size: 4.0 x 2.9 x 0.75 inches (10.1 x 7.3 x 1.88 cm).
Weight: 6.0 ounces (170 grams).
Maximum output: 31 watts.
A single color scheme: Aluminum & black plastic.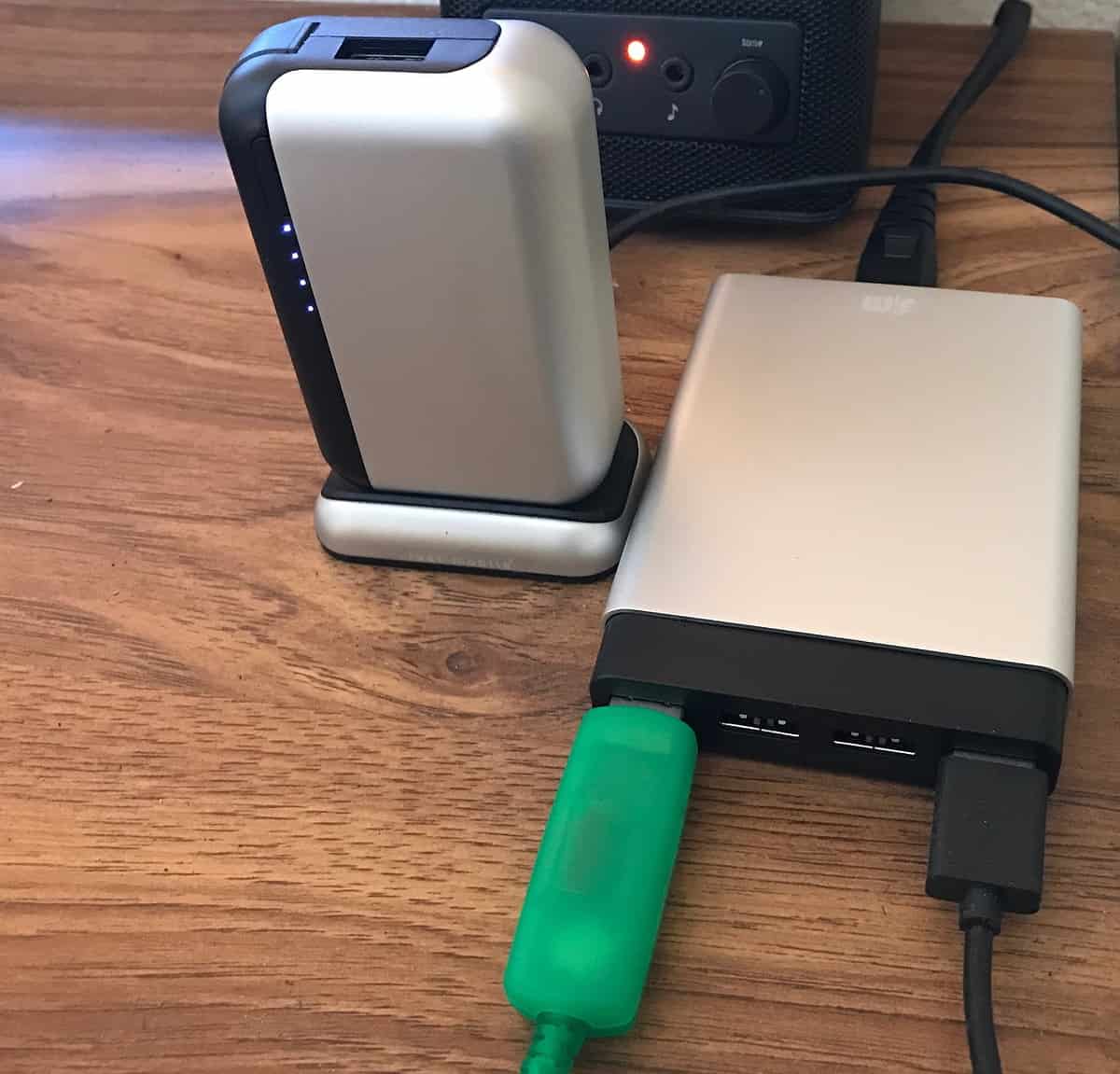 Testing the AluCharge
The first thing I noticed was that there is no on/off switch like the Satechi unit I reviewed. Such a feature is useful when the plug isn't easy to get to, but one wants to cut the power for safety purposes, say, when leaving it unattended for a time.
There is a sticker inside the box that says it will get warm when charging, and one should avoid touching the device.  However, unlike the Satechi unit there are no ventilation grooves or feet to raise it from the desktop. Just Mobile told me that the solid aluminum design dissipates heat in all directions and some users elect to rest it vertically. So added feet, for air flow, might be superfluous and ruin the look. I disagree.
That said, in my own testing, I connected an iPad Pro 12.9- inch and iPhone, but the unit remained cool to the touch.
The second thing I noticed during setup is that there is no power LED to indicate that it is functioning. I had to wait until I plugged my iPhone into it before I had as positive affirmation that power was being supplied. While not strictly essential, a more thoughtful, technical approach would have been to have an LED glow green, indicating that it is 1) receiving voltage within specs and 2) is operating safely. Warm fuzzies.
Again, Just Mobile told me that the design is intended to be foolproof and simple. The internal electronics either works properly or is shut down. An LED power indicator could be considered superfluous. Again, I disagree.
Another way it compares unfavorably to the Satechi is that it doesn't have a single USB-C port. Just one would have been convenient and thoughtful. On the plus side, the port spacing is generous and enough to accommodate an oversized plug in the mix. (See photo above.)
Just Mobile says that the maximum output on any one port is 2.4 amps, and the device is limited to 6.2 amps or 31 watts. (The website, which states 62 watts, is incorrect.) So if you have two iPads pulling a total 4.8 amps, you'll only be able to charge one more device at 1.4 amps, say, an iPhone. However, according to Just Mobile, an iPad only pulls a full 2.4 amps at cold start.  One could actually charge three iPads in normal use.
This charger can accept from 100 to 240 volts, and with the right power plug, provided by region, it can be used anywhere in the world. Mine came with a standard U.S. power cord, 5 ft. (1.5 m) long and includes a small but decent Velcro strap.
The product page makes several important affirmations. The first is that this charger is very slim. Second, it has a smart charging system that allocates the right current to each device and also has a robust protection mechanism.

There is no accompanying documentation or warranty information. Neither does the box have a warranty affirmation. And Just Mobile's website doesn't have a dedicated page explaining the terms of the warranty. However, I spoke with the Just Mobile Director of Operations. The warranty is one year.
Final Words
The Just Mobile AluCharge costs US$20 more than the comparable Satechi unit I reviewed. I asked Just Mobile about that, and the answer is that the AluCharge is a solid block of machined aluminum. The Satechi case is plastic. So the customer has a choice here about durability and aesthetics vs cost.
The AluCharge has only USB-A ports, no LED power indicator for warm fuzzies and no power switch. Its chief advantage is that it is a little smaller and lighter than the Satechi making it better suited for travel.
Just Mobile makes quality, thoughtful products, and this is another, but this one also seems to have slipped through the cracks in warranty statement, package labeling and some elements of product design in my opinion.