I've been using Kanex's GoPower Watch (Amazon link) for months, and I love it. It's a portable charger for Apple Watch, and I use it in my home and on the go. Here's why.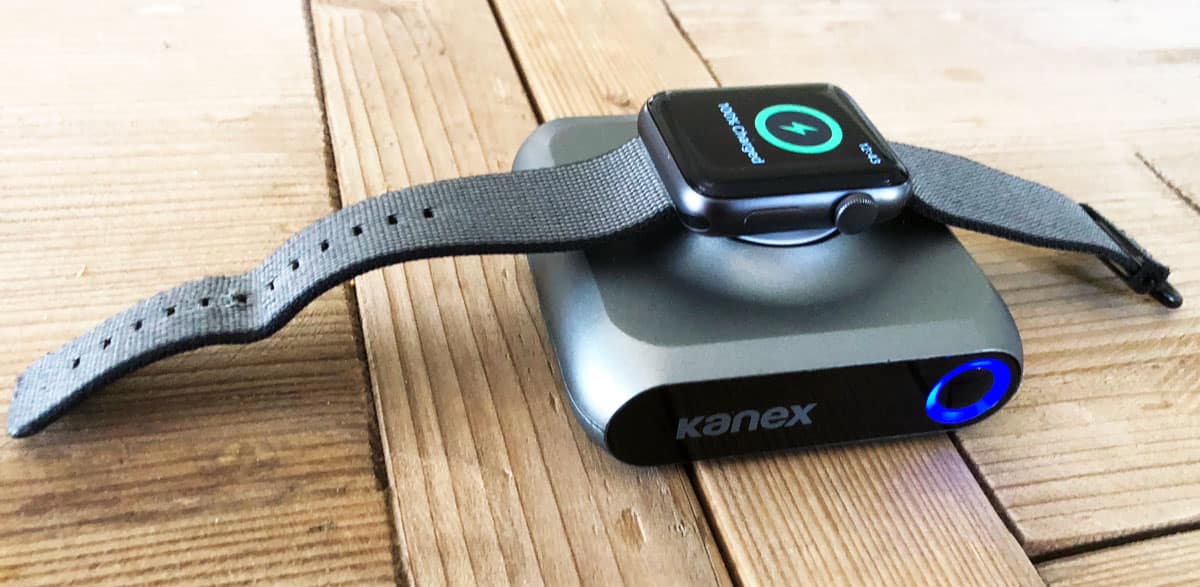 Kanex GoPower Watch for Apple Watch
The device itself is roughly square, a little more than 3 inches on a side. It features an Apple Watch charging disk in the middle—no need to bring-your-own Apple Watch charger. Inside is its own battery, with 4,000 mAh of capacity. You charge it via a micro USB port, but there's also a 1A USB-A port you can use to charge an iPhone as a pass-through charge, as shown below.
Note that the USB-A port is a 1 amp port, which will only trickle charge an iPad.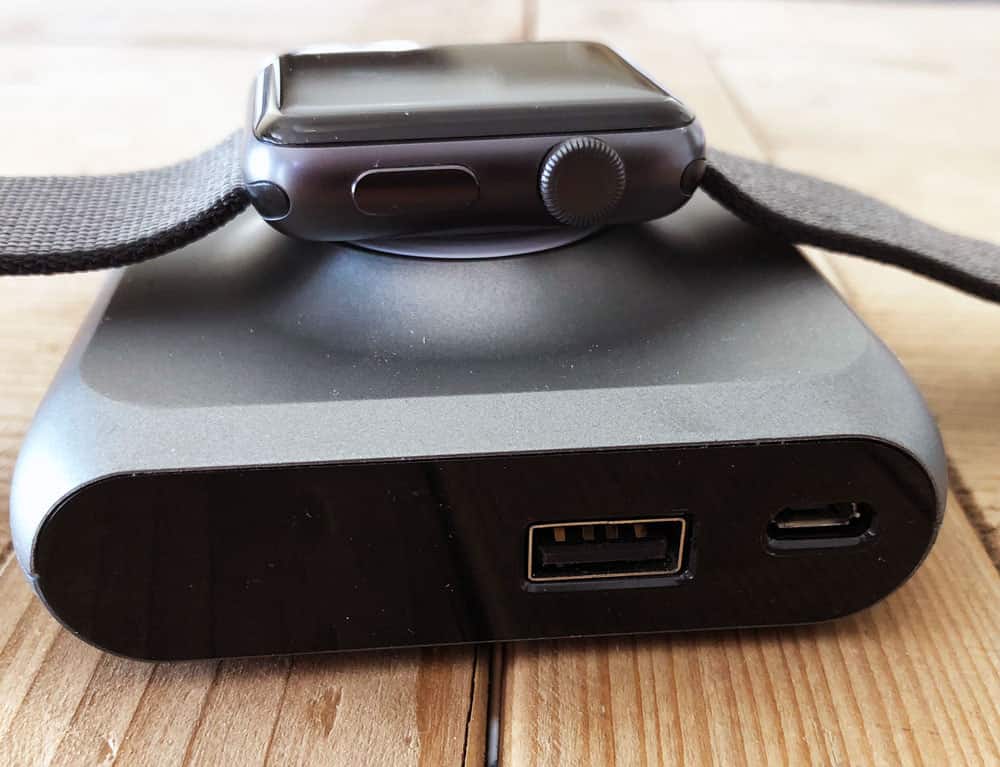 Kanex GoPower Watch On the Go
In my home, I use GoPower Watch just like I would an Apple Watch charging cable. I keep it plugged in, and don't think about it much. It's on the go, however, where I fell in love with this device. The 4,000 mAh battery is enough to give me 6-7 charges on my Apple Watch Series 2, and that's after using it for months.
For short trips, I throw it in my bag, no cable needed, and off I go. I'm covered with one less cable to worry about. For longer trips, I pack it and a micro USB charging cable, and I'm covered for the duration of the trip. Add a Lightning cable, and I can charge my iPhone, too. If I find myself somewhere without the right number of ports, I can still charge my Apple Watch with the GoPower Watch.
When plugged in, just set your Apple Watch on it to start charging. When it's not plugged in, press the button on the front to start charging. That button also includes a blue indicator light for GoPower Watch's internal power levels, as shown in the first image.
Conclusions
That's it, really. This device has just the right amount of power to be able to charge my Apple Watch multiple times without recharging the GoPower Go, but without it being heavy. It's just big enough to make a solid platform for holding my Apple Watch without having a huge footprint on my desk.
It's also robust. I've not been gentle with it—I was being literal when I said "throw it in my bag"—and it's none the worse for wear and tear.
The device retails for $99.95, but it's currently $62.85 on Amazon, with delivery before Xmas as of this writing.
And as I said up top, I love this thing. It's worth the retail price in my mind, and Amazon's price makes it a no-brainer for Apple Watch owners who do any amount of traveling at all. I haven't used my Apple Watch charging cable since I got the GoPower Watch.