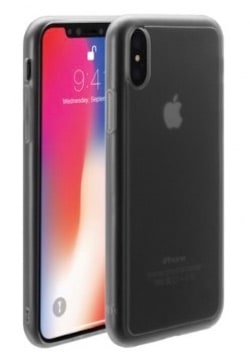 As I wrote back in December, the iPhone X is a very special smartphone and deserves a very special case. That was in the context of the OtterBox Symmetry Clear Case.
This review covers the Just Mobile TENC (The Emperor's New Clothes) "Matte Clear." This is a lightweight, transparent case that will preserve the look (but not slippery feel) of the iPhone X.
It has some interesting features compared to the OtterBox case I previously reviewed (linked above).
Like the OtterBox Symmetry Clear case, this case has a polycarbonate hard shell and a soft TPU edging. (TPU is Thermoplastic Polyurethane.) This gives it both impact resistance, rigid support, but also a rubbery, grippy feel.
This one-piece design fits very snuggly, but the TPU is fairly thin, and as a result, the case is easier to install and remove than the OtterBox model. It seems there are (will be) three levels of transparency available, but only the "Matte Clear" is now available to ship.
More Details
The Lighting port is large enough to support slightly oversize charger plugs. But the same doesn't apply to the mute button's aperture: it's tough for any adult finger to get in there.
Like any good case, it has a slightly raised bezel that keeps the display from touching a surface when placed face down. Interestingly, Just Mobile touts a 0.3 mm gap on the back, inside surface which prevents annoying Moire patterns. As a result, the Apple logo remains crystal clear.
The bare, glassy iPhone X can be a bit thin and slippery. This case adds a little bit of heft and some softness that both strengthens the iPhone X and gives it a good nonslip feel. But this Just Mobile case only weighs 22.6 grams compared to the OtterBox's 36.8 grams. So it doesn't have equivalent heft and bulk, but is more of a "bare essentials" case. (See photo above.)
Along those lines, the thin TPU on the edges makes it easier to "push through" to the iPhone X's buttons. That also makes it easier to remove. Another nice feature is the two holes for a user installed security lanyard. The case surface is designed to be very resistant to abrasion ("Self-Healing technology") and won't show scratches as easily as classic, bare polycarbonate.
This case is fully transparent. There are no markings or labeling on it that would detract from the beauty of the iPhone X. Lastly, and perhaps because it has less sheer bulk than the OtterBox symmetry, it's priced US$15 cheaper at $24.95
Final Words
Every iPhone case makes design and engineering compromises. If you want a transparent case that offers good bulk, heft and physical protection around the edges, the OtterBox Symmetry is a great choice. However, if you're very experienced at handling and protecting your iPhone, never drop it, and you're more interested in preserving the thin and light feel of the iPhone X, then the Just Mobile TENC Clear is the corresponding great choice.