VSCOVSCO is a popular photo editing and social platform for photographers, and in this VSCO X review, I'll explain why I'm a member. First debuting as VSCO Cam, Visual Supply Company created it to be a sort of "anti-Instagram." Instead of focusing on how many followers and likes you get, VSCO instead celebrates the act of photography as an art form. And there is a special subscription called VSCO X, that gives you exclusive tools to use.
Inception
Roughly a year ago, the developers launched a subscription-based membership program called VSCO X. The program gives you access to all of VSCO's editing tools, as well as its library of over 130 presets. Additionally, members can use special analog filters called Film X.
Film X is VSCO's efforts to digitize and preserve classic analog film. The team built an imaging lab, hired a color scientist, bought film scanners, and even created a special imaging engine called SENS. The resulting tools carefully examine how film reacts to light, and helps photographers bring analog film back to life, with an iPhone.
Film X
Members get new film every month. Each preset is designed for a specific situation, although they can be used for anything. Whether you specialize in portraiture, landscapes, or even wedding photography, there is a preset for everyone. Some of the analog film filter presets that VSCO offers include:
Kodak Portra 160
Kodak Portra 400
Fuji 160C
Fuji Pro 400H
Ilford HP5 Plus
Each of these films has a rich history, and VSCO filters brings that history back in a modern app. Thanks to VSCO's imaging models, photographers can control how the film filters look by changing the Warmth and Character, as well as the strength of the preset. Members also get access to the full library of non-film presets available.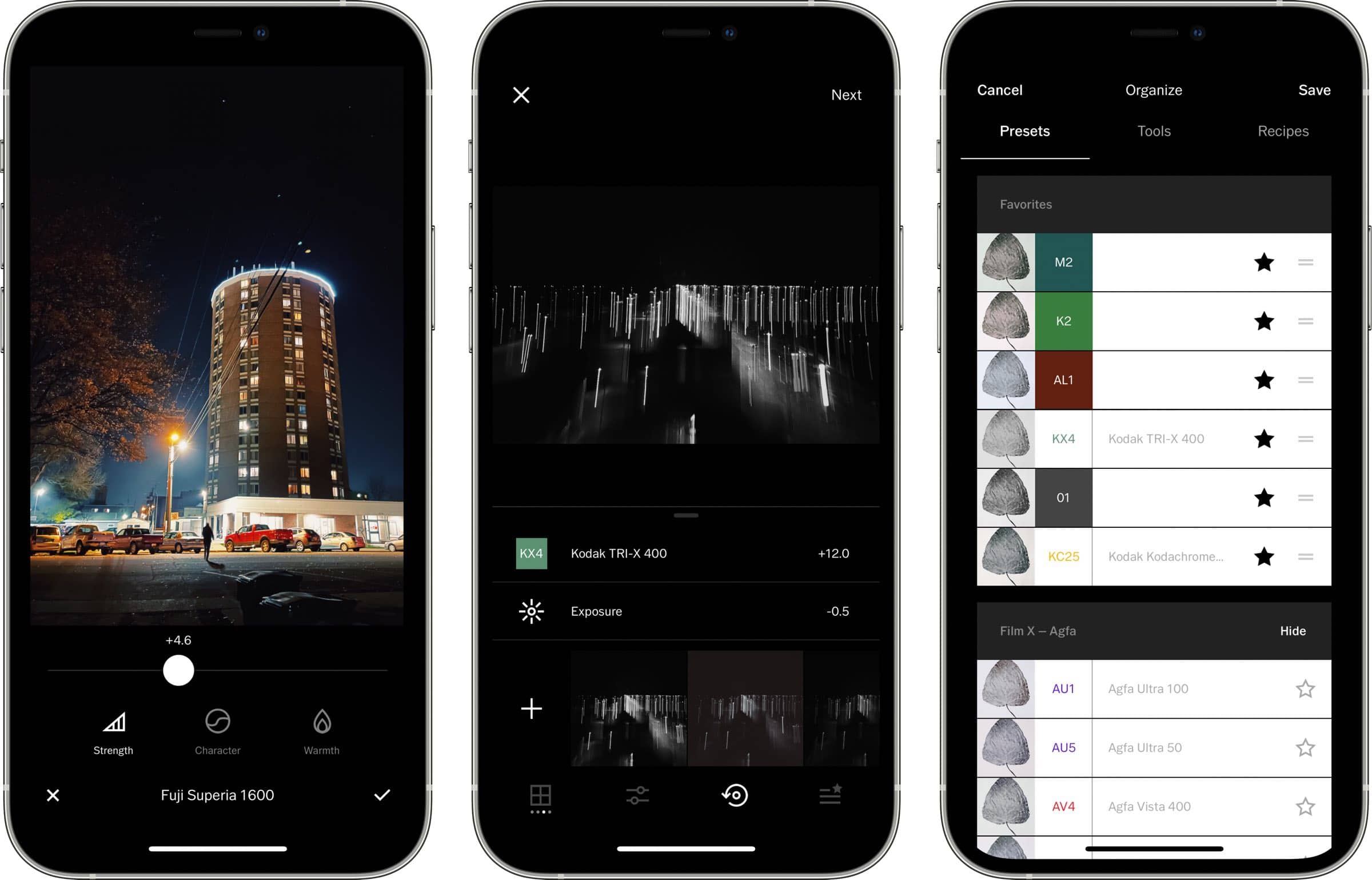 Exclusive Tools
In addition to film, VSCO X members can use exclusive tools for their art. Like the film presets, VSCO continually adds new tools, so you'll get your money's worth. The company recently introduced two tools for members: Recipes and Borders, as described below.
In the early days of VSCO, you could often find photos edited with the app that showed exactly which tools to use. You could load these into the app, apply the settings, then copy/paste the style onto your photographs. The Recipes tool essentially does the same thing, but you don't have to keep a library of photos to copy/paste.
Another new tool is Borders. This is a tool that lets you add a colored (or monochrome) border to your images. This adds a unique flair that makes your photos stand out. It's also great for photographers that still like to share on Instagram. If you're a photographer that adds a white border to counteract Instagram's square layout, you'll love Borders.
Members also get access to lessons, where you can learn tips and tricks to improving your photography. From tutorials to creative exercises, VSCO's lessons keep your artistic muscles flexed.