Background
AirPlay 2 is an extension of the original AirPlay technology that allows for wireless audio streaming to multiple devices, called multi-room playback. It utilizes enhanced buffering to eliminate latency and provides for multi-device control from either iOS, tvOS or macOS.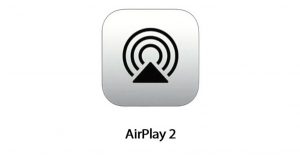 Originally, AirPlay was introduced in 2010 and provided for wireless audio and video streaming from iOS devices to, say, an Apple TV. Later, macOS Mountain Lion added display mirroring.
At WWDC, in early June, 2017 Session 509 introduced AirPlay 2 and added the newly announced HomePod as one of the devices to be supported. The technology will also be opened to 3rd party audio manufacturers, via APIs, and companies such as Bang & Olufsen, Bose, beats, Bowers & Wilkins, Denon, Marantz, McIntosh, and Sonos, to name a few, have announced support.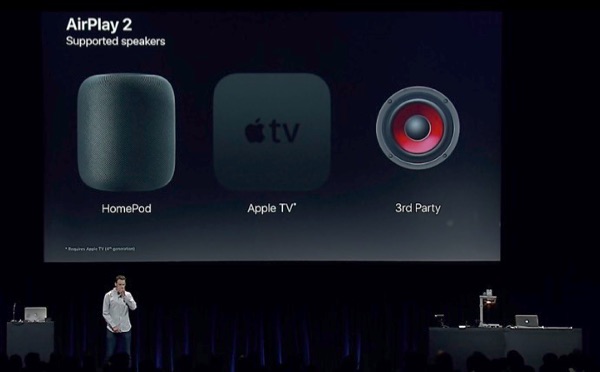 Apple's signature product for AirPlay 2 is the HomePod. On January 23rd, Apple announced that HomePod preorders would start on January 26th and deliveries would commence in February 9th. However, for this launch, multi-room support via AirPlay 2 won't be available. The HomePod will also lack stereo support. "Apple says those features will come later this year, but isn't offering a firm time commitment."
What AirPlay 2 Can Do
AirPlay 2's primary function is to support multiple audio devices. AirPlay 2 will require an iOS device that supports iOS 11, but which version of iOS 11 it will appear in is not known. (It was pulled from the beta of iOS 11.2.) If used with Apple TV, it must be an Apple TV 4th gen or Apple TV 4K. The Apple TV can be used to transmit audio to multiple AirPlay 2 enabled devices/speakers.
AirPlay 2 will add speaker control to the iOS Control center app so that one can individually control, say, the volume of multiple speakers in different places on a Wi-Fi network. The WWDC session seemed to suggest that AirPlay 2 is designed to work only with audio, and I've seen nothing at all about streaming video to multiple devices.
It is believed that even with AirPlay 1, you'll be able to stream music from your iTunes library, but our Jeff Gamet reports that "internet streaming—and likely telling Siri what music to play—will require an Apple Music subscription." [Link below.]
Finally, at WWDC 2017, Apple announced an AirPlay 2 feature called "Shared Up Next." This would allow multiple users to add songs to a Now Playing playlist in Apple Music.
If you're planning to purchase a HomePod, this article has more information about compatible iPhone and iPad models.