It's no secret Cambridge Analytica harvested millions of user profiles from Facebook, but was yours one of them? Facebook has a way you can check. Read on to learn how it works.
Facebook and Cambridge Analytica
Cambridge Analytica obtained and used millions of Facebook profiles as part of its campaign strategy for Donald Trump in the last U.S. President election. The user profiles were collected in 2013 through a personality quiz app that grabbed participants profiles, and the profiles of all their friends, too. That netted somewhere between 30 million and 50 million accounts.
[FTC Launches Investigation into Facebook's Privacy Practices]
Facebook said the profiles were collected in violation of its terms of service and has been trying to convince users incidents like this won't happen again. The U.S. Federal Trade Commission is concerned about how Facebook handled user privacy in the past, as well as now, and has launched its own investigation.
How to See if Cambridge Analytica Harvested Your Facebook Profile
Facebook now has a tool that makes it easy to see if Cambridge Analytica got ahold of your user profile. Unfortunately, it isn't exactly easy to find.
To see if your profile was harvested, do this:
Search for "Cambridge Analytica" in Facebook's Help tool
Choose "How can I tell if my information was shared with Cambridge Analytica"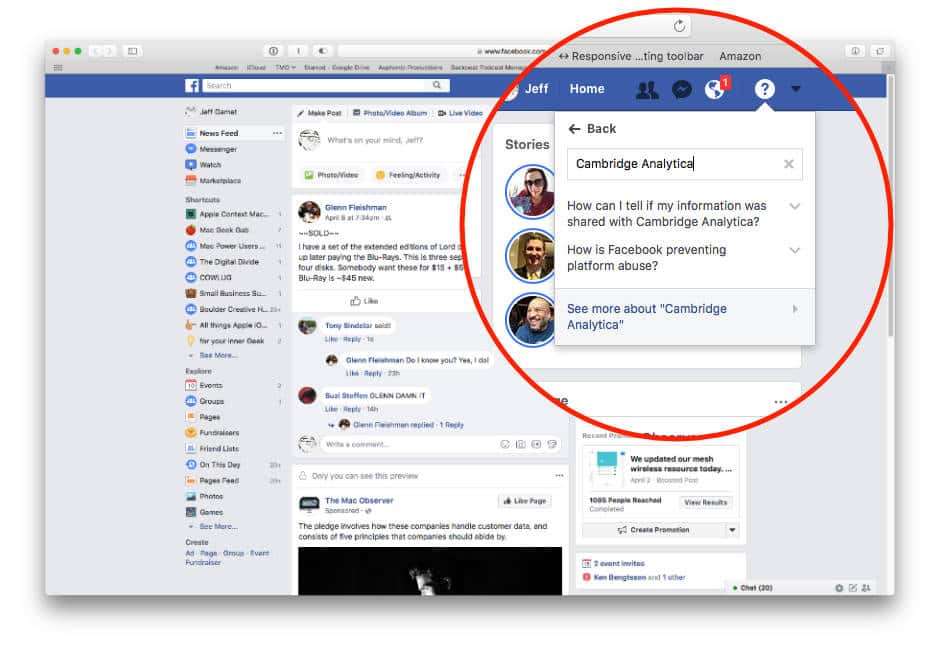 Alternately, you can go directly to the information page because we already did the search for you.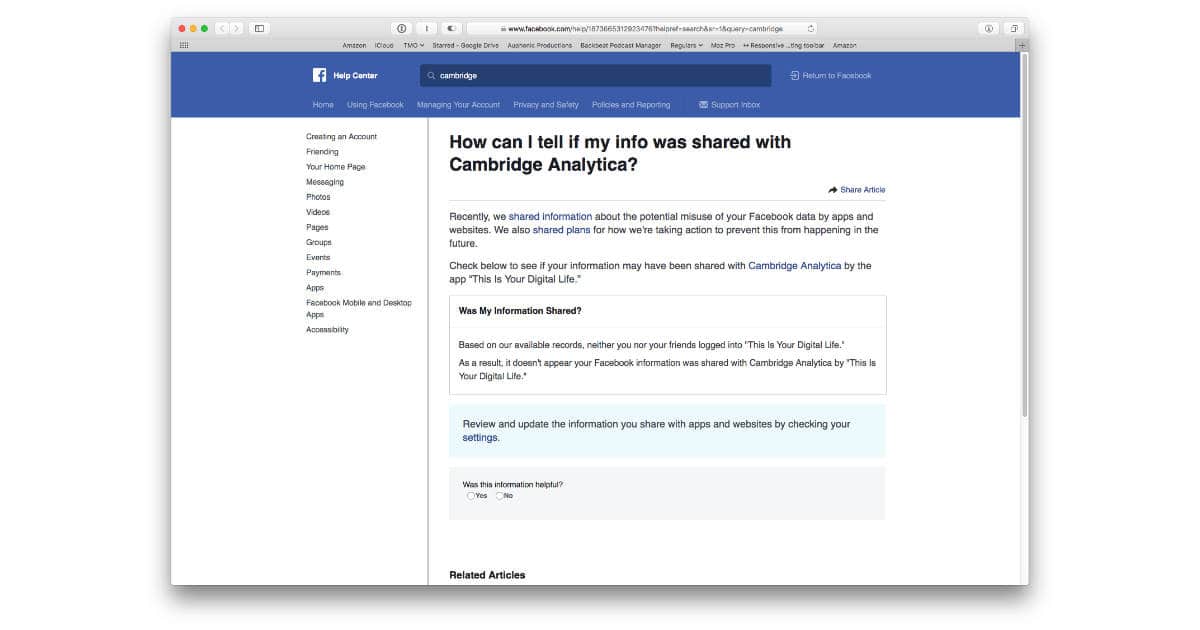 I got lucky because Cambridge Analytica didn't get my profile. If they did get yours you'll see a notification saying your public profile, birthday, current city, and page likes were collected.
[Here's What You Need to Know About Managing Your FaceBook Account]
Concern over online privacy is gaining momentum thanks to Facebook's big headache over Cambridge Analytica. Facebook says new tools are coming that'll make it easier to see which apps have access to your account.
There's more you can do to limit how much personal information collects about you, and how that's used for advertising. Check out The Mac Observer's tips on how you can get some control over what Facebook does with your personal information.