Apple's iOS Health app has thus far been focused on improving the user's life, but with the launch of iOS 10, Apple has made one very important change that could affect the lives of millions of other people, too. As was first announced back in July, users can now register to become an organ donor directly from within the Health app.
To implement and manage the organ donor feature, Apple has teamed up with Donate Life America, a national non-profit group focused on raising awareness of the importance of organ donation and maintaining a national donor registry.
The Importance of Organ Donation
It's always a bit uncomfortable to talk about our own inevitable demise, but the possibility of saving or improving the lives of multiple other people as you take your final bow is immensely important. Government statistics show that a single organ donor can save up to eight other lives, but there's still a major gap between supply and demand.
That's because more than 100,000 people in the U.S. are currently waiting for an organ transplant, and although 95 percent of the population supports organ donation, only 48 percent are actually registered to be a donor.
Apple's efforts to make organ donor registration easy for its millions of U.S. users therefore makes it one of the most important new features in iOS 10. And signing up takes just a few minutes.
How to Register as an Organ Donor in iOS 10
To register as an organ donor in iOS 10, grab your device and head to the Health app. Tap Medical ID at the bottom-right.
If you haven't already set up your Medical ID, be sure to do that first. Although not required in order to register as an organ donor, your organ donor status will be displayed on your Medical ID profile for easy reference by medical personnel in a time-sensitive situation.
Beneath the Medical ID is the new Organ Donation section. Tap Learn More to read more about how the program works, and tap Sign Up with Donate Life to start the process.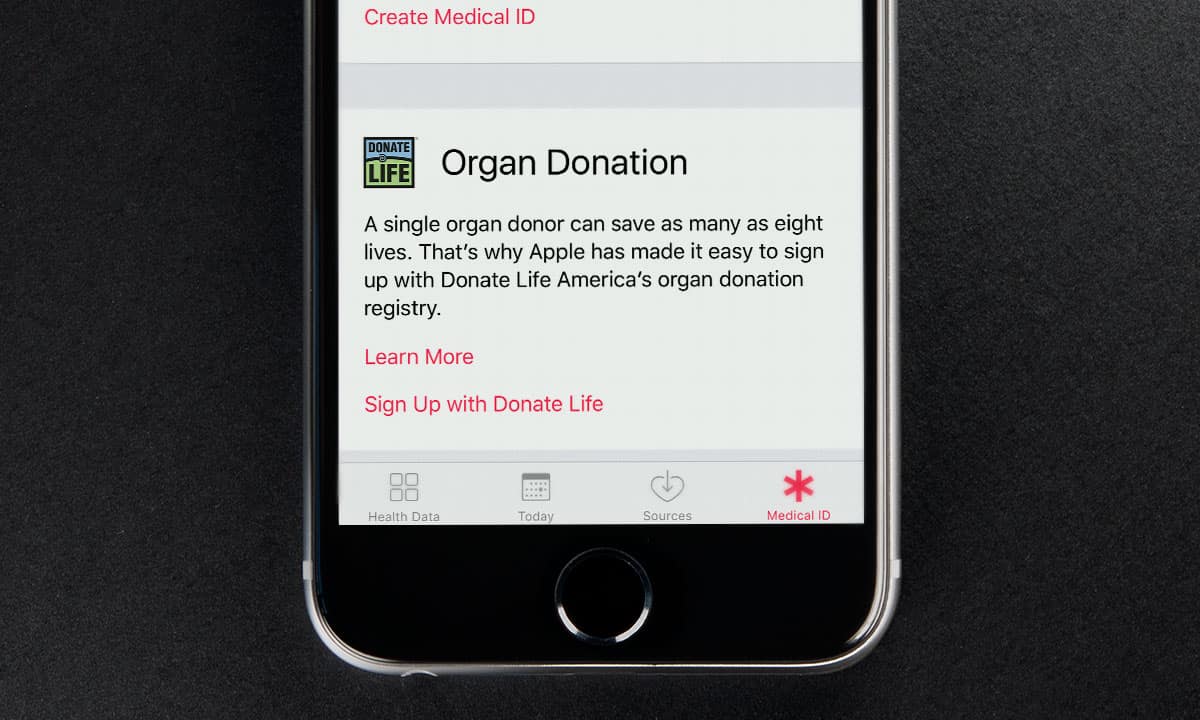 You'll need to enter some basic info and then confirm your registration on the following page. As stated in the registration, your information regarding organ donation will be stored only with the national donor registry and will not be shared with Apple. If you change your mind in the future and wish to withdraw your donor registration, you can do so on your Medical ID card.
Finding a Way to Make an Impact
The one issue with this new organ donor registration is that it's an "all or nothing" approach. That is, by signing up via this method you're agreeing to donate all eligible organs and tissue upon your death. For users who are willing to donate some but not all organs due to religious or personal preferences, you'll want to skip the iOS 10 registration and instead check with your local government. Typically, groups such as your state's DMV allow residents to register as donors of specific organs only.
Either way, if you're able, please consider signing up as an organ donor today. You never know when your number will be called and, wherever you end up, it's a safe bet that you won't need that pancreas.