In some ways I feel like calendar apps are where Twitter clients once were—apps built for a common task that could benefit from a fresh perspective. The App Store has no shortage of calendar apps, but one I recently found has held my attention. Timepage for iPhone and iPad from Moleskine—yeah, that Moleskine—offers a unique, stylized approach to calendaring, and I've really enjoyed it over the last month.
Timepage
The first thing that struck me is Timepage's refreshing, minimal, though customizable design. If you want an app that displays every tiny piece of data like week numbers, event start and end times, and more, Timepage may not be your app. Its goal is a focused, stylish view of your day with occasional delights and subtle animation sprinkled throughout.
Anecdotally, part of the onboarding process displays a bunch of floating, colored balls and asks you to pick your favorite color. Timepage then uses that as an accent color and theme for the whole app, including its Today widget.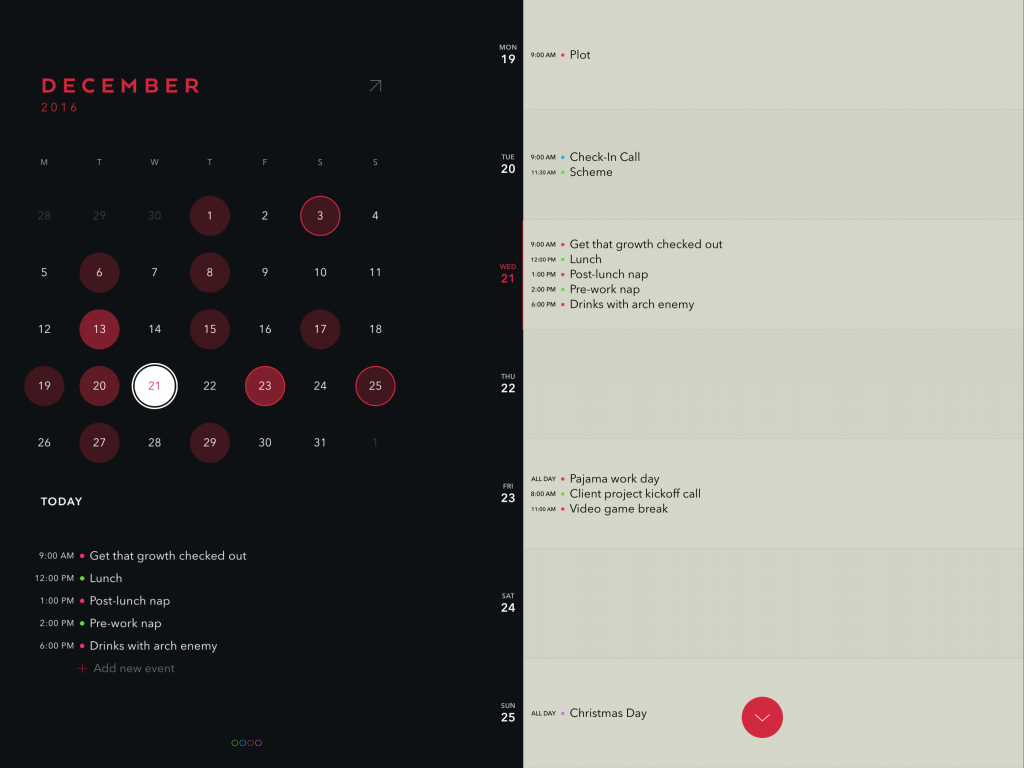 Gestures
There are fun little gestures all over the app. Pull down on the current day to start creating a new event. Pinch in and out on the week view to change the number of days you view at once. Here's one more: Timepage displays the weather at the bottom of the day view. Tap and hold on it, and a by-the-hour display appears where you can move back and forth to move through the day.
Calendar Types
For my needs, just about all the basic essentials are there. It supports all the major calendar services, including iCloud, Exchange, Google, Facebook, Yahoo, and CalDAV. You can attach locations and notes to events, and invite other people. But then there's the fun stuff.
Timepage has a few great iOS Today widgets, a good watch app, and a clever feature called Smart Alerts. You can toggle optional alerts for things like major weather changes, daily briefings, time to leave based on your chosen transportation, and even follow-up tips to keep relationships warm. You can search all your events or specify past versus future. Great little details like that are everywhere.
Timepage for iPhone and iPad is beautiful, not-too-minimal, and yet feature-full. It really feels like a fresh take on calendars that's worth a look.