4. Set Individualized Read Receipts
If you want to turn on or off read receipts just for one person in Messages, you can do that. All you need to do is click on Details beside that person's name, and turn Send Read Receipts on or off.
5. Filter Unread Messages in macOS Mail
As another hidden macOS feature, the Mail app now allows you to filter your unread messages. At the top of the messages pane, you'll see a circle with an upside-down triangle. Just click on that little button, and Mail will filter your email, showing you only unread messages.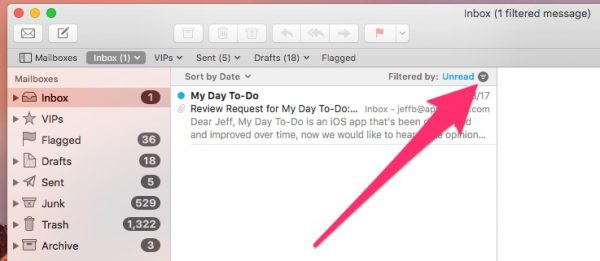 Bonus Tip: Quick Look at Documents and Images
As one last tip, the Finder has a Quick Look feature. After you've single-clicked on a document, image, or other types of files, press the space bar on your keyboard. A quick preview of that file will show up, along with the option to open it in the correct app.
What is your favorite hidden macOS feature? Tell us about it in the comments.