So I mentioned a long time ago that you can click and hold on Safari's back button to see a list of where you've been. This'll let you quickly jump somewhere without hitting that back button a million times. First of all, this is cool, so here's a new screenshot of it:

Second of all, I've been writing for TMO for how long? Geez Louise.
There are a couple of things you can do with this button to make it even cooler, though. As you can see from my screenshot above, clicking and holding will bring up a list of the page descriptions, but if you're looking for URLs instead, holding down Option before you click and hold the back button will do just that:

If you want to keep your existing page as a tab or a window before you open something from your history, that's easy too. Obviously, when you click the back button without holding it, Safari'll go back to the last page you visited. Hold down Shift and click that button, though, and the browser will instead open your last page in a new window. If you hold down Command, your last page will open in a new tab! Nifty. (This does the same thing with the forward button too.)
This Shift-or-Command trick also works if you've got that history view shown in my screenshots above open. So if you click and hold on your back button to bring up that little popover, holding down Shift and choosing any of the pages you visited will open it in a new window; Command'll open it in a new tab. And this behavior is actually all throughout Safari—shift-click a bookmark or a history item, and it'll open in a new window; Command-click a link, and it'll open in a new tab. Cool! But if your version of Safari isn't behaving in the way I'm describing here, be sure to check out your settings at Safari > Preferences under the "Tabs" section.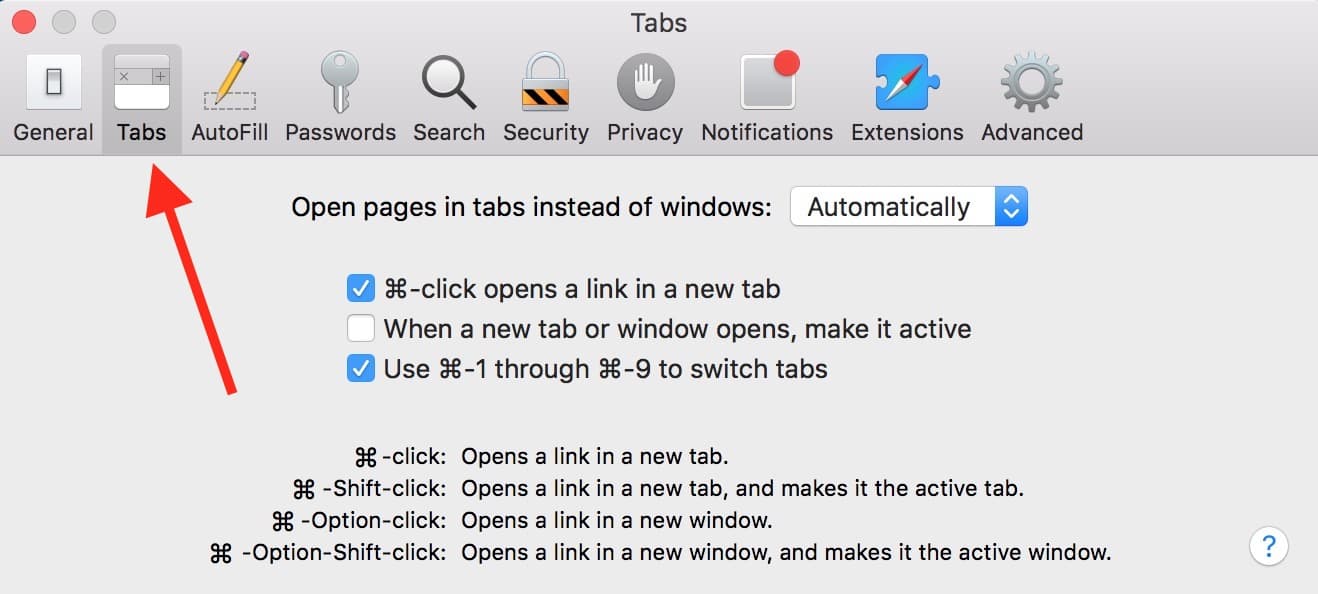 If, for example, you have that first checkbox OFF, Command-clicking will open items in new windows instead. But you can check the bottom section there to see the keyboard shortcuts that'll work depending on what options you choose in that window. And then you can go Command- and Shift-click to your heart's content! Open new windows! Open new tabs! Be free! Get a life!
…Wait, that last one's just for me.