In watchOS 3, there are no more Glances. So Apple had to relocate the manual activation of Power Reserve to the Control Center.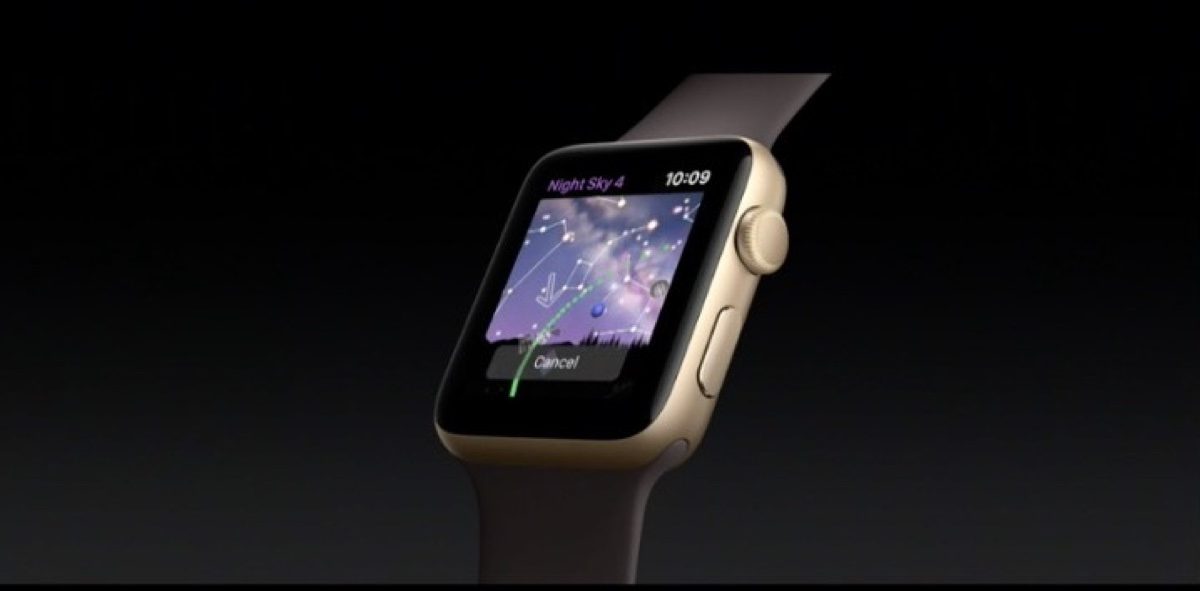 Background
Power Reserve is used on the Apple Watch to extend the battery life in a critical situation. It's probably a feature that was conceived early on when Apple engineers weren't sure the Apple Watch Series 0 could make it through an entire day without a recharge.
The most important thing a watch can do is provide an accurate time. In a low power situation, it doesn't make sense for the Apple Watch to preserve what little, precious battery power it has to retain access to non-critical functions if the display of the time is going to collapse along with everything else.. So Power Reserve shuts off most everything except the display of the time.
When your Apple Watch battery level drops to 10%, it will ask you if you want to activate Power Reserve mode. If you need to be extra cautious in a situation where you're away from a charger, you may want to turn it on early and manually. The link above explains:
In Power Reserve, press the side button to show the current time in a 24-hour format. While your Apple Watch is in Power Reserve, your Apple Watch and iPhone won't communicate, and you can't access other watch features.
Turn it on Manually
1. To enter Power Reserve, swipe up from the bottom of the display to reveal the Control Center. It looks like this: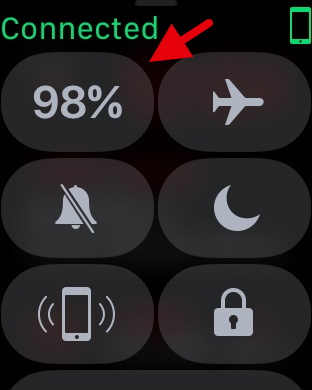 2. Next, tap the remaining battery power button on the upper left. That will reveal information dedicated to battery operations. (This was the battery Glance of watchOS 2 and previous.)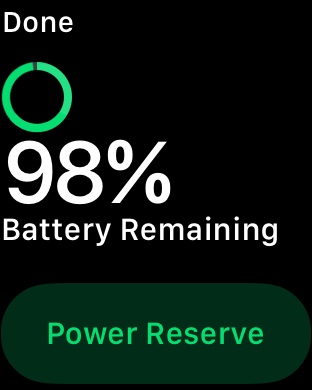 3. Tap the Power Reserve button. You'll see text that describes what Power Reserve does and how to leave that mode after you've connected to the charger.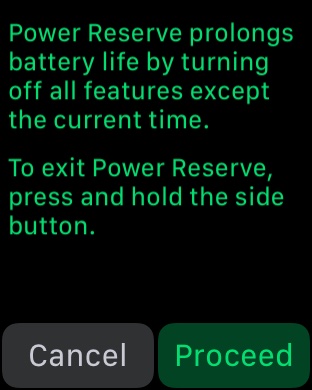 Apple's website, at one time, claimed that one could keep the watch alive for an additional 72 hours in Power Reserve mode (four checks per hour) to access only the time. In March of 2015, Cult of Mac, discussed that. I haven't found updated information for Series 2 and watchOS 3, but it should be at least as good as before.