Facebook has a lot of information on billions of people around the world. Some of it is data collected without our knowledge, like trackers and analytics the company uses when we browse the web. Other information we give Facebook when we sign up and use its service. But we do have a little bit of control over this data. Here's how to lock down your Facebook privacy settings.
Note that Facebook changes these privacy settings from time to time, so check back once a month or so. 
Privacy
First, go into your account settings. Look for a question mark in the top tab bar. To the right you'll see a downward-facing arrow. Click the arrow, then click Settings in the menu.
Next, in the menu on the left, click the Privacy tab. This is the first area we'll concentrate on. You can control who you can your stuff, who can contact you, and who can look you up via Facebook search.
Who Can See My Stuff: Recommended Settings
Who can see your future posts:

Friends

Who can see your friends lists:

Friends
The next two settings are more personal. If you want to look at all of the posts and photos you're tagged in, use the Activity Log as set here. You can even untag yourself from these places. Next, you can limit the audience for posts you've shared with friends of friends or public posts.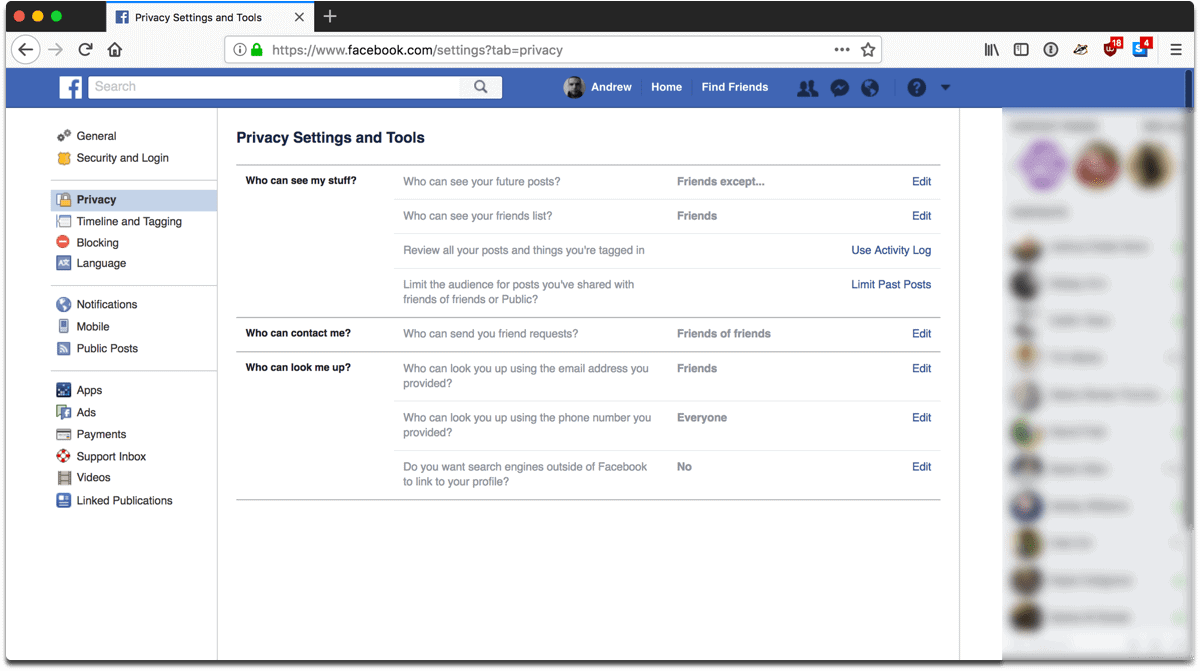 Who Can Contact Me: Recommended Settings
Who can send you friend requests:

Friends of friends

Who can look you up using the email address you provided:

Friends or Friends of friends

.
Who can look you up using the phone number you provided:

Friends or Friends of friends

Do you want search engines to link to your profile:

No