Our thanks to Elgato for joining us this year as a sponsor for TMO's CES 2018 coverage. The effort, planning, and expense it takes to comb through all the noise at CES and bring you targeted, relevant coverage is quite large, and without our sponsors we wouldn't be able to do it all for you. Elgato sees the value in this and was very quick to jump on board to ensure that you would get the very best of what we have to offer this year. We're very thankful for that, and we hope you are, too.
Elgato Eve Button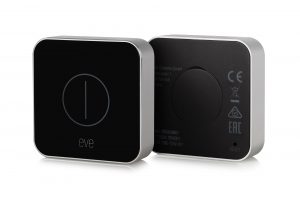 The Elgato Eve Button is a simple-to-use, elegant device that brings you the ability to easily choose a HomeKit scene without saying a word or lifting your phone. Simply tap, double tap, or press-and-hold to choose from one of three scenes, and setup takes about a minute.
The gorgeous, intuitive device is powered by a long-lasting, replaceable CR2032 "button-style" battery, which means it can sit anywhere, or even move around with you if you like.
The Elgato Eve Button's sleek design with anodized aluminum finish means it not only looks great wherever you decide to place it in your home, but is also feels great in the hand.
Because the Eve Button is a HomeKit device, it doesn't require a bridge or gateway. It makes a direct BLE connection to your Apple TV (or upcoming HomePod!) and you're good to go.
Visit Elgato today to learn more about the new Eve Button. You're definitely going to want to check one (or more!) of these out for your HomeKit-connected home.
Again, our sincere thanks to Elgato for being right there to support us and helping to make sure you get the best Apple-focused CES 2018 coverage we could possibly bring you.
---
If you are interested in sponsoring TMO, please email us and we'll get you more details.