Managing your own iPhone is fine, but when it comes to managing other people's iPhones — especially dozens and dozens of them — things get a little more interesting. Thankfully, the good folks at iMazing — our WWDC coverage sponsor for this week — have been hard at work and recently released iMazing Configurator.  Please join me in thanking them for not only sponsoring us this week, but also creating this much-needed tool.
With iMazing Configurator, you design blueprints in their simple editor and then apply them to bulk groups of iPhones and iPads. You can backup, erase, and update 20 iPhones simultaneously, or configure 20 iPads to launch an app in Single App More… and so much more. And it's all so simple.
Because iMazing Configurator runs locally, it can perform backups and restores, push custom apps, contacts, media, and other files, run battery diagnostics, and more.
Plus, iMazing Configurator is fully MDM aware, and compatible with devices with are already enrolled and supervised via DEP.
The best news? You can request your free trial of iMazing Configurator right now. Go get it! But… you might not need to. If you're already an iMazing user, you already have it. Just launch iMazing, and choose Preview iMazing Configurator Edition from the menu bar.
Once you've got it installed, just go to Configurator > Library > Blueprints, and start creating what you need.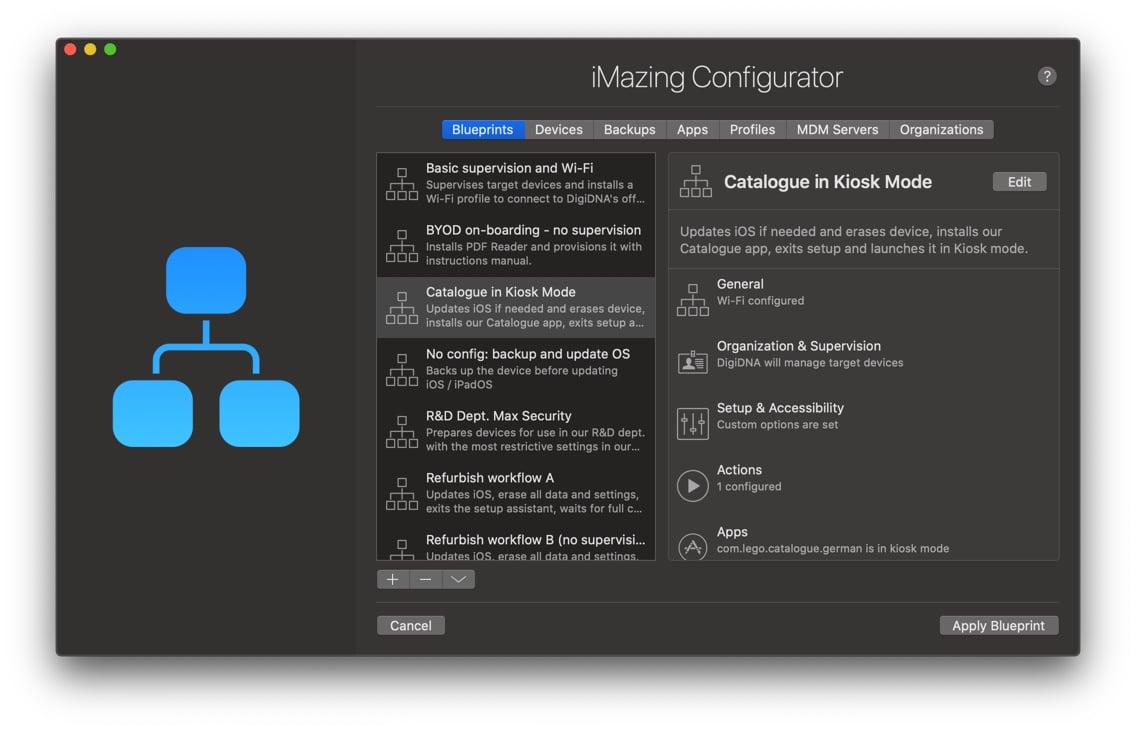 They've put together a fantastic Quick Start Guide, complete with a video to make it super easy to get started:
Please go check out what they're up to with iMazing Configurator, and please tell the folks at DigiDNA/iMazing how much you appreciate their TMO sponsorship this week, too!