Please join me in giving a huge round of thanks to Other World Computing for being on board with us again and helping to sponsor TMO's CES 2019 coverage. Making the trek out to – and around! – Las Vegas each year to cover CES for you all is no small feat (and that's not to mention how our feet feel after walking Vegas!). The costs associated with it all are large, and with sponsors like OWC helping to support that we're able to take our time and mine CES for just the stuff you want to learn about.
OWC had a presence at CES, as well, and being able to get some time with their team I was properly introduced to a few products that had not fully understood, even though I've been a customer for most of OWC's 30 years.
As I'm sure you know, OWC's entire mission is to build products and services that help you maximize and extend the life of your Mac.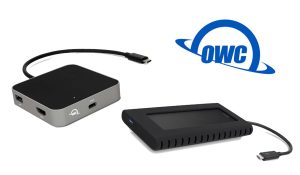 One OWC product I knew about but hadn't really paid enough attention to is their USB-C Travel Dock. At less than $50 (and as low as $37, depending upon your chosen color), OWC's USB-C Travel dock includes two USB 3.1 gen 1 (standard USB-A) ports, a USB-C port, an SD Card Reader, and an HDMI 2.0 port. A USB-C connector at the end of a short cable connects it to your laptop – or now your iPad Pro – and gives you full USB throughput and full power passthrough to ensure you've got the connectivity and charging that you need, no matter whether you're at home or on the road. At this price for this level of quality and performance, it's unbeatable.
Also for the portable crowd is OWC's new Envoy Pro EX portable SSD. This bus-powered, Thunderbolt 3 device can provide up to 2800MB/s of sustained throughput, making it the perfect portable powerhouse for all your demanding environments.
These are just two examples of OWC's stellar commitment to making and supporting quality products that perfectly suit your needs. Go check 'em out today, and tell them thanks for helping to support TMO while you're there!
---
If you are interested in sponsoring TMO, please email us and we'll get you more details.