The iPhone opens its doors to anyone who may like creating videos. The problem is, not everyone knows how to let the iPhone videos reach their audience easily, especially when premium iPhone models even push 4K. For many users, the large size of 4K & HD iPhone recordings, limited compatibility of HEVC format, different filming angles or dark results shot in low light all prevent them from sharing iPhone videos just as easily as they imagine. But with the right tool, they can have the job done without any roundabout process. By "right tool" I mean VideoProc.
What is VideoProc?
VideoProc, as its name suggests, is a combination of video and processing, a one-stop video processing program. It distinguish itself from traditional video converters and video editors with the absolute fullest pack of features an Apple user may need to edit, transcode, resize, adjust and fine-tune iPhone, digital camera, GoPro, Drone videos in an easy way, with no lags or crashes.
Giveaway and win an iPhone XS!
To celebrate its release, VideoProc is free for a limited time, together with a contest to win the new iPhone XS, 3 pairs of AirPods, and 6 iPhone charging cables. To participate in this sweepstakes, please visit the iPhone video processing page and enter email to win.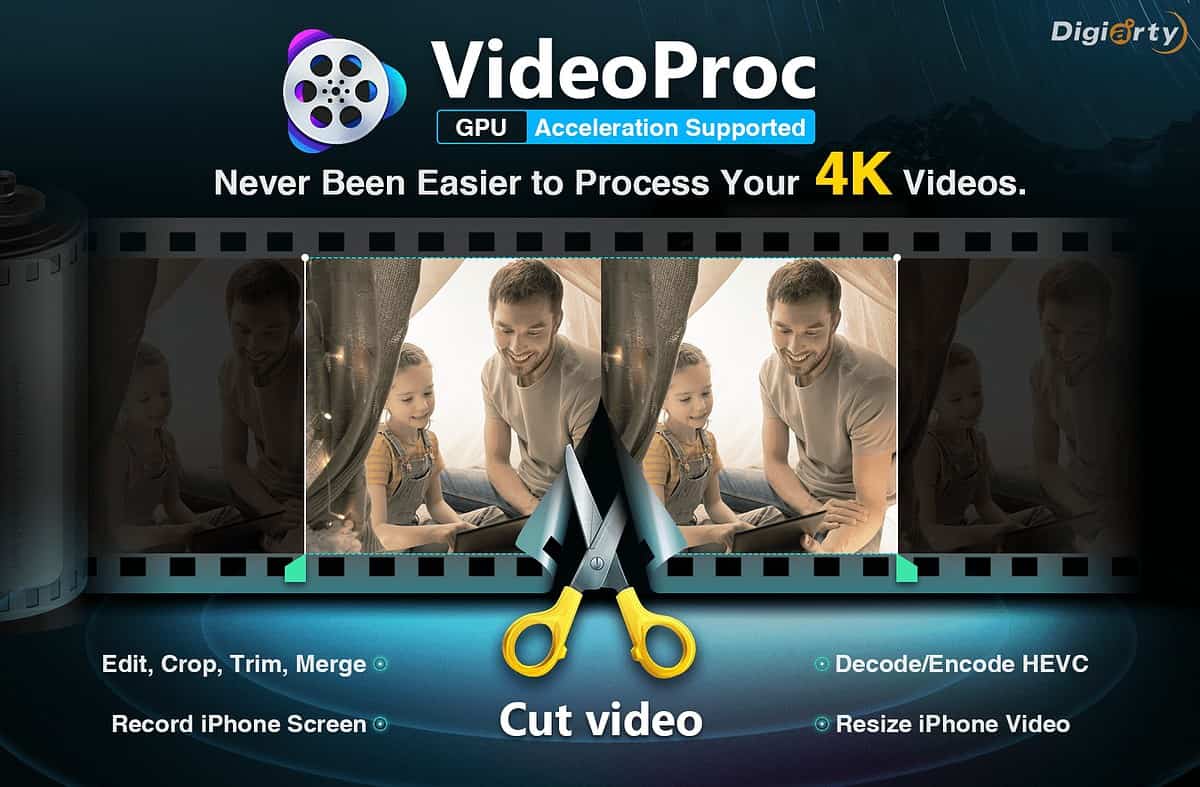 Al video processing tasks are taken care of: Resize, Edit & Transcode
The killer feature of VideoProc is a powerful video processor which comes fully loaded with features to get iPhone videos ready for publication. It starts as a video editor that will easily trim, cut, crop, merge, rotate, and flip videos, add special effects, and add subtitles/watermarks. There is everything that caters to both regular computer users and tech professionals – an advanced ToolBox lets users stabilize the video, remove noise, correct visual distortion effect, create GIF memes, and more to make iPhone footage look as professional as possible.
While the patent-encumbered HEVC codec hinders potential uses and imposes burdensome costs on anything that goes near it, VideoProc helps iPhone users out of these constraints. It comes in handy when you want to play HEVC iPhone videos on TV, computer, Android devices, PSP, and wherever thanks to its large library of 370 input and 420+ output formats ranging from the niche and obscure (HEVC H.265, MKV, M2TS, AVCHD, MOD, ProRes, WebM) to the more commonly-used ones (MP4, AVI, MPEG, WMV, MOV, VOB, FLV). What if someone has a substantial library of movies and TV programs to binge-watch on iPhone? VideoProc also helps video and music go to iDevices regardless of format.
Focused on large 4K videos, VideoProc has the best technology to resize iPhone 4K recordingsfor YouTube, FaceBook, Instagram, WhatsApp, other social media, email services, iCloud storage and device platforms. Its special compression algorithm reduces the size by 40%-90% without visible quality loss via parameter adjustment, video cutting & editing, codec changing, resolution downscaling, and more. iPhone users who are stumped by the mammoth size of 4K/HD recordings or in the need to take large collection of movies on the go, can stay assured that the world's most advanced video compression technology is right in the palm of their hands.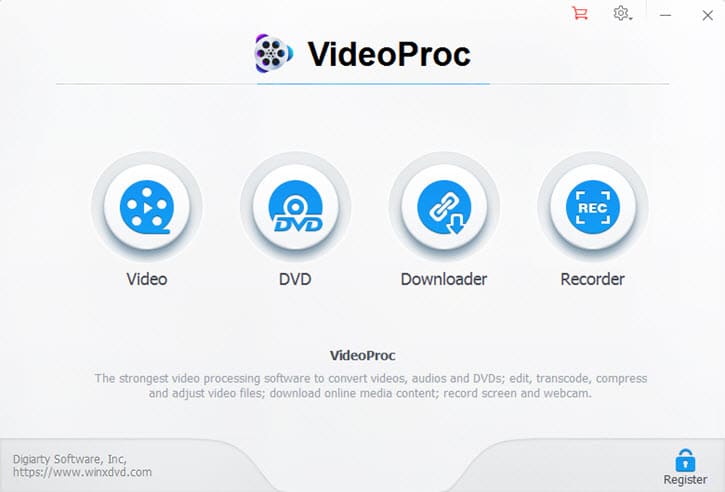 Full Hardware Acceleration delivers 47x faster speed
By contrast, VideoProc feels right in the 21st century. Its world's leading,Level-3 Hardware Acceleration tech(Intel Quick Sync Video, Nvidia Cuda/Nvenc, and AMD), allows large projects that come in 4K and high frame rate, like 60fps, to be processed at 47x faster than real-time. And for good measure, the GPU acceleration tech frees up CPU to keep your system running smooth while the video is processed in the background. This means that VideoProc is easily ab;e to handle iPhone footage recorded at the highest settings while other applications are still struggling to accept the large files without crippling the computer.
Regular video editors have likely experienced the dreaded moment when the output quality is rather bad. Not the case with VideoProc. The High-Quality Engine and De-interlacing tech guarantee a delivery of the finest output with impeccable audio and video quality. Combining these advantages with the world's fastest speed is a big draw to a sizable segment of the 4K-capable iPhone-using population.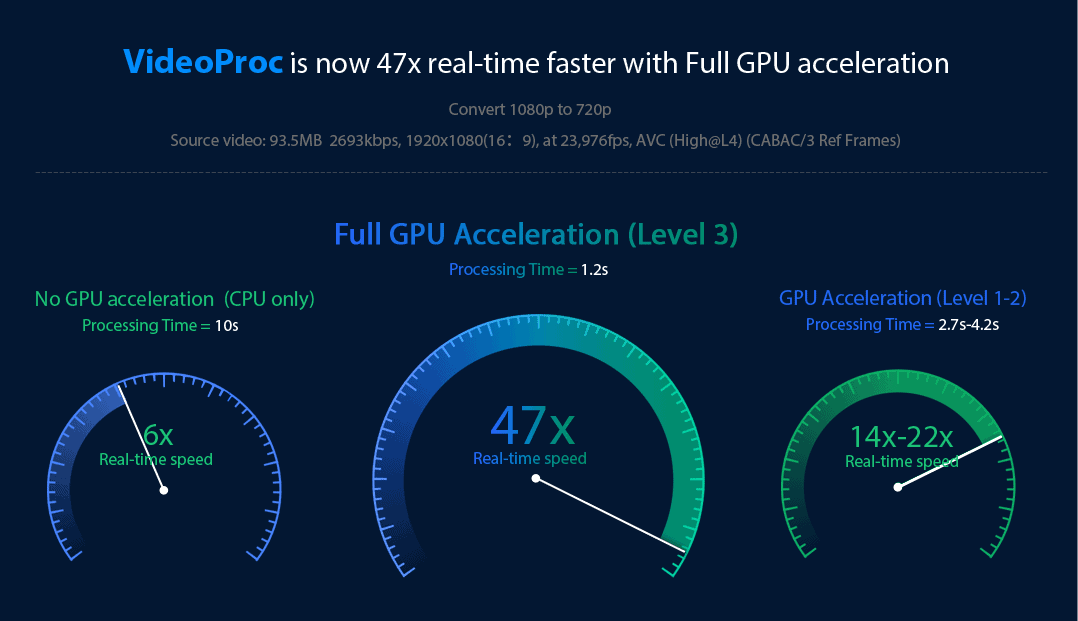 More than iPhone Video Processing Software
In addition to the above, VideoProc covers all the needs a user may have related to iPhone videos:
Record iPhone videos: easily capture desktop, webcam and iPhone activities with high-quality sound. VideoProc bypasses the annoying red bar or bubble that appears during iPhone's own screen recording.
Download videos to iPhone:fast download 8K, 4K, HD videos & music from 1000+ UGC sites with authorized copyrights. Commuters can enjoy high-quality content on iPhones without using up their data plan's allowance.
Convert DVD to iPhone: convert all kinds of physical discs into digital formats for iPhone. Turn your iPhone into a portable movie center in one click.
VideoProc is surprisingly simple with advanced features hidden in a way, making them unobtrusive yet easy to access. It's worth pointing out how stable and crash-free it is, something that really matters given that even the most popular applications crash often when handling 4K and high-resolution, large videos or other intensive tasks. Now the video processing software is being given away together with a good chance to win an iPhone XS before Nov. 26. Check details at the sweepstake page.