Our iPhones and iPads are powerful mobile computing devices, and for some users that means accessing files from a wide range of remote services—including FTP—on the go. If that's you, check out these options for accessing FTP servers and more from your iOS device.
Documents by Readdle
Documents by Readdle is a powerful FTP and SFTP client, and a great tool for accessing cloud storage services, like Dropbox, Google Drive, and Microsoft OneDrive. Along with file management, it also lets you download files from websites, view images, play audio and video files, and read and annotate PDF documents. Documents by Readdle is free.
FTPManager
FTPManager supports FTP, SFTP, and FTP over TLS (explicit and implicit). Along with copying, moving, renaming, and deleting files it supports music streaming, has an in-app FTP server, and a code editor, too. FTPManager is free for a single server connection. Additional connections and full file management are available in FTPManager Pro for US$2.99.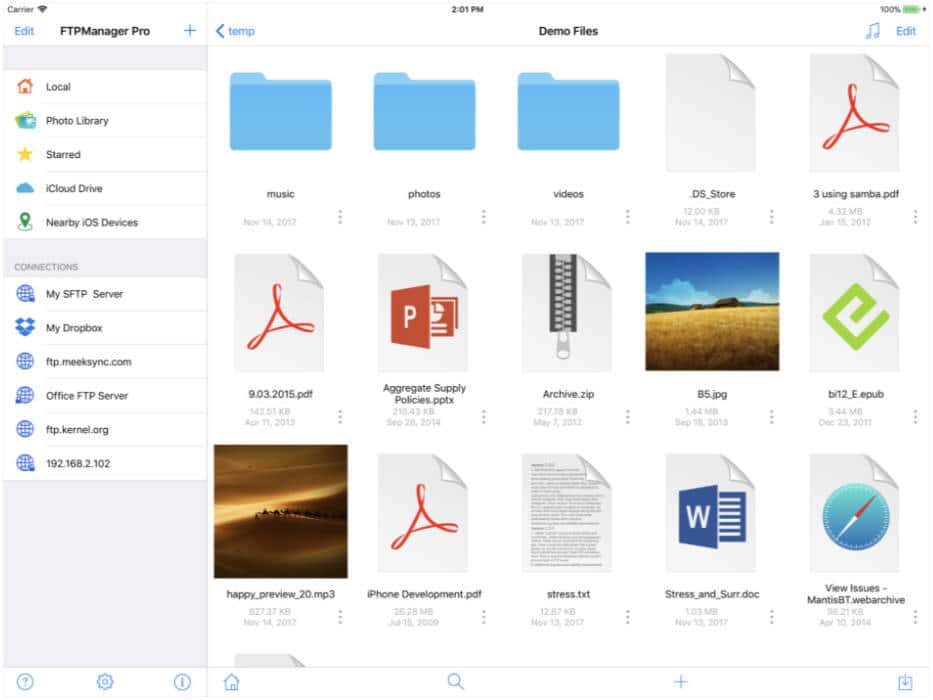 FTP Client Pro
FTP Client Pro supports FTP, SFTP, and FTP over TLS (explicit and implicit). You can manage files, change permissions, view images, and view and edit text files, too. FTP Client Pro costs $3.99. FTP Client Lite with support for saving a singe server login is available for free, too.
Transmit
Transmit for iOS gets an honorable mention even though it's being discontinued. It supports FTP, SFTP, S3, DreamObjects, and WebDAV. It supports file syncing through third-party apps, editing and renaming files, changing permissions, supports Apple's Files app, and syncs your saved server logins with Panic's other apps, too. Sadly, the app is being discontinued and won't be available for purchase on Apple's App Store after February 1st, 2018. For those of us who were lucky enough to get it before then, it's a powerhouse FTP client app and will be missed.