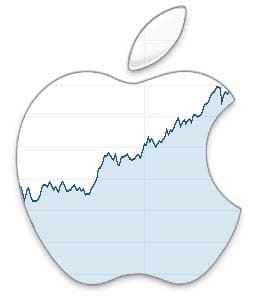 Apple is expected to turn in fiscal Q3 revenues of $44.9 billion and earnings per share (EPS) of $1.57, according to consensus estimates from Wall Street. The Cupertino company reports its June quarter results on Tuesday, August 1st, after the markets close at 4:30 PM EDT.
Horace Dedieu, one of my favorite numbers people, offered more optimistic guidance of $45.3 billion, with EPS of $1.62.
Apple offered guidance of revenues between $43.5 billion and $45.5 billion, with gross margins between 37.5 and 38.5 percent. That puts consensus estimates squarely in the middle of Apple's guidance, with Mr. Dedieu edging towards the high end.
According to Reuters, 15 analysts have Buy ratings on Apple, while another 19 have Outperform ratings. 11 have $AAPL on a Hold, while 1 has an Underperform. None have a Sell rating.
While Apple offers excellent guidance these days, it's important to remember that $AAPL's price is set not by that guidance, but rather Wall Street's expectations.
Shares of $AAPL ended the day lower at $148.73, down $0.77 (-0.52%), on moderate volume of 19.7 million shares trading hands.
*In the interest of full disclosure, the author holds a tiny, almost insignificant share in AAPL stock that was not an influence in the creation of this article.