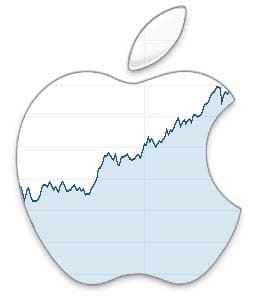 Apple on Tuesday reported revenue of $42.4 billion for the June quarter, the company's 3rd fiscal quarter. That included earnings of $7.8 billion, or $1.42 earning per share (EPS). Those results were down from the year ago quarter of $49.6 billion in revenue and $10.7 billion in earnings. It was within Apple's own guidance of $41 to $43 billion, and earnings beat analyst expectation.
Apple also reported gross margins of 38%, at the high end of its guidance range of 37% to 38%.
While down year-over-year, investors cheered because Apple beat analyst expectations of revenues at 42.1 billion and EPS of $1.38. Shares traded higher in the after-hours sessions at $101.79, a jump of $5.12 (+5.30%).
Shares closed lower during the regular session at $96.67. That's down $0.67 (-0.69%), on heavy volume of 42.3 million shares trading hands.
Units
The company sold some 40.4 million iPhones. That's down significantly from the year-ago quarter when Apple sold 47.5 million iPhones. iPad sales came in at 9.9 million units, while Macs clocked in at 4.2 million units.
Apple CEO Tim Cook told The Wall Street Journal iPhone sales were better than they looked because Apple decreased channel inventory during the quarter.
"Our Services business grew 19 percent year-over-year and App Store revenue was the highest ever, as our installed base continued to grow and transacting customers hit an all-time record," Apple CFO Luca Maestri said in a statement. "We returned over $13 billion to investors through share repurchases and dividends, and we have now completed almost $177 billion of our $250 billion capital return program."
Apple is offering guidance for the September quarter of revenues between $45.5 and $47.5 billion, with gross margins between 37.5 and 38 percent.
*In the interest of full disclosure, the author holds a tiny, almost insignificant share in AAPL stock that was not an influence in the creation of this article.