The iPhone 11 was the smartphone with the most new device activations in December 2020, according to data from analytics firm Flurry. The iPhone 12 Pro Max and iPhone 12 were the next in line.
iPhone 11 Tops Chart, But Mini is Missing
The iPhone 11, received 5.7 percent of new device activations during December 2020. For the 12 Pro Max is was 5.3 percent, and 3.5 percent for the iPhone 12. It is perhaps not particularly shocking that the Pro Max should have seen more activations that month than its smaller sibling as it had been released more recently. However, the data does underline the continuing popularity of previous generations of Apple smartphones – the iPhone XR had the same percentage of activations as the 12. The 12 Pro made up 2.5 percent of the total. The research also notes the relatively disappointing take-up of the iPhone 12 mini. It was not amongst the top-10 devices activated over the holiday period, loitering in 25th position.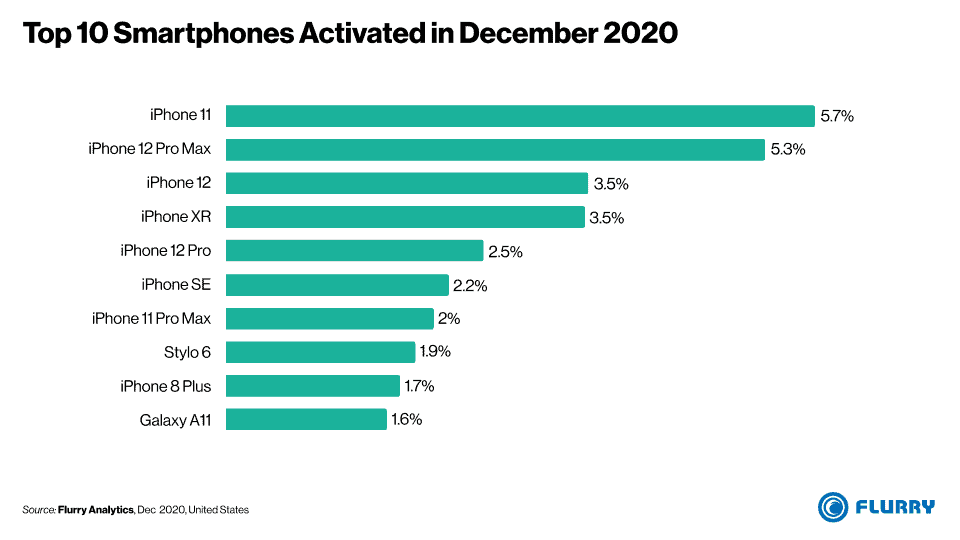 Overall new device activations in December 2020 were down 20 percent on the year before.