I like leather cases for my iPhones and iPads. I used Apple's Leather Case for iPhone 6 and iPhone 6s (I also used Speck's MightyShell), but I have to tell you the new Apple Leather Case for iPhone 7 is a big improvement. There's one reason for that, the buttons.
Apple Leather Case for iPhone 7 has metal buttons for sleep/wake and the volume controls. This compares to what were essentially embossed buttonish covers on the previous generation Leather Case. That matters to me for two main reasons.
Buttons
The biggest reason is that those buttons protrude from the case. Not a lot, of course. I'd even call it "just enough." This minor difference makes it that much easier to handle without looking. This was why I first noticed the new buttons. While my eyes registered that they looked different, I didn't really take stock until I turned the volume up without looking. The difference in the feel was immediate and stark.
The second reason is that the metal buttons are easier to press. With the previous generation case, you needed to press just right to manipulate the underlying buttons. The metal buttons on the iPhone 7 Leather Case make that a non-issue.
Basics
I should mention the basic stuff, too. I like leather cases in general because they usually look good, offer moderate protection from falls, protect the back from most potential dangers, and have a very light footprint. The corners are reasonably strong, and they tend to feel good in my hand.
Longevity
Being leather, Apple's Leather Case is prone to scuffing, as shown in the photo below. But the one I used on iPhone 6 I reused for iPhone 6s. That's two years of use, and it looks remarkably good. My point is that my previous Leather Case lasted two years, and looks ready for two more. I expect the new one to do just as well.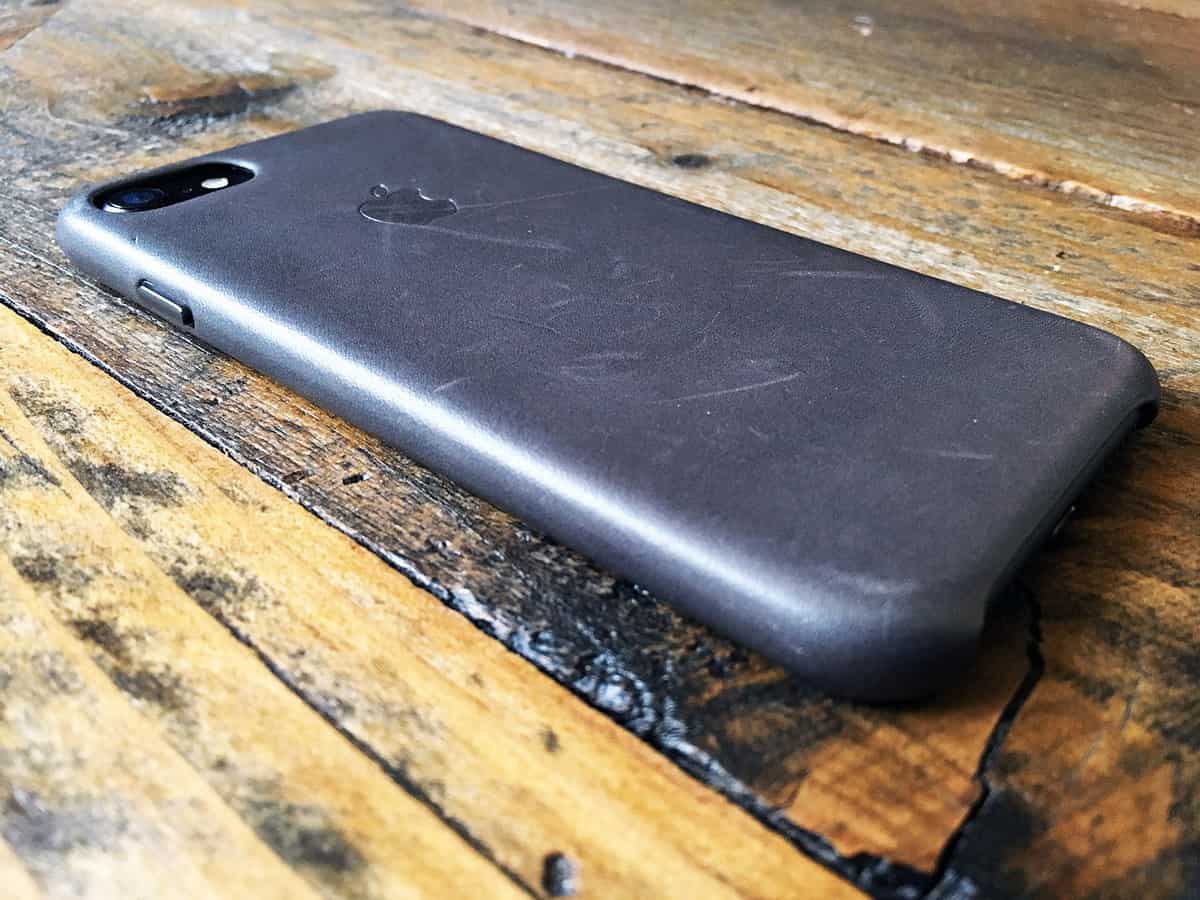 Storm Gray
You have to love Apple's color names. Sometimes. I chose "Storm Gray" for my iPhone 7 Leather Case. It's gorgeous. Your mileage will absolutely vary.