Satechi sent me its Quatro wireless power bank to review. It comes in at 10,000 mAh and features a Qi wireless charger, an Apple Watch charger, USB-C Power Delivery and a USB-C A port to charge multiple devices. You can purchase it on the company's website for US$99.99.
Update
After speaking with the Satechi team, I learned that in order to activate Qi wireless charging, you have to click the power button a second time. The first click turns it on and charges via the USB-C port, and the second click enables Qi charging. This aspect wasn't mentioned on the product page but it is mentioned in the Quick Start guide (which I probably threw away immediately upon opening the package). The guide is available to download from the page, too. I have since upgraded our rating to reflect this.
Quatro Power Bank
First, I'd like to point out that I couldn't get my iPhone 12 Pro to wirelessly charge on it. The USB ports work just fine and I'm sure the Apple Watch charger does too (I don't have an Apple Watch). My AirPods Pro can't wirelessly charge either, so maybe I received a dud?
For the purposes of this review, that matters. But personally it didn't bother me too much. It's Qi, not MagSafe, so you'll have to set the charger on a level surface and don't accidentally bump into it, because your iPhone or AirPods will easily slide off.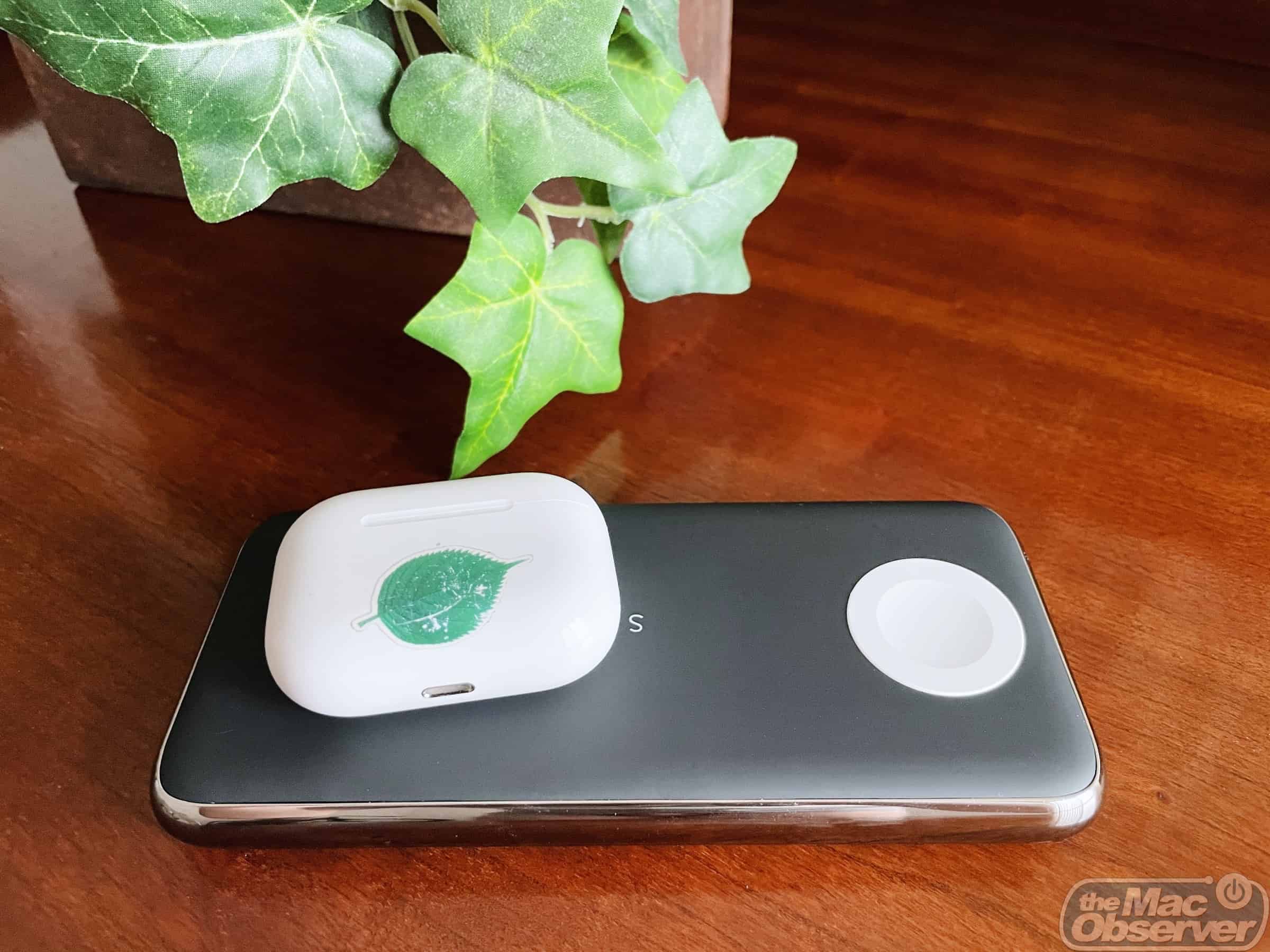 Satechi says it can charge an iPhone 11 up to two times on a single charger, and the USB-C PD port can fast-charge an iPhone or iPad Pro at up to 18W of power. The power bank is 6.4 x 2.9 x 0.7 inches and 0.58 lbs (0.26 kg). It's made of a soft, matte black plastic with shiny chrome-like plastic edges. The plastic made it feel cheap but also light so it won't weigh down your purse or backpack.
I wouldn't pay US$99.99 for a 10,000 mAh power bank though. As a comparison, a quick web search revealed a 20,000 mAh Anker power bank for US$43. Or, I could buy a HomePod mini instead. So to me, although it looks nice and feels nice in my hand, this wouldn't be a consideration if I was shopping around for a portable power bank. Satechi is a well-known brand and they do have other good products.