Having two teenage kids in the family exposed me to Japanese manga and anime. Yes, I've watched the whole series of "Attack on Titan" and surprisingly liked it. But I never read the manga version of that popular series. Anyway, if you're unlike me and you're into reading manga, you're probably looking for Tachyomi, one of the most popular manga readers around, on the iOS App Store. Unfortunately, it's not available there.
While there are workarounds that allow you to install Tachyomi iOS on your device, but these involve side-loading the app from a third-party app store. This is undesirable for many who want to stick with the relatively safer official App Store. That means your best bet for reading digital versions of manga is to use an alternative reader. I've listed here some of the best alternatives to Tachyomi that are available on the iOS App Store to help you choose the best one to use for reading manga.
What is Tachyomi and Why is Tachiyomi Not Available on the iOS App Store?
Android users are lucky enough that the developers of Tachyomi manga reader decided to make the app available for the Android platform. This made manga fans who are iOS users jealous, wishing that Tachiyomi would become available on iOS as well. Unfortunately, according to the developers of Tachyomi, it would prove too challenging to port the manga reader to iOS. Therefore, it's available only on Android.
The Tachyomi manga reader has gained a massive following ever since Japanese anime and manga gained so much popularity not only in Asian countries but also in the U.S. and European countries. As a manga reader, Tachyomi is free and open-source with various features that give fans a delightful experience reading their favorite manga story. Additionally, Tachyomi has a massive database of manga, some of which aren't even available elsewhere on the internet. No wonder fans have declared it the best manga reader.
5 Best Tachyomi App Alternatives for iOS
There are several other manga readers already available on the iOS App Store. I've listed five of them below to help you choose one to use for reading your favorite manga.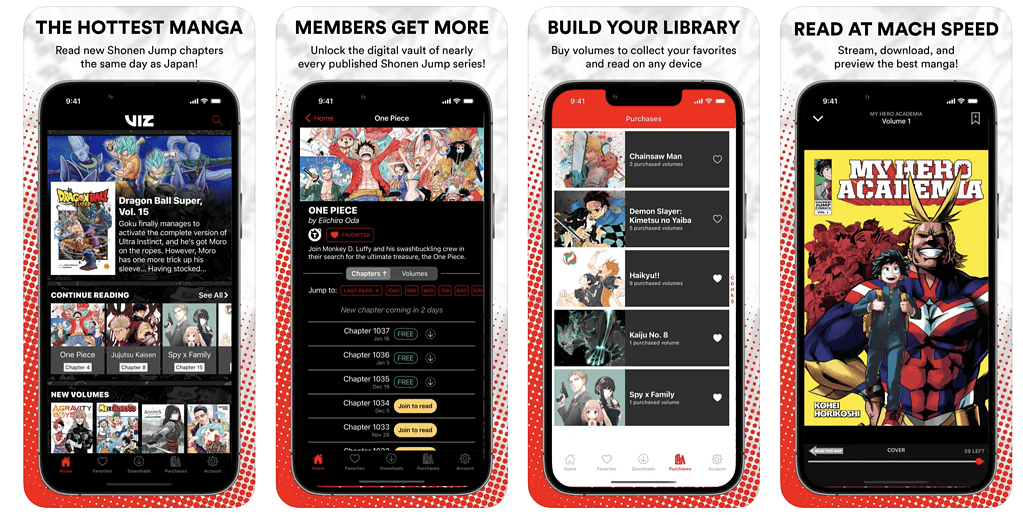 From VIZ Media, the number one destination for American manga fans, the VIZ Manga reader app is one the better Tachyomi alternatives on iOS. It has a vast catalog of mainstream manga coming straight from Japan. It features weekly chapter updates and new series added regularly.
One essential feature of VIZ Manga is that it lets you read a free preview before buying the manga. If you're a fan or familiar with popular anime series such as One Punch Man, Jojo's Bizarre Adventures, and more, you can find their manga versions in VIZ Manga.
Availability: Free, offers in-app purchases.
Pros
A free preview before purchasing is a plus.
The swipe gesture for turning pages works seamlessly.
Auto-rotate while reading.
Cons
Lacks search and genre options.
Lack of settings menu.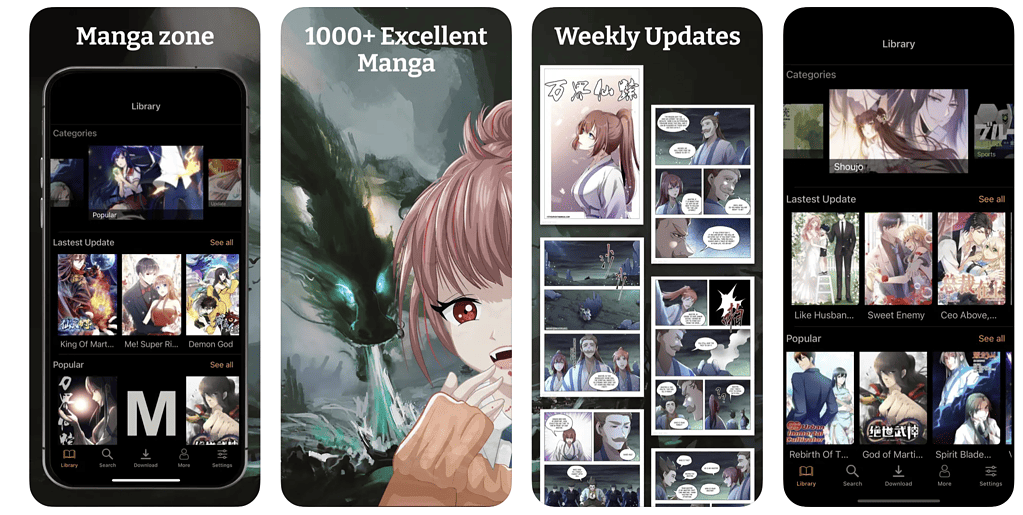 Another good alternative to the Tachyomi manga reader on iOS is Manga Zone. It also has a pretty good collection of manga ranging from the latest releases to old classics. When it comes to user interface and design, Manga Zone excels, with a clean layout and a very nice format.
Users also say that the manga featured in Manga Zone are complete in terms of chapters and some mangas even come with extra volumes. It's worth trying out.
Availability: Free, Offers in-app purchases.
Pros
The download feature is a plus.
Lets you go back to the manga you previously read and keep track of what you are currently reading.
Seamless interface including swipe features.
Cons
Ads can get quite annoying.
Limited advanced search features.
➡️ Get Manga Zone – Manga Books Reader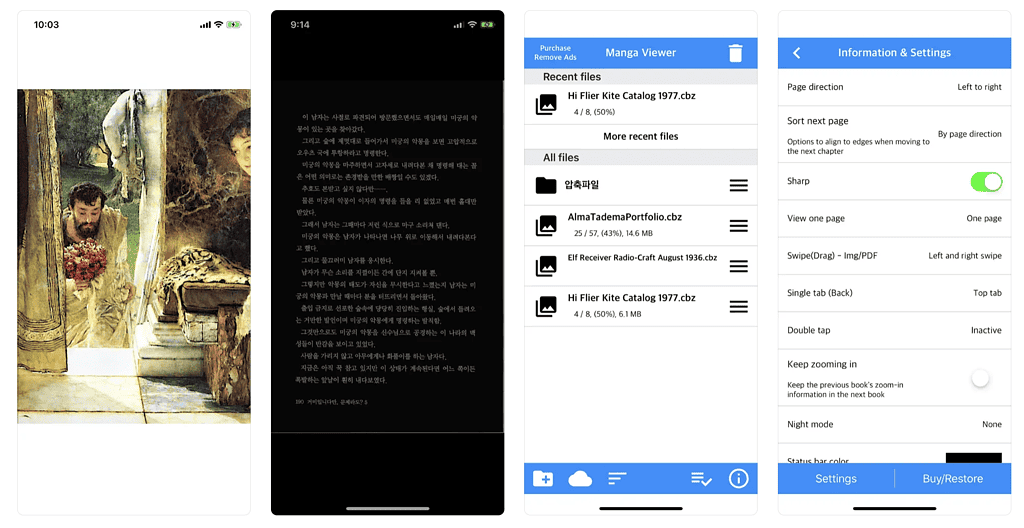 Manga Viewer is another great iOS alternative to the Tachyomi manga reader. It has a vast collection of titles and lets you read and download without limits. But one thing that sets Manga Viewer aside from other Tachyomi alternatives on iOS is the fact that it allows you to stream manga from different libraries simultaneously.
If you're a manga fan you surely know about mangahere, mangafox, mangareader, batoto, and many others. These are popular libraries of manga collections. Additionally, Manga Viewer also lets you filter manga by title, author name, rank, and genre so that you can easily find the title that you're looking for.
Availability: Free, Offers in-app purchases.
Pros
Features mainstream manga as well as some that are not.
Remembers where you left off when reading a manga series.
Cons
Its library is hard to navigate.
Takes too much storage.
➡️ Get Manga Viewer – CBZ (CBR) Reader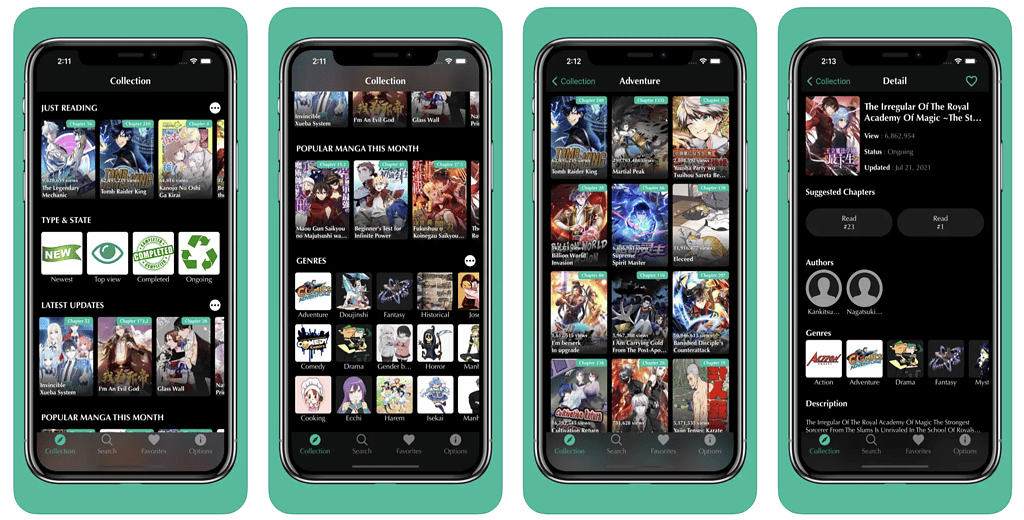 MangaBAT – Manga Rock Pro is also a popular and widely used manga reader. It has a good collection of titles that contain high-resolution graphics. MangaBAT's interface is highly customizable. It allows you to choose the direction you wish to read the manga.
You can also pick up from where you left off when reading since MangaBAT marks what you have and haven't read yet. Some users say that MangaBAT never crashes, making it a highly stable and reliable manga reader.
Availability: Free, Offers in-app purchases.
Pros
Very easy-to-use interface.
Allows you to store gift cards in the app.
Lets you view deals and coupons.
Cons
The user interface is not enticing.
Deal details don't contain photos.
Deals lack important information.
➡️ Get MangaBAT – Manga Rock Pro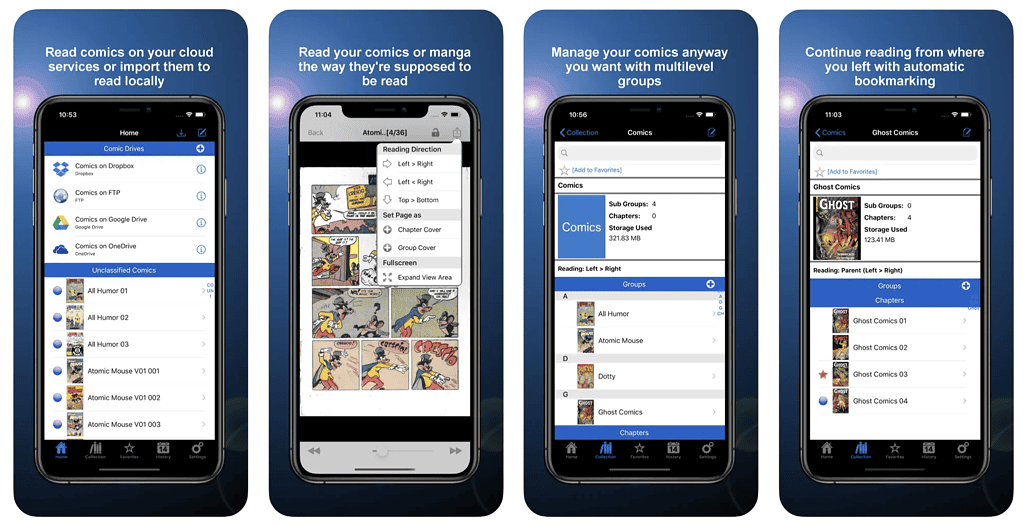 Finally, I've saved the best for last. Manga Storm is quite possibly the most popular and widely used iOS alternative to Tachyomi. MangaStorm has a vast collection of manga coming from popular websites. These include MangaEden, MangaHere, MangaTown, and a whole lot more. Manga Reader is a pretty stable app and its load time is fast and smooth.
One feature that you will appreciate in Manga Storm is the zoom capability. This allows you to zoom in on pages to read them easily. Additionally, Manga Storm automatically saves your reading progress on every chapter of the book you are currently reading. Manga Storm is available for free and allows you to access pretty much everything. But there is a limit on what you can download at a time. If you pay for the premium version, that limit goes away.
Availability: Free, Offers in-app purchases.
Pros
Loaded with basic and advanced tools.
Supports a variety of file types.
Allows you to read in the Cloud or offline.
Cons
Not all features are available on the free version.
Final Words: Choosing the Best Tachyomi iOS Alternative
When it comes to deciding which manga reader to use as an alternative to Tachyomi on iOS, Manga Storm stands out from the rest. The fact that it has a premium version makes it a more robust and feature-packed manga reader. But I'm not saying that the other Tachyomi alternatives for iOS aren't that good.
All of them are pretty stable manga readers with a considerably comprehensive collection of titles. It's up to you to decide which one to get. The only letdown about these apps as compared to Tachyomi is that you can't add extensions, since that capability enhances your reading experiences through more features and additional manga collections.