Apple Watch has saved numerous lives with the help of fall detection and SOS emergency call features. The fall detection is available on Apple Watch 4 and above. Research has pointed out that fall-detection devices work best when worn near the neck and not on the wrist. It is one of the reason why Apple Watch's fall detection is not 100% accurate.
Apple has filed a new patent pertaining to fall and crash detection features. The patent details how fall detection can source input from multiple Apple devices to improve accuracy.
Currently, the Apple Watch can only detect local motion. In other words, it detects location information in the user's wrist area. However, it cannot detect injuries that occur at the neck or head. Electronic devices trigger fall detection by measuring acceleration and other crucial motion parameters. Apple's latest patent application elucidates multiple ways fall detection can be improved.
Enhanced Impact Detection System
One of the examples highlights how AirPods can be used as part of an impact detection system. The AirPods can have a first motion sensor, while the Apple Watch houses the second one. Both processors can communicate with each other in real time. The Apple Watch decides whether to trigger the warning whenever motion exceeds a certain threshold.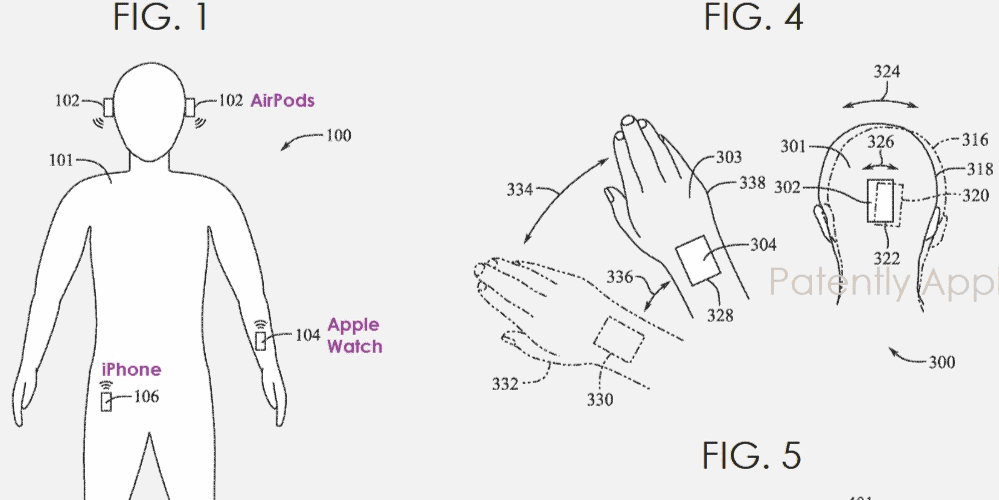 The decision is based on data input from AirPods and Apple Watch sensors. Thus, there is an increased chance of detecting falls or injuries of the upper body. Furthermore, the AirPods can include an optical sensor that detects whether the user is using the device.
Another example includes a system that comprises three motion sensors. The first is a head-mounted device that is likely to be an AirPods. The second sensor is another head-mounted device capable of measuring threshold frequency. The other sources of input include an Apple Watch and an iPhone.
The combined impact detection system can alert users of events with threshold exceeding forces or injurious events. One or more sensors can determine whether the user is injured or involved in an event with injurious forces.
Apple's patent covers many likely scenarios wherein one part of the user's body is impacted while the other is not. For instance, the user's hand might be injured in a skiing accident, but the head might not be impacted. Another scenario is wherein a wearable in a pocket detects an injurious event while the head is not involved in any impact.
Once implemented, Apple's fall detection feature is set to improve significantly. The multi-point references will help detect injuries to various parts of the body. Furthermore, Apple can deploy an injury detection protocol based on which sensor has detected an injurious event. In simpler terms, fall detection can alert first responders about the nature of the injury. It would potentially help them prepare better.