Looking for the best Mac repair software? You've come to the right place. As someone who still keeps their 2013 MacBook Pro around, I know that proper care and security are critical for keeping your Mac clean. While Apple does have some repair tools within macOS, there are options that provide more advanced features that are simple to use. Keep reading to find out more.
Does Mac Have a Repair Tool?
Yes, your Mac has several built-in repair tools available. Applications such as Disk Utility, Time Machine, XProtect and Gatekeeper can all help protect your Mac. Disk Utility is capable of fixing corrupted drives, whereas Time Machine handles backups. XProtect and Gatekeeper protect your applications and operating system. 
While all of these tools are powerful in their own right, a third-party tool can still be incredibly useful. Many third-party tools possess extra features not found natively in Apple's apps. These essential features can better help with disk monitoring, drive data recovery, virus attacks and more. For the average user, the basic features found in Apple's apps may not be enough.
Best Mac Repair Software
If you're looking for disk repair software solutions outside of Apple's offerings, check out our list of applications below. 
Disk Drill
A powerful tool for corrupted disks is Disk Drill by Cleverfiles, which focuses on your disk health. One of the best things about this app is that it is capable of data recovery, even if the data is lost or damaged due to drive failure or other disk issues. With powerful recovery capabilities, Disk Drill can be your recovery solution for virtually any storage device, including external disks. 
One of the best things about Disk Drill is that it keeps casual users in mind, meaning you don't have to be an advanced user to get the most from this product. You can simply select your drive, and then begin searching for lost data, making the repair process easy.
Even better, Disk Drill offers a free trial version, while there is no annual subscription to get the full experience. Give this app a try if you're looking to recover lost files and are in need of a repair app.
DiskWarrior
If you are looking for a beefy alternative to Disk Utility, then DiskWarrior from Alsoft is the way to go. Essentially like Disk Utility on steroids, this disk repair tool not only deals with any drive issues you may have, but it also features 1-click recovery, making it incredibly simple for casual users.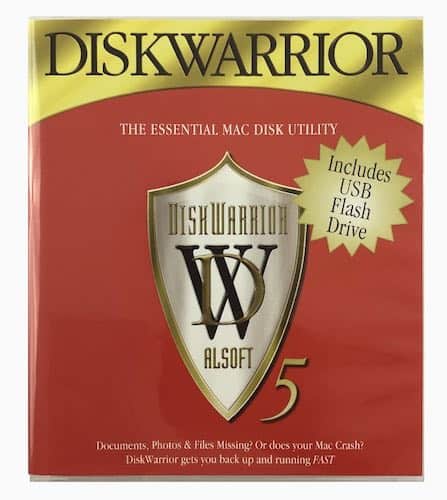 What makes DiskWarrior so great is the ability to perform a deep scan of your file systems, targeting problematic folders while salvaging files by putting them in a fresh directory that is free of errors. The app is also capable of testing your drives for directory damage, letting you know if there are potential issues before they happen. It also sports a clean interface and excellent customer service. 
While the $119.95 may be steep for casual users, the professional data recovery the app provides makes this premium version worth it in my opinion. An important part of the recovery process, even a review from average user S. Nyland says Disk Warrior is "a hundred bucks well spent".
Drive Genius
Another great choice is Drive Genius by ProSoft. I like this program personally because not only does it provide drive repair software as well as recovery tools, but it includes a wide range of 18 powerful tools for your machine. Along with a malware scanner and automated problem detection, Drive Genius also features disk recovery techniques that make it an incredibly powerful data recovery tool.
If you have directory damage, disk issues or corrupt drives, Drive Genius can solve your problems with its powerful drive repair software. The app is also capable of finding large and duplicate files, ensuring your drive stays clean.
With one review saying "If this can't fix it, nothing can". Drive Genius is great for both casual and advanced users. Even better, ProSoft offers a $79 annual license, and a $99 perpetual license, giving you options for how you would like to pay. This can be a great program if you are tired of cryptic errors and complex commands.
Features to Look For in Mac Repair Software
When choosing third-party repair software, there are several things to consider. Beyond just looking for advanced features, you should consider several other factors, including the ability to detect and remove malware, what optimization tools it includes and how friendly the user interface is. You may also want to consider the reliability of their customer support. 
Taking these factors into consideration can help determine the best product for your machine. Everyone is going to have different needs; some may want to focus on virus and malware protection, whereas another user may want to worry about their startup disk or file recovery. No choice is ever wrong, but ensuring you get the program that fits your needs is critical.
How Do I Run a Repair On My Mac?
You can run a repair on your Mac by using Disk Utility, which is in your Applications > Utilities folder. Simply open the app, click your drive and then click the First Aid button. This helps with corrupted partitions as well as any file corruption that may be occurring.
Of course, remember that third-party software is often capable of going beyond the abilities of Disk Utility. As an example, remember that DiskWarrior is capable of checking for errors before they happen. There's also Mac Internet Security X9 by Intego if you're looking for more advanced features beyond Apple's Gatekeeper and XProtect.
While the features within Apple's native repair apps are great, there are options available that extend far beyond the native apps. Again, it's about knowing what you want to get from your disk repair software.
Conclusion
There are a lot of reasons to love your Mac. As someone who has been using them exclusively for the past 10 years, I know the value of keeping your device pristine. At the end of the day, knowing what's right for your machine is one of the best ways to take care of it. Of course, we here at TMO all take pride in our love for all things Apple, so be sure to explore our collection of reviews, guides and tips concerning all things Mac!